Team Titans Season 3, Episode 2 - Steve Pereira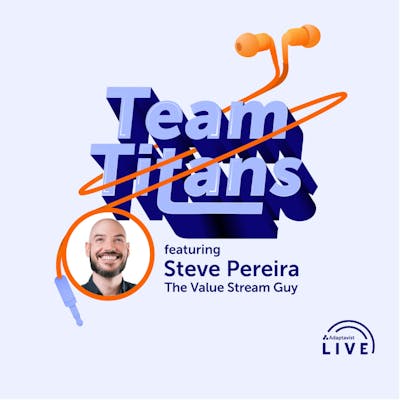 Show Notes
"The Value Stream Guy", Steve Pereira, joins Ryan and Adaptavist's Head of DevOps, Matt Saunders, for a conversation about how value streams matter for literally every business. They discuss Steve's career journey, how he came to champion value stream management, and what's next for an invaluable technique in today's business world.
Transcript
Ryan Spilken:
Hello, and welcome to Team Titans. This is the podcast that talks about the stories of people with unique perspectives on work itself, how they define processes, build tools, create, perhaps even destroy processes, and lead teams, and the like. I'm your host, Ryan Spilken, and joining me on co-hosting duties today is Adaptavist's Head of DevOps, Matt Saunders. Matt, what's happening, man?
Matt Saunders:
Hello. Hi, Ryan. Lots is happening. We're doing so many things to the run-up to the holiday season. I'm losing track of them. It's almost as if that we need to work out why we're doing various things and make some streams of values or something like that, those sort of things you find quite exciting. I'm really hoping that I get some time to speak to someone really cool who knows about this stuff.
Ryan Spilken:
Matt, it just so happens that we have somebody here today to discuss value streams in a way that I cannot wait to hear about, and I think we should just go ahead and bring them on. It is my distinct pleasure to introduce our listeners today to the value stream guy, Steve Pereira. Steve, thank you so much for joining us on Team Titans.
Steve Pereira:
Thanks for having me. It sounds like it's great timing, so I'm very pleased that this is all working out.
Ryan Spilken:
Steve, we know that you're big on the value stream, but it seems like you took the jet stream down to Miami recently for Art Basel. Steve, I got to ask, before we jump into the art of value stream management, can we talk just for a second about what sort of art you were hoping you like to experience at events like Art Basel?
Steve Pereira:
It was my first time in Miami, first time at Art Basel. I went because my girlfriend has gone many, many times in the past. She knows her way around and it was always something that I was interested in, but I don't know what I expected.
Steve Pereira:
There was obviously a lot of NFT activity, a lot of street art aesthetic, or I suppose it's meme-influenced art, is very popular at the moment, or no, when I say that I'm like, wait, art is basically all memes and it always has been, but it seems very internet-influenced at the moment, very crypto-influenced at the moment, very speculation-influenced at the moment, but I did have some really interesting conversations with folks about the blockchain aspect of NFTs and how art is going to be rewarding artists post-stale over time, like how musicians get trickle-down payments from Spotify or whatever else.
Steve Pereira:
Hopefully, it's not a trickle-down economic model in the art world, but who knows? I like the idea that this seems to be moving in a direction where folks can get a piece of what the speculators are profiting from over time in whatever way that takes hold. It was a crash course on the art world at the moment, all the hype. There was a lot of flash and fancy cars. I saw some actor from Beverly Hills 90210, which was the only celebrity sighting I had, which was very strange.
Ryan Spilken:
I hope it wasn't that Ian guy, the blonde one from the show. Anyway.
Steve Pereira:
It absolutely was.
Matt Saunders:
That's bizarre. I was just thinking of him, Ian. Ian Ziering, right? Or Ian Ziering.
Steve Pereira:
Yeah. Also, at the most mini-NFT crypto bro show thing, I actually had a dinner reservation and I walked through the show, that was ridiculous, and as I was walking into dinner, he was walking out. I was like, "Huh." That's it, though. That's the extent of my celebrity sightings.
Matt Saunders:
You should have taken a selfie, though, and sold it as an NFT.
Ryan Spilken:
There it is. You could've gotten in on the blockchain right there.
Steve Pereira:
Oh, I'm too dedicated to my current endeavors, but yes, if I ever feel the urge to pivot, that does sound like a viable business model.
Ryan Spilken:
All right. I would love to see the value stream for your NFT deliverables. Really, you are a busy guy. Could you tell us a little bit about how your career started and how you ended up focusing so intently on value streams?
Steve Pereira:
That's a super wandering road, and it actually is relevant, I think. I'm a big-picture, systems thinking person, so when I think about how I got here, it goes all the way back.
Ryan Spilken:
Day One. Where did it all begin, Steve?
Steve Pereira:
That's the start of the Bible, really. My first job, actually, I was making pizza at a pizza restaurant. I was always focused on ... actually, even before I got a job, but this really became obvious when I started working was that I was always looking to optimize the flow, and get into the flow and stay in the flow, and reach this zen state of work, which, I didn't know what a flow state was. I still can't pronounce Mihaly Csikszentmihalyi.
Steve Pereira:
I've always, through my career, been really focused on the flow of work, from a collective perspective and an individual perspective, starting out individual, but as I started to lead teams and lead organizations, looking at larger and larger manifestations of collective flow, like how do we manage the handoffs between people, how do we keep things moving and constantly improve, and that was a part of every job I've ever had as just my default operating mode.
Steve Pereira:
I've been through a number of positions that really made that a focus. I was in release engineering from very early, well before there was DevOps, well before I even knew Agile was a thing, before I could write a single line of code. I fell into that from just tech support. Then I get into build-and-release engineering from a larger perspective, like crafting releases from multiple teams, building out infrastructure so that we could spin up and tear down resources to test things and flow and on and on and on, until I got to ... CTO is my last real job, and then looking at multiple flows, multiple release processes, lots of handoffs, working across the entire organization from sales to success to marketing, to coordinate this creation and delivery of value.
Steve Pereira:
Then, when I wanted to start my own thing, I just looked at what's been the common thread and what do I see as a massive gap in the market, and what is the thing that the world really needs at this moment of increasing software complexity, increasing complexity in terms of collaboration, the pains and costs of siloed organizations just increasing over time.
Steve Pereira:
That brought me to value stream consulting, so just looking across the organization and how you build and release software because I think that that's where we are right now. I think DevOps has done a lot to bridge gaps, but there are still tons of gaps outside of DevOps. We are now in a position where we can start to look across the organization at the entire flow.
Matt Saunders:
As you were talking there, Steve, I was hearing lots of terms you hear commonly associated with DevOps, things like systems thinking that you hear from the likes of Gene Kim, Jonathan Smart, who talk a lot about that sort of thing, silos as well. I'm intrigued as to what you see as being the differences between value stream mapping and DevOps, because we've all been doing DevOps or trying to do DevOps for a long time. VSM seems to have been around for a long time, but now there's a bit more ground around it. You hinted there somewhat about other areas of the organizations. Can you expand on that a little bit?
Steve Pereira:
There's been a lot of folks talking about this for quite some time. Dominica DeGrandis is a big advocate of value stream mapping. Her book, Making Work Visible, came out a long time ago now. The original DevOps handbook, which is another IT Revolution book, was Gene Kim, John Willis. I think Damon Edwards was in on that.
Steve Pereira:
Damon Edwards is another original DevOps proponent who did value stream mapping constantly and really swears by it as a way to show folks why you need DevOps from back in the day when you're trying to convince folks that this was a thing and then what the impact would be if you actually focus on flow. There's a lot of material coming out of the early days of DevOps, but I think it was overshadowed by the fact that people were starting from almost no automation, and there's a lot of really simple automation that you can do to improve flow.
Steve Pereira:
Really, we were at a point with software development where it was obvious where the bottlenecks were. You didn't really have to map out the value stream to figure out that, we should have CI/CD and we should start merging our branches earlier or we should have test environments available for people to use and be able to spin them up and tear them down or at least refresh them. There was just so much low-hanging fruit that you didn't really need a value stream map in order to make a lot of progress. Not that you can make more progress or better progress for the value stream map, it's just you didn't need it to get off the ground.
Steve Pereira:
That brings us to now where all of those measures are table stakes. You have to have CI/CD, you have to have thermal testing environments, you have to have automated testing, you have to have infrastructure as code, or else you're way behind the baseline. It's been very obvious that if you don't have these things, you really cannot perform at the level of the highest-performing organizations. That's a settled area of study. Now, people are starting to wake up to the idea that that gap between dev and ops is one gap, but the real challenge and the real opportunity is every other gap in the organization, which is why folks started to slap all these other abbreviations into DevOps.
Matt Saunders:
Yeah, these SecOps and ...
Steve Pereira:
Exactly.
Ryan Spilken:
Dev, sec, yeah.
Steve Pereira:
We went down that ridiculous road. All that meant was, you can't have gaps anywhere. You have to have flow across the organization and you have to have ways of understanding that flow. Value stream mapping and value stream management have now risen as the tools that make that a lot easier to wrangle, and in parallel with things like domain-driven design, like event storming also does a similar job of showing folks, here's what happens across the organization when you're trying to build and deliver value.
Ryan Spilken:
Steve, you say that there's value stream mapping and value stream management, and pardon my ignorance here, but tell us a little bit about the difference between the mapping and the management of the value stream.
Steve Pereira:
That's a good clarification. Value stream mapping is one aspect of value stream management. Value stream management is the name that we've adopted as the way to manage and improve value streams. That starts with first acknowledging that adopting this paradigm, that your organization is a collection of value streams.
Steve Pereira:
The first task of value stream management is basically you can see your organization as value streams if you want to. They're invisible, but that could be a useful model for you to understand how your organization functions as delivering value to customers. If you think of your organization as value streams, meaning there is a flow of work that delivers value to a customer, it's just a sequence of activities that are performed that take raw materials, in the case of knowledge work, that's ideas, things in the backlog, things people have asked for, and then on the other end, you have a satisfied customer.
Steve Pereira:
All of the activities that go on, which are in reality part of a network, it's not that simple, it's not a linear, simple flow, but simple can help you understand it. If you think of just this linear flow, value stream mapping is how you initially understand what that looks like or how you can visualize that so you can better understand it, but the magic of value stream mapping is the measurement aspect.
Steve Pereira:
After you map out what this looks like, the measurement allows you to qualitatively and quantitatively measure how long everything takes and how long everything is waiting between each activity, which highlights the handoffs, that highlights the pain of the silos that are involved, and so it gives you a way of getting started with value stream management. Now we have additional practices that make up the area of study that we call value stream management, which is eliminating waste, increasing automation, reorganizing teams, and facilitating the workflow so that the flow of work is more effective and more efficient.
Steve Pereira:
There's a big push now to create software that allows us to automatically visualize and track and forecast and simulate work in that paradigm. Understanding your organization as a collection of value streams, adding a software layer that allows you to visualize and analyze the performance of that system is where value stream management is arising to address this need for more cross-organization collaboration and coordination.
Matt Saunders:
It's interesting. Thank you for that, Steve. You mentioned, a couple of minutes ago you said value stream mapping was like magic. That's reminded me of a quote that I saw on the internet, so it's bound to be true, attributed to you, which was that just the action of mapping this stuff out without actually going into eliminating waste or putting in more automation, et cetera, yadda, yadda, just the measurement, doing that measurement can actually improve things for an organization. Is that really true? Is that something that is a desirable goal or maybe a stopping-off point, a justification point for VSM?
Steve Pereira:
What I mean by that is that even if you don't take any dedicated steps to formally address anything that you find in a value stream map, so for instance, you identify bottlenecks or maybe you just map the value stream and don't actually dig any deeper to find out, where are the constraints here, where is work slowing down in other words.
Steve Pereira:
What it actually does for a team is allow them to reconcile their understandings of the work, which otherwise we don't really have. A lot of teams have a Sprint structure in their heads and they have these goalposts of rituals where they do a Sprint kickoff and then they do their daily standup, and then they have a retro, or a demo and then a retro.
Matt Saunders:
In the Sprint.ly thing, yeah.
Steve Pereira:
Yeah. That is usually the extent of the individual understanding of how we do work. That doesn't highlight where there are challenges and where things could be better. The value stream map giving you that visual depiction of here's how work actually gets done can really empower people to think differently and make different decisions.
Steve Pereira:
The other effect that I think is really powerful is that every time you show someone a more accurate depiction of reality, you increase their level of comfort and satisfaction with what they're actually doing in the world. Things make more sense and you feel more at ease with your place in the system, and you understand better how you can positively influence that system.
Steve Pereira:
Showing people a value stream map can help bring them together as a team because you have this common understanding, and maybe you're raising the tide a little. Some folks who really were disengaged and checked out because they really didn't understand how any of made sense, and I don't understand the difference between doing A and B if I can't tie it to something tangible. The value stream map can really empower folks to feel more connected to the work and understand the purpose of the work and how they fit into this larger system of value delivery.
Steve Pereira:
Another powerful side effect of this, and there are many, they keep coming to me as I'm talking, but having the connection to the customer, a value stream is really powerful because it connects individual contributors and their efforts to a customer outcome. That's fairly rare, and that's fairly recent in the software world.
Steve Pereira:
Traditionally, software engineers have been writing code, packaging it up, throwing it to someone else who packages it differently, and it's the customer success folks who are the ones who understand how this connects to customers, or the salespeople who get to say, "Here's the new release and here are the release notes from the engineers." This handoff, throwing it over the wall every time, means that none of those folks are actually connected to customers.
Steve Pereira:
It's very difficult for them to imagine how my efforts on a daily basis are delivering value to customers because I don't necessarily know when they're getting it, I don't really know how they're experiencing it, I don't know that they're impacted by anything that I'm specifically doing, but as you improve that flow and the feedback loops that are involved in the value stream, you develop this stronger understanding, this more visceral connection to the work and the customer outcome.
Steve Pereira:
Those two start to come together and you start to realize, when I do this, it means this is coming out the other end and the customer is able to experience that as quickly as possible, which is another very powerful thing for people. We need feedback to really feel like we're doing something useful or valuable.
Ryan Spilken:
Steve, I want to go back to something that you mentioned earlier in this, and that is pizza, primarily because-
Matt Saunders:
Excellent.
Ryan Spilken:
... pizza, and this isn't my specialty, well, pizza is definitely my specialty, but I think that we could use the example of pizza which you worked in for a while to really highlight how customer experience can connect all the way back through that value stream.
Ryan Spilken:
Now, and this is going to take us to somewhere value stream-related, and I swear I'm not just going to rant about pizza, I could, but for a pizza establishment that is larger than just your mom-and-pop chain, which I prefer by the way, but you don't just have the customer calling up the place and ordering what they want and having it delivered. You have a marketing engine that lets the customer know that this pizza is there. You've got an entire digital side that allows the customer to order their pizza right from their phone.
Ryan Spilken:
Then you have the actual people who are making the pizza, and they're interfaced with that technology. Then you have the driver who's then taking the pizza and then it's ending up at the customer's doorstep, and hopefully, they're getting a tasty pie. Is there an industry that doesn't need value stream management? Is there a business that doesn't need this, or does everybody need it, from startups to Dominoes?
Steve Pereira:
Yeah, everybody needs it. Everybody has it. The thing is that everybody has this because if you have a better term for the way your organization delivers value to customers, you can use that term, but you don't have a business unless you have that thing. That's what we call value streams. That's what we call value stream management.
Steve Pereira:
I'm a little looser in terms of definition than a lot of folks who talk about value streams. A lot of folks who talk about value streams would be referring to the very high level of, we have a cheese supplier, we have a sauce supplier, we have someone who supplies the flour for the dough. All of that comes in as raw materials, and then it goes out as pizza.
Steve Pereira:
The way I see value streams is that the entire organization is just a collection of value streams, meaning, as you mentioned, the marketing efforts. The act of crafting a campaign and delivering a campaign is one value stream that gets connected to the pizza creation and delivery value stream because that's bringing in the customers who are calling and ordering pizza. That's how all this starts to fit together.
Steve Pereira:
To address the question of who doesn't need value streams, I really haven't ever found a business or a business model that doesn't utilize a sequence of activities to deliver value. If you can just sell air, then you might not have a value stream or you just have a very short value stream, but I think it's everywhere. It's in the physical world.
Steve Pereira:
We're in early days of applying this to the digital world where it's vastly more complex, but that's where I think the power and the opportunity is. In a startup, specifically, you mentioned startup, and it's worthwhile mentioning startup because a lot of folks think about value streams, they think about, that's for companies that have big, slow, complicated processes and a lot of bureaucracy because they're wasting a lot of time and they need to find out what they can chop so that they can be more efficient. That is partially true.
Steve Pereira:
In a startup, though, you have a different type of waste. You don't have calcified bureaucracy and a lot of silos. What you have is a lot of waste because folks don't know what's going on. They don't understand how their work fits together. They don't understand what they should be focused on. They don't understand how to combine all of the different capabilities and skills that they have in order to deliver more value or value more effectively. They don't know how to fit the new hire into the flow so that that person can be productive and contribute and understand their place in the organization.
Steve Pereira:
In a startup, a value stream app can really help you go from chaos to a sense of understanding. It doesn't mean you have to have a strict process. You can throw the map away afterward and you would still have a better understanding of how things are going and ease a lot of people's minds and make them feel like they're contributing more effectively, but it really helps in a startup where you're scaling, where you're hiring a lot to be able to show folks a map and say, here's where we need your help, and you're going to be working with this person upstream, and you're going to be working with that person downstream, so you should get to know those people and you should get to understand how you can grab the baton from them and hand it off without dropping it off the ground.
Matt Saunders:
Just referring back to Steve's answers, your answers to one of the previous questions about how effectively the map has given you context. In a startup, you've got ideas flying around all over the place, nobody quite knows who's doing what, yet somehow the whole thing is going like a juggernaut towards something. You come in new to that and you're like, what do I do? What should I be doing?
Matt Saunders:
In a bigger organization, you've got existing doctoring, I guess, and you go into a team that's fairly well-defined as a new person starting and with a fairly well-defined list of tasks to do. It looks great because you can go in and start really, really quickly. You know exactly what you're doing because the team knows what it's doing, but then you get into it a little bit more and you realize that actually, you don't have that context in a larger organization or in a smaller organization. I'm just beating the drum here for VSM. Having that is just a massive eye-opener. I've got a pizza story myself, actually. Have we got a minute?
Steve Pereira:
Oh, please.
Matt Saunders:
I've worked at a pizza place, not a real one, in Roblox with my nine-year-old. We played doing a pizza delivery job in Roblox. We're playing this game and I'm working out, why are all the orders stacking up? Oh, it's actually because we haven't got any dough left. It's all about the supply chain. Actually, we haven't got any drivers to go and get some dough, so you recruit a team to go and get some more dough from the depot.
Matt Saunders:
You do all of this in Roblox. I go, oh, my God, this is work, and actually, it's quite enjoyable work because you're getting that context and you're seeing where you fit into the overall big picture, whether it's a massive pizza delivery chain or a small startup doing something new. It's wonderful stuff. Wonderful. Sorry, that's not a question.
Steve Pereira:
I can riff off that, though. You gave me a lot to talk about it.
Matt Saunders:
Cool.
Steve Pereira:
Not that there's ever any shortage. One thing that I think is the gap between the Roblox example and your average day of work is that feedback loop. Feedback with measurement gamifies work. It allows you to understand performance in a way that you can see the effects of your efforts. That is very satisfying to us as humans. A sense of progress is very powerful. It really connects us to our work in a way that allows us to get into the flow.
Steve Pereira:
A lot of our sense of flow can be, as engineers I'm sure you folks have experienced this, you can get into the sense of flow doing the wrong thing, you're building something that's completely useless, I've done this many times in the past, but it's because you're getting feedback. If you're not getting the right type of feedback, your brain doesn't know that that feedback isn't connected to the larger organizational goals or anything that actually matters.
Steve Pereira:
Value stream management gives you an opportunity to connect all of that to the bigger picture, the larger system so that you can see when you do this, here's what happens. As the system, and I've been keeping track of our delivery of value for the past six months, I know that when this happens, good things happen, when this happens, bad things happen. We could potentially be getting feedback at many different points as we work to keep us in the sense of flow, facilitate our sense of progress, and keep us going in the right direction.
Ryan Spilken:
I'm visualizing a workflow for ... we come from an Atlassian-focused thing. In my head, I'm looking at a Jira workflow and I'm thinking about a startup that has a relatively straightforward path. This person builds this thing. It's relatively straightforward. It's a small one. It's small. There are a few people who are doing each block in the chain, as it were.
Ryan Spilken:
What I see, though, is as things become more complex, that simple chain of blocks starts to look like a web, and it starts to get real gnarly because complexity increases, headcount increases, customer demand increases, the feedback cycles are starting to go off in different places. How do you tame that? How do you come into an organization where maybe the web is already there and there's some calcification going on around in spots? How do you look at that and go, this is a lovely web you've built, but at the end, there's no end because there are 10 different outputs. How do get ahold of it, Steve?
Matt Saunders:
The web could be an org chart as well, couldn't it?
Ryan Spilken:
Oh, man.
Matt Saunders:
It's very often the same thing.
Steve Pereira:
That gets us into some interesting territory. The web is absolutely an org chart. That's a really strong ... and I think that's actually got us into a lot of trouble historically is having that as the only visual representation of the organization and how work is done, because it's not an accurate representation of how work is done. It has nothing to do with how customers get value. It's just a way of sorting people and keeping them in places so that they don't drift around, and people know who to talk to and ask for permission.
Steve Pereira:
To get to the de-tangling the web, one thing that is interesting about people who've approached me and are interested in mapping their value streams or tackling a flow-related problem, they always feel like they're not set up to start mapping. It's almost like when people hire a cleaner and then they clean before the cleaner comes in so it's not too messy.
Ryan Spilken:
I've always wondered about that.
Steve Pereira:
Which is, I understand that, and it sounds nice if you're able to do that and simplify the problem at hand. The challenge is, the reason that you're in the situation is that you are unable to manage the scenario to an extent that you can sufficiently simplify it, and there are professionals who will do that for you.
Steve Pereira:
The way that is done is really, there's a couple different approaches. You could start from a domain-driven approach. There's a lot of folks who've been working on domain-driven design for a long time. If you're listening in from Europe, you're probably more likely familiar with that approach because it's very popular in Europe.
Steve Pereira:
In North America, the manufacturing-first approach of value streams and value stream management and manufacturing linear process is a little bit more popular. People in the States like measurement and data and simple flows. Europeans tend to be more comfortable with abstracts and-
Matt Saunders:
Very much more bohemian, yeah.
Steve Pereira:
... yeah, blobby things that intersect and overlap and Venn diagram-ish things. Either way, I think all successful approaches start with a customer and work backwards, or with an outcome and work backwards. In both cases, you're really talking about outcomes, but you can trace a value stream very effectively by looking at a customer and saying, how do they get what they want from us? Then, what happens before that? What happens before that?
Steve Pereira:
It's almost like a Five Whys approach, but it's more like Five Whats, but you don't stop at five. You stop when you get two, and then we came up with the idea. Working backwards from a customer is always a great approach. It's usually not what people commonly think of. Even just doing that for fun is a very valuable thing. You can do it on your own. You don't have to necessarily do it with your team.
Steve Pereira:
The other approach, the domain approach, is looking at problem domains, looking at jobs to be done, things like that. It's still very customer-centric, but there's a few different techniques. The important thing really is to start from the customer and work backwards, and then you can see where the efforts branch off. That complexity, the fact that we can't grapple with that web in our heads, and certainly not collectively, you can't share that web with someone else's brain, means we have to map it. We really have to get it out of our heads onto a collective surface so that everybody can say, "That looks right," or "We missed a step."
Steve Pereira:
Now with online tools, we've all leaned into these online whiteboards, you can zoom out, you can zoom in, you can represent incredibly complex webs of value stream networks in a very productive way. I think we're at this perfect time now to start doing this collaborative mapping that's going to start to untangle that web and give everybody a much stronger understanding of how this machine works and how we can turn the dials and pull the levers to make it work better.
Matt Saunders:
Wonderful. You mentioned tools there and we talked probably 20 minutes ago about using tools and being able to use both value stream mapping tools that would do things like simulating parts of the delivery of value. Without actually name-dropping the actual tools that you'd use in there, can you give us some tips on what sort of tools we should be looking at for this, or do we even need tools?
Steve Pereira:
I think a lot of how to get started doesn't require tools. There's certainly ways to make it easier, especially if you are distributed. That's really the main thing. If you're working from separate places, having a collaborative whiteboard is very powerful and I recommend it to everybody. I use it for all kinds of things. Basically every meeting I ever go into, there's a collaborative whiteboard and we just start dropping things in, whether it's mapping-related or not. If it's just a conversation, it still gets mapped.
Matt Saunders:
The power of the virtual sticky note is beyond a human value, right?
Steve Pereira:
Yeah. There's something really powerful about having an artifact for conversation and being able to reconcile, here's what I got out of the conversation, and now we both got the same thing out of it because we can both look at the map and say, yep, it looks like we covered all the bases, we hit all the agenda items, I've got takeaways, blah, blah, blah. That I think is very powerful, and that's where I would suggest folks start is just start talking together to create a visual understanding of what's being done.
Steve Pereira:
Then you can add measurement, which doesn't have to be precise to be effective, on how long do things take, what's involved, what kind of validations are we performing at each activity to make sure that we're doing the right thing or we're doing the thing correctly. There's all kinds of things you can do. What tools are we using throughout the workflow? Who's involved? That can be very powerful.
Steve Pereira:
When you talk about purpose-built tools for value stream management, there's a growing collection that I keep track of at a site called valuestream.link. It's just a website driven by a spreadsheet and I just collected every tool that I can think of. There's a lot now, but if you're interested in the ecosystem and what's available, there's open source options there, there's very expensive, sophisticated options and everything in between.
Ryan Spilken:
This brings us to the perfect place to ask about accreditation around value stream management and mapping. How are you involved in that, and what do you think?
Steve Pereira:
I think accreditation is important for folks to feel qualified. I think in the DevOps world, we were really harsh on folks who sold pickaxes for the gold rush in the form of certifications for something that we thought was, DevOps, depending on your definition, was just go talk to people that you don't work with on a regular basis.
Matt Saunders:
It's more of a mindset in that.
Steve Pereira:
Right, but there's a lot of folks who still to this day think that it's about infrastructure is code and it's about CI/CD and it's about all this other stuff. There's certainly a lot of folks hiring talent to do those things and calling it DevOps. Having accreditation I think is valuable in a specific context. That's obviously coming for value stream management because it is the next frontier beyond DevOps. I don't see any future where DevOps isn't superseded by value stream management, and Agile as well. Certifications are coming. They're already here to an extent. I worked with Helen Beal to create a value stream management course that's available through the Value Stream Management Consortium, which I'm an advisor for. It's a very comprehensive course and you can actually take a test through the DevOps Institute that will issue you a certification based on that course.
Steve Pereira:
I think it's just a certification that you've completed the course and you clearly understand the material in the course, but I think that's valuable, especially for folks who are interested in getting started with value stream management, understanding beyond the boundaries of DevOps and really starting to bridge the gap between business and tech.
Steve Pereira:
That's another big opportunity that value stream management has because business folks care a lot about value streams. They care a lot about customer outcomes. They care a lot about tracking performance. Value stream management allows you to connect all the efforts of technical folks, product folks, everybody building with everybody keeping track of what gets sold and how the customers use it and get value out of it.
Steve Pereira:
I see value stream management as this great bridge between business and technology, is really going to take over from where DevOps got us busting silos and getting thinking about collaboration, to really bring the entire organization together.
Steve Pereira:
Having certification behind that, there's also a lot happening. I'm actually part of another effort that's connecting value stream management to the software bill of materials, which is something that's really big in the government now, and security to try and track how all the work that's being done in an organization is connected to customer outcomes in a way that you can guarantee the providence of what you're delivering and understand that all the code came from here, there are no vulnerabilities, there was nothing injected along the way, and so we can guarantee the integrity of what we're delivering, which is another level on top.
Steve Pereira:
I think that there's another convergence here in terms of being able to audit workflow and demonstrate that we are doing everything that we can do to keep our software safe and secure. You're able to connect value to that. You're able to connect to customer outcomes, value, and really everything that the business cares about.
Steve Pereira:
Then the next level beyond that, we get into simulation; you get into the value stream network beyond a single organization into a network of partners and different suppliers and customers from different perspectives, multiple levels of customers. This is really early days and something that's really going to encompass all of the business at every level.
Ryan Spilken:
I was going to ask what has you excited for the future, but I think we just heard the answer. Steve, we are so grateful to you today for coming by and sharing with us all this tremendous knowledge about value stream management. We will include links to everything that you've mentioned today in our transcript and the show notes that will be available on adaptavist.com. Steve, you got anything on the books that our listeners should know about? Maybe they could come see you somewhere. What's happening next?
Steve Pereira:
On the books is a great segue. Actually, I am writing a book-
Ryan Spilken:
Whoa.
Steve Pereira:
... with my co-author, Andrew Davis, and it's coming out through IT Revolution, so the same folks that published the Unicorn Project and the DevOps Handbook and all my other favorite DevOps books. It's coming out next fall.
Steve Pereira:
We have a newsletter that we're publishing that's really chronicling our journey to putting the book together. Folks can sign up to that at insideout.org, inside-out.org, but I'll give you folks the link to put in the show notes for that as well. No physical events on the horizon at the moment, but looking forward to that, getting back to speaking in public, because I really do miss that.
Matt Saunders:
Yeah, I think we all do.
Ryan Spilken:
Yeah, we certainly do. I hope that I get to catch you in person sometime. Matt Saunders, Head of DevOps at Adaptavist, thank you so much for doing a bang-up job co-hosting today.
Matt Saunders:
You're too kind, Ryan. Well done. Thank you.
Ryan Spilken:
The value stream guy, Steve Pereira, it's just been so tremendous. Thank you so much. Really appreciate your time.
Matt Saunders:
Thank you, Steve.
Steve Pereira:
Thanks for having me. This was great.