Team Titans Season 3, Episode 3 - Biro Florin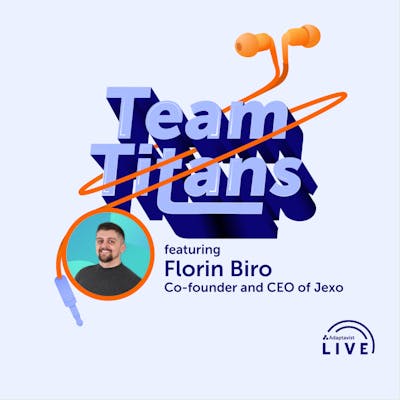 Show Notes
Co-founder and CEO of Atlassian partner Jexo, Biro Florin, joins Ryan and Adaptavist Lead Product Manager Ingrid Thornton to discuss his journey from cosmetics to software and the lessons he learned along the way, keeping Jexo as "the eternal startup", and the making of his podcast, The Startup Corner.
Register for the Jexo '22 online event here, and follow Biro on LinkedIn for access to the Startup Corner and his Monday Morning Coffee shows.
Transcript
Ryan Spilken:
Hello, and welcome to Team Titans. The stories of people with unique perspectives on work itself. How they build tools, lead teams, and define, or maybe even break processes. I'm your host Ryan Spilken, and joining me on co-hosting duties today is lead product manager at Adaptavist, Ingrid Thornton. Ingrid, thank you so much for being here today.
Ingrid Thornton:
Thanks for having me.
Ryan Spilken:
A real pleasure. Now Ingrid, you actually come to this co-hosting bit, it's a bit of a family tradition. You have some experience, a little background with people who do podcast-like things, is that right?
Ingrid Thornton:
Yeah. My parents are journalists, and my mom sort of specialized in interviewing techniques, and has been talking about that our whole lives. Which I never listened to, but maybe some of that just sort of trickled down into my genes. We'll see.
Ryan Spilken:
I certainly know that you are familiar with technology products, and building those products. And so that makes you the perfect person to join our guest today, and that is Florin Biro, co-founder and CEO of Jexo. Biro, and you're affectionately known as Biro, welcome to Team Titans.
Biro Florin:
Thank you. Thanks so much for having me, it's a pleasure to be here.
Ryan Spilken:
So I'm not going to call you Florin, because that's just your mom's, right? Nobody but mom says that.
Biro Florin:
You're not my mom, so-
Ryan Spilken:
And I am not allowed, which is perfectly fine. So Biro, before we get into the work that you've done at Jexo, I want to give our listeners a sense for who you are as a person. So, could you tell us a little bit about you young Biro? How did you even come to technology?
Biro Florin:
Oh, this is so interesting, because I literally just wrote a script the other day for a video that I'm going to make for my own podcast, talking about how I became me, basically. And yeah, so I would say at a very, very early age, I was extremely interested and curious in absolutely everything. So I would see something, and I would try to replicate it. Be it more creative things, like I think when I was a teenager, I really want to it to be a movie director. And I would write scripts, and I would be very fascinated about science fiction. And then further on, I started, I think my dad bought a PC. This was in the probably early 2000s, and I was very fascinated by that piece of tech.
Biro Florin:
So I started exploring with it, and while growing up in my teenage years, rather than going out and having fun, I would just stay at home and explore this mysterious box and see what I can achieve with it. And I've done absolutely everything from music, to Photoshop, video editing, to videos, to absolutely everything. I would just download tools, trials of tools, and try them out and do various things. So, I think it came from this place of curiosity, of trying things. And I've always had this confidence that I can pick up anything and learn, and utilize it. And I would say my first interaction with technology, with engineering and such, came from a need to build my own website for a business that I was creating.
Biro Florin:
Just to give you a bit of a background, I started my first business unofficially when I was 17, officially when I was 18, and I was doing cosmetics. I was selling cosmetics, hair extension, wigs back in Romania, in my country. I would import them from China and sell them in Romania. And at one point, I was growing, I was selling through various social networks. There was back then, early Facebook, there was a platform called High Five, very popular in my country. I think it was the equivalent of MySpace. And yeah, and then eventually I started selling more, and I started putting a proper business together. So I needed a website, and I didn't want to spend money on a company to build me a website. And having this attitude of I can do anything, I started overnight learning HTML, at first NCSS, and then PHP and MySQL. And I started putting together an eCommerce website for my business. That was my entry to technology, and to engineering.
Ryan Spilken:
No exposure to coding before then?
Biro Florin:
No, no, none.
Ryan Spilken:
I mean, it's fairly common for me to hear that, or this isn't the first time I've heard that somebody has started in code through HTML. But the fact that you weren't touching any of it until your business was in full swing, and then you decided, "I'm going to build the website," wow. That's really something. Did you feel like, "I want to do this a lot"? When you started started seeing your website come to life, were you like, "Oh, this is really rewarding. I really like doing this"?
Biro Florin:
Yes. It was actually, it gave me a feeling that I've not actually had that much before. I would say, I had this feeling of creation and art, to put it like that, when I was doing a bit of music, a bit of photo manipulation, and even video editing and such. But none at the level that coding and engineering gave me. I felt that I was really creating something useful with a bunch of code put together. And yeah, I just got hooked after that, and I've tried so many things. While I was still running my business in parallel, started getting into Facebook apps early on, was creating music players on Facebook apps. And yeah, so I got hooked from that moment.
Ingrid Thornton:
That's really interesting, because I think if you're in tech, you realize that it's a really creative space. And if you're on the outside looking in, the last thing you'd call it is creative. But do you agree, it's such an important sort of personality trait to have, to be creative?
Biro Florin:
No, I completely agree. And I think, look, I don't consider myself a good engineer. And actually my team recently just got rid of my last pieces of code from our apps, which I'm actually quite proud of. So, I don't consider myself a really good engineer. I was a practical engineer, and I think my creativity and my exploration attitude helped achieve some of the things that I've achieved in the past, with the projects that I've worked on. And creativity is massively, one of them. Even if you're, and especially if you're a brilliant engineer, I think you have to have a creative mind in order to be able to architect. I think our architecting comes from the creative side of your brain as well. Like architects, usually, let's say building architects, are considered artists. I think we can call engineering architects, coding architects, artists as well.
Ingrid Thornton:
Agree. I don't want to jump ahead too much here, but I'm just dying to hear the link between hair extensions and JIRA apps.
Ryan Spilken:
Well, I was going to suggest it seems like the hair business stopped growing. But yeah, what was between extensions and software extensions?
Biro Florin:
Well, none really. It's a very long and complicated history, and that's why I've decided to make a video. Because I don't know, sometimes we're fooled by illusions online, when we see successful people, that we think that overnight, oh, they picked up this technology, or they had this idea, and they took it and made it successful. When probably 80% of successful founders and people don't go through that very simple, straightforward process or history. And for me, I think eventually, I was quite young when I was doing the cosmetics business, eventually it died down. So I decided to move to UK, I had some friends here. Just moved, and I wanted to just have a period where I just think about where I want to head, and what I want to do.
Biro Florin:
And I was still pretty much attracted by the entrepreneurial life, and I was seeing myself as the entrepreneur persona. So eventually after just a few months of recollection in Scotland, deep in Scotland lands, I realized that I want to continue to explore this technology engineering application side. I bought a bunch of books, I started learning. Bear in mind, up until then, again, my only interaction was creating my own website. So I didn't have a deep knowledge and understanding of engineering patterns, and standards and so on. So I picked up a couple of books, I learned a couple of things, and then I started looking for freelance jobs.
Biro Florin:
But yeah, so then afterwards, around three years, I spent three years in London just doing freelancing, while in parallel trying to start various businesses. I've tried hosting services, creating a hosting website for others to host their website. I've tried a social sharing widget for websites. I've tried a platform where you can find all of your travel informations for various nationalities. So, tried various ideas, to start various ideas. None of them actually picked up, so I spent three years of my life closed in a room, trying various things, and making a living by doing freelancing projects for creating Wordpress websites and so on.
Florin Biro:
So, it wasn't really a jump from the cosmetics to JIRA extensions and so on. And after three years of constant failures, I realized is that it was time for me to get a job, so I got a job as a senior software engineer for a company in London. Spent five years there, and that's where I started Jexo with my co-founder, because we wanted to work together and because we had a bit of an idea, and so on. So, a very bumpy history, it wasn't very straightforward.
Ryan Spilken:
Tell us about those early days of Jexo, then. Let's hear about what pain were you trying to solve initially, that you thought, "You know what? This is a product, let's give this a go"?
Biro Florin:
Well, I talk about this quite a lot. Everyone that asks me, and in all of my videos as well. We didn't really start Jexo because of a problem statement, or because we wanted to disrupt or change an industry or such. The reason why we started Jexo is because Nikki and I wanted to work with each other. We were working for the same company, but at one point we moved into different teams, and we wanted to continue to collaborate and work with each other, because we knew we were good at it. So, we decided to build something of our own, and kind of like a side of this project.
Biro Florin:
And at that point, I was also playing the release manager role, and I had this need for a tool in JIRA. We were using JIRA to help us track releases across multiple projects. And the only thing that I could find at that point was Portfolio for JIRA. It wasn't even, it was a standalone app at that point, there was no advanced roadmaps. This was back in 2018. But the problem with that, was that it came with a bit too much of overhead. It had too much functionality for what I needed. I just needed a calendar view, with all of the releases from across multiple projects. So, we decided to build it. And as soon as we put pen on paper, we realized that this could be actually helpful for others to use.
Biro Florin:
And started getting into figuring out, because I knew there was a marketplace, because we used to install other apps into our JIRA and pay for them. So I knew that that existed, so we started looking into the ecosystem, and the rest is history. I think it took us a bit to figure out really what we wanted to do. Early on, when we put that app on the marketplace, we were still kind of in a floating state with, we wanted to do some Slack apps and some other marketplaces. We wanted to do extensions, but we were looking at other marketplaces. So, it took about probably two, two and a half years to really define what we want to do, and to reach this point where we're fully invested in the Atlassian ecosystem, and we build project management solutions and Agile solutions for JIRA.
Ingrid Thornton:
So during this time, did you still have your day job? Did your co-founder still have her day job, or were you just working on this?
Biro Florin:
Oh, yes. So for two years, for the first two years we had full-time jobs, and doing this on the side. But we used to work early morning, we used to wake up super early and put in a couple of hours for Jexo, then eight hours at work. And then in the evening again, put another couple of hours. And then weekends as well, full on. So we really didn't have a life for two years. I wouldn't even say we have a life now, but still it was way worse back then.
Ingrid Thornton:
So, you've now described three periods in your life where you didn't have a life outside of your room.
Biro Florin:
Yeah.
Ingrid Thornton:
Maybe there was something in between there then, that we're missing, but it sounds like you have spent quite a bit of time in front of a computer, quite like.
Biro Florin:
Yeah. And I'm a very weird person. I feel that I unwind in front of the computer, doing research or being on forums, blogs and things like that. But I grew up with a computer, I was so just mystified, just super into this little box since I was a child, that I kind of grew up with it. And now I kind of don't know what to do with myself when I don't have technology in front of me. I know that sounds terrible, but I don't know, that's just me.
Ingrid Thornton:
And what's the driver for that? Is it that one day you'll be this tech billionaire, or is it literally just what you enjoy doing?
Biro Florin:
So, I think it's enjoy doing. And this is why Jexo started. Again, Nikki and I wanted to build the perfect workplace for ourselves, where we focus mainly on our craft, and what we love to do, and continue to evolve and discover, and be wowed by technology trends and such. For example, now we're looking at NFTs, we're creating some NFTs and we're doing a bunch of things. So we're always super curious about technology. And I felt that when we were working in a bigger company, there were some challenges here and there, that took away from that magical aspect of exploring technology. And also having this background, when I used to just have a business and explore technology, be a freelancer and explore technology.
Biro Florin:
I was always very flexible on this end, so that I can continue my, I would say my endeavors into becoming a better version of myself as a technologist. And I felt that it was time for us eventually to move on into full-time, our role. And even today we do the same, so we have, Jexo is our business. We continue to evolve, we continue to push things. But we're also exploring other things, so I spend quite a bit of time into filmmaking tech, and all of this stuff. Because we were mentioning earlier, I'm a big fan of filming, cameras, microphones and so on. But also in technology, again, we're looking at crypto, NFTS and all of these things that are becoming web 3.0 now.
Ryan Spilken:
So, you sleep maybe 30, 45 minutes a night, if that. Yeah?
Biro Florin:
Yeah, kind of.
Biro Florin:
No, there are some people who don't need as much of it. And it seems like you're one of those guys who's just, you're going, you're doing. Could you tell us a little bit about some of the lessons that you have learned since Jexo's begun? You've been digging into all sorts of stuff since you've launched the company as its own business. What are some of the real eye openers that came about in this period?
Biro Florin:
Well, there were a lot of reasons why my previous businesses failed, the so-called businesses, wannabe businesses, in my three years being locked in a room trying to be the next Mark Zuckerberg, or this person. There are a lot of factors that I didn't have the knowledge of or visibility, that were keeping me at bay without growing. And I think the reason, a couple of reasons why Jexo is growing currently and it's a successful venture for me and my co-founder, is one, I gained enough experience in my five years working for a reputable company with brilliant people around me, to understand how to operate in a team, how to communicate. Bear in mind, before that, I didn't really have a team. I wasn't working with bigger teams, and to know how to... Especially with the previous company, I evolved from senior engineering, to management roles, to leadership roles and so on. And I was actually their first employee in UK, and I think the second or third in the company. And the company went and sold in 2020, when there were 160 employees.
Biro Florin:
So I grew with the company, so I was able to see all of the mechanics, the dynamics of growing a business, from an early startup to being sold. And that exposure helped a lot in giving me the maturity that I needed as a leader to set up my own path. There's still plenty of things that I've learned, and adopted culture-wise, processes-wise and so on, that echo through Jexo today, from the previous company that I was working for. So, that's one of it.
Biro Florin:
And I think the second part is I never really understood what it takes to make a product successful. I had a very shallow understanding because of social media, and what we were being fed, that you build a product, you do a couple of ads here, and bam. If your product is good, everyone's going to buy it, and you're going to become extremely successful on the back of that. Which the reality is not that black and white. And yeah, so I think we've learned a lot about marketing, and about how to grow a product from customer retention, acquisition and so on.
Ingrid Thornton:
So, you described yourself as a lean starter on your website, and a big part of that is learning, validated learning, understanding your customers. How do you actually do that at Jexo? How do you understand what your customers want or need, or things that they don't even know that they want?
Biro Florin:
Well, we do have a lot of demos, so we have a lot of demos with customers. We promote that quite a bit. And we also use events, and we aggregate data about the customer engagement, to really understand what they find useful and not. Yeah, so I would say these are around customer retention practices. We do have signals and triggers in the application that make us understand when a customer is engaged or not. And these are hypothesis that we made initially, and we started tracking, and we can act upon them after that. Be it by trying to educate the user, or by trying to understand better what they need. Education is not necessarily the problem solver in every single case. There might be some lacks that exist. So, we try to do a mixture of both basically, educate and also understand and adapt based on customer needs.
Biro Florin:
Our products usually are extremely MVP, extremely minimal when we launch them. And we learn a lot from customers, and a lot of the features that exist today in the products are because a customer had a need. And that's where the heavy work exists, so when we launch a new product, an MVP, that's just the beginning. That was the easy part. The challenging part is afterwards, aggregating all of the feedback, and understanding the customer behavior in order to take decisions, and improve the products the right way. And so far, I think we were quite successful with that. Nikki's pretty much our research guru, my co-founder Nikki. And we were always able to pick up and adapt the products in such a way that people come in afterwards, and they just get it and see the value of it.
Ryan Spilken:
So you mentioned earlier that you host a podcast as well, it's called the Startup Corner. And you are devoted to sharing some of the lessons that you've learned in this journey, in the several journeys of businesses. Tell us a little bit about the show.
Biro Florin:
Yeah. So, the show is actually two parts. So I do two types of content, one is video, recorded videos where they're kind of prepared, scripted and so on, where I put my thoughts on paper and then sit in front of the camera, and do a video about a specific challenge. Be it, for example, how to have a successful pitch deck tips, or how to bootstrap, or how to hire and so on. And these are, again, based on our experience. They're not cookie cutter. So, the type of business that I have and the type of decisions that I took, that worked for me, are not going to work for everyone. So that's one part, which is these recorded tutorials to put it like that, and thoughts.
Biro Florin:
And then I also have a podcast where I invite founders from across the Atlassian ecosystem, but also outside the ecosystem, to talk a bit about their experience and where they're going, and who they are as an entrepreneur and as a founder. I feel that a lot of the audience and a lot of the people that I talk to, want to learn more from founders, and get that diverse view.
Ingrid Thornton:
So they say a bit of a saying, I guess, in the startup world, that to be a successful founding early days team, you need a hacker, a hustler and a hipster. Would you agree with that?
Biro Florin:
Do I agree with that? Yeah, I would say that it doesn't necessarily need to be three individuals with these traits separately. You can have a mix of people that share the traits, but you do have to have these traits.
Ingrid Thornton:
I guess you can loosely translate it into someone who knows how to code, someone who can sell, and someone who knows the design bit. Right?
Biro Florin:
Yeah.
Ingrid Thornton:
So, it sort of makes sense.
Biro Florin:
It does. And I think that was a lifesaver for Nikki and I at the beginning, because amongst the two of us, we were sharing those traits. So I was engineering early on, I was building the applications, Nikki was designing them. And then we were also working on selling, on marketing and so on. We've done a couple of growth hacking courses together. We would sit, we have a whiteboard in the other room, and we would sit. And I remember we've done Dan Martel's Growth Accelerator program. And we would sit, every Saturday would sit in front of the computer. We would watch an episode, and go to the sketch board, pause the episode, draw the exercises and so on, so that we learned.
Biro Florin:
So when we came in, it was the hacker and the designer, or hipster, whatever, the designer and the engineer. And then the marketing bit, we had to just spend time and educate ourselves in learning how to sell. But you definitely either need to have all three to start a business the right way, on the right foot, or at least have enough time to educate yourself of one or the other traits.
Ingrid Thornton:
So, I also understand you have another role in the company which I guess is quite key, and that's the chief cuteness officer. What does he or she do on a daily basis?
Biro Florin:
Yeah. So chief cuteness officer is our Jack Russell terrier, Peanut. She's two years young now, and her role is to make everyone smile, and be as happy as possible. So we bring her in the stand-ups from time to time, and we also have, we're preparing some commercials and some things with her as the main role. So yeah, she has a very important role. She also sleeps a lot, which again, it's important.
Ryan Spilken:
Well, I would point out that Adaptavist's chief marketing officer, [Gertie 00:28:24], is always a valuable asset. It brings a lot to the company, to have somebody in the canine division be there to support the employee morale. How is response to the Startup Corner? Are you getting a lot of feedback? Are you getting people going like, "Oh, thanks for exposing this, I needed this"?
Biro Florin:
Yeah, I think so. I do have a few people that are watching regular and such. It still didn't kick off majorly, but if I learn anything, it is persistence is half of the journey, to put it like that. And I do have people that really enjoy learning from my experience, I have people from the Atlassian ecosystem that tell me that it's reassuring to hear others talk about their journey. It also helps you feel like, and validate whether what you do is on par with others or not. And I also have folks that haven't started yet, a business. And I think just having this early insight into what it is to run a business.
Biro Florin:
Because again, we're not extremely successful, we're on our way there. And it's important to get fresh baked thoughts from someone that is one or two steps ahead, rather than a thousand. Sometimes it can feel detached, and I'm super aware that maybe in five years from now where I'm in a completely different place, I wouldn't be able to tell the stories that I tell today, the way I tell them today. And I think that's very important. I also have part of this program here in UK called Dorm, where I mentor early founders, and people that come out of uni and want to start the business and so on. And I think that's one of the things that they appreciate the most, the fact that I can relate, because I've been having a growing business for four years, not for a decade or two. So there's a lot of things that are fresh for me, that I can help mentor others.
Ingrid Thornton:
And for the ones that you talk to who have an idea that sort of fits into the Atlassian ecosystem, especially around apps for the marketplace, is that a route that you would recommend? What are the pros and cons if someone wants to create an app for the Atlassian marketplace?
Biro Florin:
Yeah. So I actually had a couple of people that I've talked to that were on their way of building an application for the marketplace, or thinking about it. And well, I think the benefits are pretty straightforward, I would say, although probably not of obvious for everyone. I also made a video about this. I would say the ecosystem, and being part of a family of other people that have done the same thing as you, and have the knowledge, is quite powerful because it makes you feel like you're not trying to climb steep mountains with absolutely no support.
Biro Florin:
I would say it is a lot easier to get discovered on the marketplace, versus let's say a standalone SaaS tool, where you would need to put a lot more efforts into getting customers in the door, and getting leads and so on. I do share quite a bit of our experience, and where we lacked when we started. I think there are things that you need to be aware when you get started, that could cripple your start or your growth early on. Like how you position yourself on the marketplace, how you attend all of these programs that are today obtained in the ecosystem security programs and other bits, and how you get involved in the community and forums, and so on.
Biro Florin:
The downside, so I think the benefit is, again, the community and having a platform that helps you get exposure. I think those are the two main benefits. The downsides, well, it's a lot harder to sell. Because you have some traits that you need to follow when it comes to your personas, your leads that you want to attract. For example, I can't really sell to absolutely anyone, they have to have an interest in JIRA. And then I also lose track of the acquisition funnel, because not all interested parties will have access to install my app. So, then I don't really have that knowledge of how that funnel went, when it actually stops at the administrator, that might have absolutely nothing to do with my application.
Biro Florin:
So, there's some complexities in there that make it a bit harder for you to sell and get visibility. There are ways around that, of course. But again, it's so much easy for you to create strategies, customer acquisition and retention strategies for a standalone tool, where you have the absolute power in how you deal with your customers, versus having a bunch of restrictions on an existing platform.
Ingrid Thornton:
And if you could ask Atlassian to make any changes that you wanted, around the setup, around the admin persona, also around the admin user, to make your life easier, what would it be?
Biro Florin:
Well, I think it will get a bit technical, because there would be a couple of things that I would want. So, I would want a way to understand how our marketing campaign evolve. And at the moment it's very difficult, given that you break that chain when you need to install the application, and you have absolutely no visibility over that because you have an admin that installs the app. I think it's only Atlassian that has the absolute power to help vendors and partners with that.
Biro Florin:
And then I would say the second bit is, there needs to be a better way for us to communicate with our consumer. It is absolutely impossible, unless you do... So, what we do is we have in-app messaging systems, and notifications and things like that. So, if we have an update on the app, you'll get a little blinking thing in a corner. So if you're using the application, you can go and check and figure out what we've released and so on. But for applications that don't have a full page, and more interfaces around configuration and such, it's nearly impossible to reach to the actual consumer.
Biro Florin:
So, I think those are the two things that I would ask of Atlassian. One is giving us visibility over how our campaigns and our efforts into marketing are going. Because even there are certain ways, I don't think they're as transparent and as easy to adopt. And second, just having that reach to the consumer directly. I think those would be the major ones, and I think that maybe probably a lot of the Atlassian would say the same thing.
Ryan Spilken:
All right, Biro, this has been super informative. I've learned a lot. I still haven't figured out how to start my own business yet, but we'll be in touch. What has got you excited for 2022? What are you looking forward to in this new year that we're heading into now?
Biro Florin:
Well, it's going to be an extremely exciting, but extremely heavy first half of 2022 for us. We have an event coming in February, which is called Jexo 22. No pun, no play on Team 22, okay? But no, so we have one on 2nd of February, 2022, which is two, two, two, two, that's why we called it 22. We have a reveal event, where we're going to talk a bit about, we're going to give some announcements and we're going to talk a bit about how 2022 will look like for Jexo. And I don't want to give too many things away, but we've been hard at work. We've been collaborating with a lot of people as well, and we have a few announcements over that event, which I think will be of interest of a lot of people in the Atlassian ecosystem.
Ryan Spilken:
So, is it a new app? Is it services? I got to prod you a little, I would not be doing my job if I didn't prod you a little bit.
Ingrid Thornton:
This is where we start guessing.
Biro Florin:
Yes. Well, that's the whole point of the event, right? To keep you guessing. I can tell you that it is more than you think. That's the only thing that I can tell you. So, I'm sure that some people might think that we're launching an app or something like that, or that we have updates for our existing apps, but it's a lot more than that. And some of the things that people will not expect one bit, so yeah, stay tuned.
Biro Florin:
And then I would say 2022, we hope... So we just, this month, we're reaching half a million in annual recurring revenue, which we're extremely proud of. This is all cloud, we have zero server data center apps. And we hope that over 2022, we can get that to a million. We've had almost 200% growth over the last year. We're expecting at least a hundred percent over this year. So yeah, and in terms of the team I've made a video, I keep referring to my videos. This is so bad.
Ryan Spilken:
No, no. We're going to make sure that we link to your channels here, in the show notes for this episode. So yeah, tell us all about it.
Biro Florin:
Because I feel that I put my thoughts so often into my videos, that when I talk to someone, it feels repetitive. So even when I have a private conversation, I'm so weird, even if I have a private conversation and talk to a person, I'll refer them to my video to check it out, which is embarrassing. No, but I talk about this, about the fact that we want to stay a forever startup. I call it a forever startup because we're extremely flat, we want to stay flat, and we're probably not going to grow in size that much.
Biro Florin:
And that is because of my and Nikki's, and the team's desire to continue to grow and have this work playground, sandbox, without creating vertical structures, and trying to avoid some of the challenges of growing companies. As I mentioned, working for the previous company and growing for five years with the company, I learned a thing or two about the challenges. And I mentioned in that video the most common challenges that we're avoiding. Now, it doesn't mean that they're not solvable, but we'd rather focus on our craft, and doing our business, and not have to worry about, "We're now 30, and we need managers here, and we need to figure out this structure, and how do we maintain our culture, and how do we communicate better?" And so on. When you're in a more private setup, I feel that it's a lot easier to maintain what you have.
Biro Florin:
So, we're doing our best to continue to grow. We're probably not going to exceed 20 anytime soon. There's 11 of us, so probably next year we'll get to 15 or something like that. And yeah, we do have our challenges, because trying to grow and double in revenue over the year, and not growing too much in size as a team, comes with challenges. But what we try to teach each other internally, is to be smart about how we do things, and to make sure that we prioritize the impactful stuff around us. And I'm not talking just impactful in terms of delivering work, impactful around our values and our company values. Which includes happiness, which includes pride in the craft, and so on. So when I say impactful, I'm referring impactful towards our values, not just growing in revenue or something like that.
Ingrid Thornton:
I think you're really onto something here, Biro. I actually heard just the other day, another company saying just that, that they are planning on capping their number of people to 10, no matter what happens. And you called it the forever startup, so wow, this is where I heard it first.
Biro Florin:
Yeah. I don't know if it exists. I titled my video The Forever Startup. But I think it is a mindset. We want to keep the company lean, minimal. We want to continue to build and do great things, but we want to maintain our happiness as well, and take decisions around our values. And we have so many examples where we took a decision towards our happiness, rather than our revenue. And we're probably going to continue to do that moving forward. And I'm not saying, so there will probably be a time where Jexo will have to partner up with a bigger family. Because the way the ecosystem is evolving, I predict that eventually it's going to become an extremely volatile environment for those of us that are smaller.
Biro Florin:
And in order for us to continue to cherish our perfect workplace, and continue to care about wellbeing and happiness, we'll probably need to take decisions that at first might not seem like, but they are decisions in order to maintain that little nook of a team, that's excited and challenged of progressing products. And if you're working in an extremely volatile environment, where there's stress around various decisions and such, then you're destroying that. So, we do understand that there might be a period where we'll need to take the decision. And I think everyone in the team will take that decision happily, because it'll be the right decision for us.
Ryan Spilken:
Fantastic. Biro, it has been inspiring to hear your story and to learn about your journey into the Atlassian ecosystem. So, thank you so much for sharing that with us today.
Biro Florin:
Thank you so much for giving me the time and the space for this. I know I talk a lot, so sorry for that. But it's also, it's been a pleasure. You're wonderful hosts, and this was also my first podcast outside our own podcast at Jexo, and such. So, it's been a lovely experience for myself as well.
Ryan Spilken:
We'll try and get you on a few more of the shows in the Adaptavist Live family of podcasts. That's for sure. Ingrid Thornton, lead product manager at Adaptavist, thank you for co-hosting today.
Ingrid Thornton:
Thank you, Ryan. It was really good, and really nice to meet you, Biro.
Biro Florin:
Nice to meet you too. Thank you.
Ryan Spilken:
So, we will include links to Biro's podcast, and these videos that he's been discussing, as well as the registration link to Jexo 22, no relation to Team 22, in the transcript and show notes for this show. That's it for this edition of Team Titans. Thank you all so much for listening. Please leave a review on your favorite podcast network of choice, and we'll see you next time.