Team Titans Season 3, Episode 1 - Derek Sutton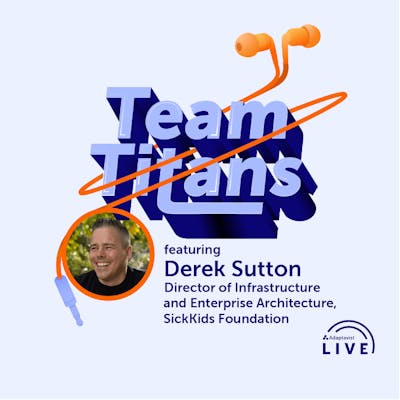 Summary
In a wide-ranging discussion, Derek Sutton of SickKids Foundation tells hosts Ryan Spilken and Harp Athwal about how empowering teams at the foundation with the technology they need to support the goal of healing children isn't always a straightforward path. They discuss ESM tooling with Jira Service Management, team building, and the exciting future of the foundation.
Transcript
Ryan Spilken:
Hello, and welcome to Team Titans, the podcast focused on the stories of people with unique perspectives on work itself, leading teams, building tools, and defining or possibly destroying processes. I'm your host, Ryan Spilken. And joining me on co-hosting duties today is Adaptavist's Head of Client Services, Harp Athwal. Harp, how are you, sir?
Harp Athwal:
I am great. Thank you so much, Ryan.
Ryan Spilken:
It is always a pleasure to spend time with you, sir. One day I hope that we get to do this again in the city, which you apparently run from behind the scenes, Toronto, Ontario.
Harp Athwal:
I can't wait. For anyone who's not known, Ryan's come to Toronto before and he's played an open mic night at one of the most historic locations in the city. We'll do that again, Ryan.
Ryan Spilken:
Can't wait. Joining us today, and this is an incredible privilege, is Derek Sutton of the SickKids Foundation. Derek, thank you so much for joining us today to talk.
Derek Sutton:
Thank you very much, Ryan. Appreciate it.
Ryan Spilken:
You have a fantastic case study that Atlassian has put forward about the work that you've done providing services to the sick kids in Canada. Apparently, the three of us, Derek, Harp and myself, have a bit of a connection in the city of Toronto's fine microbreweries because I am a tremendous fan of the Bellwoods Micro Brewery. So guys, Jelly King, the best beer or what?
Derek Sutton:
It is by far the best sour beer that you're going to find in the city. Absolutely.
Harp Athwal:
I could not agree more with Derek. That beer was a game-changer. For a guy who loves dark beers and stouts, and then someone goes, "Hey, try this thing called a sour beer," never looked back.
Ryan Spilken:
Oh man, wakes up the taste buds. And you discovered this in micro breweries, and I guess a big part of building the work between SickKids and Adaptavist came around at the pub, huh?
Derek Sutton:
It did. Way back when we were first, years ago, searching for companies that we could partner with when it came to Atlassian products, ultimately we went with Adaptavist. And part of what really cemented it was actually one of the first real visits before we even embarked on anything was at Bellwoods. Have a few drinks, and subsequently back when we really could meet in person, so going back a few years, obviously. We would go hit up to different places to have a drink and talk about our plans and things that we wanted to do.
Ryan Spilken:
Well, Derek, let's step back for just a second and talk a little bit about the SickKids Foundation. Tell us a bit about the work that SickKids does.
Derek Sutton:
Sure. So SickKids Foundation is, as the name would imply, a foundation supporting the hospital for sick children located in downtown Toronto. And so SickKids Foundation is a separate organisation from the hospital that raises funds for the hospital for all sorts of different things. We're right in the middle, actually, of a campaign to raise one and a half billion dollars to actually rebuild the SickKids hospital.
Derek Sutton:
So some of that work has already started, but the hospital, the current iteration of the hospital was actually built in the 1940s with a lot of community support that rallied around in order to build what was needed back then. And now really 1940s building technology is not really appropriate for a modern, cutting edge hospital. So that's where we've been raising a lot of capital funds to fund the building of a new hospital, emergency rooms, and patient suites, and things like that.
Derek Sutton:
But we also support a lot of the research, the groundbreaking research, things like CRISPR, and stuff like that, that folks may have heard of. A lot of groundbreaking research happens with the research tower. So if you're in Toronto and you're coming down Bay Street, you'll see this big shiny building that says SickKids on it. That's actually the research tower. You have to go about a block over to see the older building where a lot of the patient stuff takes place.
Derek Sutton:
Just about everybody in the city, if you have kids, has some experience or affinity with SickKids, whether it's bringing your kid in because they've got a dislocated elbow or whether it's something really serious. Luckily my own personal experience with it has been through pretty minor things, but I also know a number of people whose kids have had some pretty serious run-ins with cancer and things like that. And that's kind of what SickKids the hospital's all about.
Derek Sutton:
So we raise money for the hospital, not just for capital things, but for all sorts of things. To fund research chairs, all sorts of stuff like that. And we do it through a whole lot of different means. So for a charity that is supporting something regionally, we actually have a pretty big diversity of the ways that we raise funds. So there's obviously mass-market type of things through email campaigns and stuff like that. Purchasing products and good and stuff like that to raise money. But we also do it through a lot of major gift donors, so those naming rights. The new patient care tower that is going to be constructed in just a couple of years, that's actually the Peter Gilgen Foundation because he donated $100 million to the foundation to support that, which is unbelievable.
Derek Sutton:
Then we have corporate donations. We do events from community events, which obviously in the last 18 months have suffered a bit as a lot of those in-person things haven't happened, and signature events that we run ourselves. So big galas and stuff like that to raise money in the community. All that stuff comes together. We're a fundraising organisation, supporting the hospital, but we've got four or five different organisations within us that performed that function.
Ryan Spilken:
Amazing. Can you tell us a little bit about your team?
Derek Sutton:
Absolutely, yeah. So I'm in what's called the BIIT team, so that's business intelligence and information technology. I'm really on the hard IT side, so I'm the director for infrastructure and enterprise architecture. So what that means is everything to do with the infrastructure, the servers, whether it's on-premise, hybrid cloud, cloud, cloud-based platforms, that sort of stuff, all the networking stuff that goes on.
Derek Sutton:
I'm also responsible for security, so security and compliance. And then what we call workplace productivity. So that's the platforms that we use to actually support our employees, which we'll definitely get into. As well as the technical support, so your traditional help desk is part of my team. And so we do all of that stuff. We are the foundation for IT at the foundation, and then we have other IT teams that handle the fundraising applications themselves. That's, I guess, the house on top of the foundation. And then we also have an analytics group that helps to drive fundraising decisions the way our campaigns run and things like that. That's the three legs of the stool in BIIT for the foundation.
Ryan Spilken:
Just a couple of things to keep track of, right, Derek?
Derek Sutton:
Yeah, just a few.
Harp Athwal:
Just a few.
Derek Sutton:
Absolutely.
Harp Athwal:
So Derek, I know we've had a long history together. I just want to highlight, Ryan, that actually it's kind of cool. Prior to me even joining Adaptavist, I had worked with the SickKids Foundation for almost... Actually, now it's probably been about two decades now. Prior to joining Adaptavist, I was a tech consultant in the IT area for a company called Artez, and that was an online fundraising platform.
Harp Athwal:
We had three clients in 2003, just to show how much innovation SickKids Foundation has had for so long. Our first three clients that were going to try something called monthly donations was the Canadian Breast Cancer Foundation, Kids Help Phone, and the SickKids Foundation. So that is ages ago.
Harp Athwal:
It's funny, about maybe three, four years into my career at Adaptavist, so about 2017, I actually got a note from our triage system where we got new opportunities. It was actually from the SickKids Foundation. So Derek, I'm going to see if you remember this, but here's the request that came in. It literally, verbatim, "Here at SickKids Foundation, we are looking to relaunch Jira. It has been used for some time, but we are looking at moving to the cloud version from on-prem, upgrading versions, looking at add-ons and architecting for the foundation as a whole. Could someone please get in touch so that we can learn more about your service offerings and approach?"
Harp Athwal:
So Derek, how do you think we've done since then?
Derek Sutton:
I would say A+. We've definitely accomplished everything laid out in that specific ask for sure.
Harp Athwal:
Ryan, so one other thing, I know it's a bit of a relationship or funnier story, but I remember going to the first meeting, and though I know Derek, he also has a few colleagues, Chris and Nina. We have a sales gentleman named Ben Watson and also our project manager Alastair Wilkinson. So the three of us walked in, and I know we talked a bit about the beer, but the funniest part that I remember back then was Ben was making sure he got everyone's coffee orders right. So to this day, I remember grande cafe mocha, tall double cappuccino with one sugar, tall dark with one sugar and one cream. I remember Ben's like, "I got to get this right. I got to get this right." So I don't know if you remember that Derek, but we were like... That's what I love about these relationships is those moments like that.
Derek Sutton:
I do, yes. I remember Ben walking in with that. I have subsequently stopped having the sugar in the coffee, but now I always add in a shot of espresso to go with it. So always go for the red-eye.
Harp Athwal:
Oh, there you go!
Ryan Spilken:
Delightful. I have to wonder if Ben remembers those as well as you do, Harp, because I have my suspicions as to what the answer of that would be.
Ryan Spilken:
All right. So you got in touch with us to relaunch Jira, to talk about the cloud, see what you could do. What kind of pains were you experiencing at that point?
Derek Sutton:
So I've been with the foundation for, I guess it's about four, almost four and a half years now. So when I came in, I think they'd been using the on-premise version of Jira for probably a good five, six years, at least. Actually, I think probably longer than that. And that was really launched because they needed something. Everything was being done highly manually.
Derek Sutton:
One thing that they'd done is they'd managed to start to onboard some business users to run some of their processes through it, things like that. When I came in and looked at it at that point, I really wasn't considering whether it was on-premise or in the cloud. Obviously cloud is one of those things they were looking for when I came on board as we starting to reconfigure the way that the whole BIIT organisation functioned and as we were taking it to the future.
Derek Sutton:
But first and foremost, the thing I was looking at was we were using this tool and it was functioning quite well, but we weren't really using it necessarily the way it was intended. So we were using Jira software to encompass everything. So some aspects of project management, but a lot of task management and things like that. A lot of my background in years previous had really been in ITSM, so a lot of that service management type things, and having right tools, doing the right things for the right purpose.
Derek Sutton:
So one of the first things I asked was what are you using as an ITSM tool? They said, "Well, we're using Jira." And I said, "Okay, well tell me about it." I looked at it and I said, "Well, you're kind of using a software project management tool to handle everything." I said, "We should probably take a look at that." As it turns out, and that was just in my first couple months, there was a lot that I didn't know about everything at the foundation. So it took some time to really take a look at that and realise where we were at.
Derek Sutton:
A lot of stuff was still done very manually. Folks were either calling the help desk or just emailing help desk, and everything would have to be categorised, thrown into these big projects and just tracked that way. There really wasn't much in the way of any flow to anything, and so everything got sent to these undifferentiated buckets.
Derek Sutton:
So the first thing that we wanted to do was figure out, well, we need to first off, we need to upgrade it. It had got installed and then had hadn't been touched for a while, so it was no longer supported. So the very first thing that we actually worked with Adaptavist on was we need to upgrade, which we did. They helped us set up a whole staging environment for it so we could start to test things out. Lo and behold, with an upgrade, there was the service management. I guess at that point, the service desk module came along with it. I rubbed my hands and went, "Ah, great, excellent. Now we can start to look at setting up some proper service management," and we started looking into it with Adaptavist a bit.
Derek Sutton:
We're doing several different things with Adaptavist, but one of the things we realised after the upgrade and after we started looking at starting to launch the actual service desk piece of it was that we also had probably 10 years' worth of data just hanging out. And if there's anything about any sort of a system implementation or migration or anything, it's getting the system set up and meet your technical specifications and functionality is one part. By far the hardest part, this symphony of pain is when you decide, well, you know what? Can I bring over all my data? And I said, "Listen, we definitely don't want to do that. We've got a fresh start here. We should start fresh. We can leave the old one as an archive, as a legacy to go back and look at stuff. But I don't want to bring over 100 gigs and 10 years' worth of information into the new system because we're just going to be bringing all of our problems along with it."
Ryan Spilken:
Were you able to diplomatically ask how often they looked at things from 10 years ago? Because that's often what I wonder in these situations.
Derek Sutton:
I had. So it's one of those things where it's a lot less now. At the time, folks would really go back through it on a fairly regular basis to say, "Okay, everything we've got attached to a ticket," and look back for historical examples. Now that we're on the cloud version, which we can talk about that journey a bit, now it's we're really going back, say, a year and a half-ish. Which actually turns out, given some of the changes that we've made over the last few years, means the need to go back to look at the stuff from 10 years ago is significantly less. It's nice to have just in case, but we find that we're actually having to do it a lot less for sure.
Ryan Spilken:
Oftentimes when the Atlassian suite is already established in a place, when you have administrators of other areas of the business who are looking to find a new tool to really centralise their processes, somebody invariably pops up and says, "Hey, we got Jira over here." And so someone maybe a little further down in the organisation will go, "Yeah, well, spin me up a project. We'll have some..." And suddenly it's being used everywhere, right? So you, you, as if I'm hearing you right, people were using just vanilla Jira software to handle. But you didn't have to go with Jira service management or Jira service desk at the time. You seem like the kind of person who would be exploring your options. Tell us about the search.
Derek Sutton:
Yeah. I've worked with probably five or six different, I'll say, ITSM tools from ServiceNow to Computer Associates. At the time I think it was called Service Desk, and a whole bunch of others over time. When I first looked at Jira software, I said, "Well, this isn't the right tool for this." And I thought, "Well, let's look at some other things." So part of that search was actually doing a bit of research into, okay, I know of a bunch of different tools. We can kind of stack them up and say, "How might these work?" And I said, "Well, we're using Atlassian tools right now. Hey, they've got this service desk offering, so let's take a look at that." Overall it was pretty highly rated. And so definitely we put that in the mix as we started to look.
Derek Sutton:
The thing that really helped seal it was as we started to look at some of these things and the things that we could do with it, part of it was the familiarity that people had with the existing tools that we were using. So that kind of made a big difference. I mean, I know it's the incumbents advantage in many ways, and the idea of that it's there, which meant that we could start to play around with it. So I think the setting up of that staging environment was actually very key for that. Now we have something where we can start to look around, start to play around with it as opposed to just starting fresh, starting from zero with anything else. And so we really got to get our feet wet a little bit with the service desk on the on-premise version.
Derek Sutton:
And then when the time came to start looking at, okay, so maybe this is what we want to go with. It seems to make the most sense. It has everything that we're looking for. It's here already. We did ask the question at first, we're like, "Well, what about the cloud version?" At the time, a few years ago, one of the challenges was to say, "Well, most people, actually, maybe they use cloud, but eventually, maybe they graduate to on-premise because you got all these add-ins. There's so much more functionality available." It seems a little bit backwards that we function that way.
Derek Sutton:
So we said, "Okay, well, we'll look at expanding and going with the on-premise version." And as we went down that a little bit more, we said, "Well, we'll always keep our options open and we'll keep touch with Adaptavist around what makes the most sense." And eventually when Adaptavist came to us and said, "Well, they now offer the... I guess it's the community licensing discount pricing for non-profits." And that was actually the key for us. Now it became much more financially feasible for us to move into the cloud and not have to worry about the servers and all that stuff on-premise moving forward. And that's what we finally said, "Okay, maybe we should just make this switch."
Derek Sutton:
And I'm glad we did because when Atlassian, I guess, finally turned around and said, "Actually, we're going to reverse it. And you know what? It's all going to be cloud from now on." We're like, "Oh, well, we're already there. Thank God." It really fit in with my long term goals for the foundation in terms of getting things onto the cloud because it's much easier for everybody to be able to work from it if that's where stuff is resident.
Harp Athwal:
Derek, I have a question for you. I know Ryan's got millions and millions of listeners to this podcast. And of all these millions, not all of them have had the experience that our vintage has had. When you mention that point about you're using Jira Software, but you're looking at Service Desk, Jira Service Management, or you're looking at maybe ServiceNow or another whatever it happens to be, even though ultimately you chose the Atlassian tie in product, would you still recommend everyone go through that journey? And if so, what was the key thing that you'd recommend that they do during that piece? Because that's a really important part that you actually went through that experience still. You didn't just go, "Okay, let me just go with the Jira Service Management because it's tied in."
Derek Sutton:
I think the most important thing is you don't want to work backwards from a solution. And that's something it's kind of technical project management 101. Don't start with a solution and work your way backwards, come to requirements. It's really a matter of thinking about what is it that you want to accomplish and what are the things that are most important to you? Most of these tools will give you the basics of what you're looking for. So from that sense, it's six of one, half a dozen of the other. But are there some differentiating factors that are important to you? And that's what you have to look at.
Derek Sutton:
So when you figure out from a requirements perspective, what is it, right? So ultimately for us, it was being in the cloud was crucially important. And then familiarity was another part of it. That was part of that incumbents advantage I talked about, which a lot of organisations will have. Most are not starting from scratch for a lot at this stuff.
Derek Sutton:
But really it's a matter of figuring out what are some of the differentiating factors for you and then looking at how some of the tools might map out to those. Because each one, while they do the basics, they also do some things slightly differently. And you have to figure out also how does your organisation map onto that? We were, I'll say, kind of lucky in the sense of we didn't really have a lot of hard and fast ITSM processes because we were just using a tool where everything got thrown into some buckets. The way that the Atlassian Jira Service Management works with your distinct service desks and stuff like that really was a lot easier for us to move to.
Derek Sutton:
Some organisations like things to be super, super centralised but we didn't. We really couldn't do that. While my team does, I'll say, the traditional help desk function, the fact is we don't have a large enough team to have people that are simply dedicated to sitting around and directing tickets. So having the ability to have different service desks where tickets could be... As long as people could find the right place, they don't always get it right, and that's fine. But the fact is having things directed immediately to the service desk that matters. So someone's got an issue with one of the fundraising applications or CRM or the website or something like that, things like that can be directed immediately to the team that is going to be working on it and they can see it. And they can our own notification schemes and things like that so that certain things, certain types of tickets, immediately they get notified and they understand what's going on.
Derek Sutton:
It made a big difference. It was kind of one of our biggest wins in terms of efficiency. So it wasn't a case of I'm emailing help desk and now when help desk gets around to seeing it and saying, "Okay, they emailed it," and automatically logged this kind of ticket. Now I've got to look at it and figure out, oh, this isn't us. This actually belongs here or it belongs there. So people would find that the most efficient way for them to get support was just to email people in IT directly, which is absolutely what you don't want. You want everything to come through a centralised portal, and then you want to try and split these things up as efficiently as possible. So this really allowed us to do that, I think, in a really good way.
Derek Sutton:
So now we've got different service desks that are managed and owned by the owners there to run the way that they want and the way that functions best for them. It was one thing that I had to, I'll say, give up a little earlier in the adoption process, which was to say, "It's okay if these different IT service desk want to run their service desk differently. They don't have to all run exactly the same." An issue here is not the same as an issue there. The request here is not the same as the request there. So it's okay to let those things run separately because that's fine. We're not Accenture, so that's okay.
Ryan Spilken:
I really actually like this bit that you've come to, Derek. Tell me a little bit about when the click switched over and you realised that was the way to go. Because they all had a central location, so tell me what made it, what finally flipped the switch.
Derek Sutton:
So what made me think to let go a little bit?
Ryan Spilken:
Yeah.
Derek Sutton:
Prior to the foundation I was in pharmaceuticals, and everything much more regulated. Process is king, and documenting that process. Now, which is not to say that process is not important, but it's okay if the process is a little bit different. Somebody that is having an issue with a CRM system is different than somebody having issue with their laptop. Their expectations are a little bit different. As we were starting to roll it out, the big thing that I was trying to do with some of the other teams in building their service desks was trying to keep it as simple as possible. So some were trying to over-engineer it a bit, weigh too many fields, too many different request types and a lot of that stuff.
Derek Sutton:
So I was able to convince them keep it a little bit more simple because you're going to make it really hard on yourself later on if you want to make some changes to it. You have all these super granular things can be confusing for people. But then once all that was settled and they started asking questions about here's what we're finding. Really the key was the real world experience. As things started to roll in and we started to realise what am I seeing in the technical support help desk service desk versus the infrastructure service desk versus the applications versus analytics and so on.
Derek Sutton:
And what are those customers expecting in terms of as they're seeing it, right? And that was the thing that made me say, "Okay, we can do these differently, and that's going to be okay." It's okay if when we say report out to say, "Here's what our stats look like." Those stats are going to look different, and it's actually not that big a deal. This stuff isn't going back to Health Canada or the FDA or something like that. This is really just for ourselves. So if each service desk is operating efficiently and making changes to operate efficiently, then it makes sense to keep it within there and let them make some... And the changes haven't been dramatic. It's really just a case of we're finding this request type doesn't really work. You know what? Let's do one this differently. Let's modify this. And so that's what we've been doing is just burned in for the past bit. I think it's operating really well right now.
Ryan Spilken:
Harp, tell us a little bit about the way that Adaptavist teams came together with the SickKids teams and how they got along working on the service management piece and the cloud migration bit.
Harp Athwal:
Yeah, definitely. I think my favourite part of this relationship, there's been a number of people that have worked with Derek and his team over the years. And the part that I'm most proud of is that it does feel like a true partnership in the truest sense of that word partner. We collaborate together, we challenge each other, we're working side by side. We build this trust, we're not just doing the thing. We're learning from each other. And the more we challenge, the more we learn and the bigger that trust gets.
Harp Athwal:
So whether it was that initial upgrade as we moved forward to all the amazing areas that Derek has spoken about moving. Jira Service Management being on the cloud or, in the future, things with Opsgenie, whatever it is, it feels like there's a real conversation always happening.
Harp Athwal:
I'm a huge Raptors fan. All cards on table. Go Toronto Raptors. But Mark Cuban, he's the owner of The Cavs. And I may butcher this, but I remember him saying business happens year after year, and that the value is measured by the total upside and not by how much you squeeze out of a deal. I don't think over the course of any of the work that we've done, we've ever been trying to squeeze anything out of this deal. We're really looking at how do we make this partnership long lasting, adding value, making sure that Derek and the team, the amazing work that they're doing, the amount of kids that are being saved. That's our focus.
Harp Athwal:
And when we look at our team that contributed to this, there's a guy named Vito Fragoso. He's got two young kids. He really want to be part of this project. It wasn't because I want to be part of this project because of this or this. He's like, "This foundation has helped save lives and I've got two young kids that this really impacts."
Harp Athwal:
And when you look at the rest of the team, unfortunately if I start naming names then people are going to be... I'll miss someone, so I won't. But there's so many amazing people that have worked with the team. But I will call out one thing that Rodolfo says. So Rodolfo Romero is one of our senior consultants, and this part was quoted in the Atlassian case study too. So he said, "We look at cloud migrations not as transfer of the way that we work on-premise, but as an opportunity to rethink all the service management processes and procedures that you have implemented. Having the opportunity to reshape the way our clients work is what excites me to work with the Atlassian solutions every day and help teams work better together with tools that empower them."
Harp Athwal:
I think when you hear what Rodolfo said there, it's really from day one, it's always about the right thing. It's not about doing it this way because it's prescribed that way. It's having that conversation, having that partnership, trusting each other and ultimately adding the type of value that we're seeing as part of this.
Ryan Spilken:
Derek, digital transformations like this, moving processes is from originally an on-premise Jira Software instance to the cloud service management experience, that's more than just clicking some buttons and moving some data. There have to be some points in here where people start getting a little too frazzled or something goes off the rails. So tell us a little bit about a moment during this process that you were like, "Oh, come on."
Derek Sutton:
I'll relate back to one thing that Harp said, which was around being able to challenge a bit. And I think that was really something that was beneficial to get through. Help me, I will say, challenge my conceptions of how it would work because like I said before, I've had some experience with a lot of different products. And Jira Service Management actually functions differently, and we kind of talked a bit about that, right? It wasn't the way I was used to setting up an ITSM tool.
Derek Sutton:
So when I was drafting out the way it was going to be set up, I had this wonderful elaborate series of spreadsheets talking about request types and all this stuff. It was beautiful. Yeah, the Adaptavist team was happy to look at that. We talked through it and we were looking at, "Well, maybe we got some automation, so something gets logged like this, it goes over here and this and that." Which was the way I'd been used to doing some things. But then Adaptavist said, "Well, hold on a second. This isn't really the best way for this to work." And we had to talk through it a bit. I remember having conversations with Rodolfo about it, around the Jira Service Management way that it functions versus a traditional ServiceNow, something like that.
Derek Sutton:
It was through those conversations that actually came to realise that a lot of those other products really function best in an organisation that has that single dedicated point of contact. A group whose job is to sit there and say, "Okay, I just got a ticket. I'm going to now spawn one over here for the networking team and over here for the security team and whatever it happens to be," versus things routing to directly to the teams that should be responsible for managing it.
Derek Sutton:
So I think that was the piece and I kind of stopped and went, "Okay." And as I started to rethink, it changed the whole way that we were going to roll this out. So I got to go back to the other teams and say, "Okay, so this whole wonderful, complicated scheme that we had, it's not going to work. Or you know what? It probably will work for about a month and then we'll have to make a change." And then I'm going to be calling up Adaptavist and saying, "So we don't really know enough about the scripting on this. Can you help us out with this?"
Derek Sutton:
From Adaptavist perspective, theoretically, great. This is going to be an ongoing engagement where we're going to pay them to make change, after change, after change, after change. But they knew that it wasn't the right way for it to function, and so we kind of changed the whole thing. And that's led to one of the things that I think has really been important throughout the relationship is it's not about just we'll take your money, spend some time and here you go. Here's the product or whatever it is that you're looking for. Sure, it kind of starts out that way as we start to build something, but really it comes down to if you set it up this way, it's going to be simpler, it's going to be easier to manage and you are going to manage it. And that's really what we manage to get to.
Derek Sutton:
So this is one of the great things is that Adaptavist has been eager to help out as much or as little as we've needed. So it waxes and wanes a little bit as our needs do. I don't know exactly where it's always going to go in terms of exactly what we're looking for. I mean, I have an idea. But it's really been helpful in that we've been able to take this instance and really manage it ourselves, make some of those changes, make some of those updates, set up a new service desk. And we can go back and do a sanity check. Say, "Has something changed? Does this make sense?" They keep us honest in that regard, as well as keeping us apprised of changes that are coming from the Atlassian side.
Derek Sutton:
Listen, here's where you may need to consider upgrading to the premium tier, for example, because that's how you're going to get some of the stuff you're looking for from Opsgenie. We start to look at asset management and some of those sorts of things. These are the things that we're really keeping in contact about. So even if there's not a ton that we've done actively in the last, say, few months, the fact is that there are more things that we're looking at that are going to make a real difference for us.
Ryan Spilken:
Derek, this is all great. The stories of Adaptavist and SickKids coming together to provide excellent service to you and your team is wonderful. But what I'd love to hear more about is how your team is able to help SickKids mission by doing your upgrade, moving to cloud, transforming your organisation with Jira Service Management. What have you been able to deliver for SickKids?
Derek Sutton:
Well, so one of the interesting things about being on a support team at the foundation, not being a fundraising team directly, is that we indirectly support all those different fundraising teams and the work that they do. I would say the biggest thing is, with the pandemic and with the move to working remote, we've been working completely remote since March 2020.
Derek Sutton:
One of the things that I was aiming to do when I first came into the organisation was to enable people to be able to work from anywhere. The organisation wasn't there yet, not even close. But it was still something I really wanted to push for because I knew that there were big benefits for people being able to work from... Even if you're in the office right now, the fact is increasing amounts of work are taking place when you're at home or when you're out or whatever it happens to be, even if culturally the organisation isn't quite prepared to acknowledge it.
Derek Sutton:
And so it's something that we really pushed for, and I'd say this was one of the major elements of that because one of the challenge challenges for folks accessing a system that's on-premises, well, okay, now I've got to connect to my VPN and I got to go through that and connect to it and do this and do that. And so therefore I need to be on my computer. All these different reasons that make it challenging for people to be able to connect from your phone, from whatever happens to be.
Derek Sutton:
So I would say a big change is that by introducing this, people are no longer tied down to I need to be on my computer, need to be on VPN in order to be able to connect log tickets and in order to get assistance. So we've liberated folks in many regards from that. Some folks still need to use our legacy system for some things that we're currently migrating them onto the cloud version, but they're eager to do it because they're like, "Yeah, I want to get off of having to do that. I want to be able to get an update on my ticket from my phone and see what's happening to be able to report a problem from anywhere," those sorts of things. I think it's made a difference.
Derek Sutton:
I think it's definitely made a difference from an efficiency standpoint. I know one thing that was mentioned in the case study was the reduction in volumes of emails directly for assistance. So the number of emails coming into help desk has dropped off to practically nothing. I think we said something like 95% reduction. It's probably more than that, trying to account for it. There are other emails that fly around people. If people can, they will. But we direct people to the portal and because it's easy to use, because it can work from any device, then it makes it a lot easier for people. It's good, it's secure. So I think we're providing better service to our fundraising teams so that they can then raise the money that we need in order to fund the hospital.
Ryan Spilken:
Yeah, we started earlier in the conversation about the emails coming in, just directly emailing people that you know down at the help desk. That is a dangerous place to be. And your team being so consistent with directing people to that portal, that's amazing work, man. Good stuff, good stuff. And supporting the mission is really all that matters.
Ryan Spilken:
Harp. I know you're really involved in community building activities. You work with all sorts of organisations on your own time, just because that's the kind of guy you are. I'm going to read this quote from you and then I just want to let you talk about it for a second. So everyone, Harp Athwal says, "Transformations don't just have to be digital. Kids lives are being transformed by SickKids Foundations work, and that's why this partnership works so well. There's something bigger that we're working toward." Harp, what is that?
Harp Athwal:
I think it's true for Derek, I think it's true for you, Ryan, I believe it's true for myself too, is that we want to leave this world better than we got it. So I know when we come to work, digital transformation is fun, right? We enjoy seeing these tangible changes happening. And at Adaptavist, I know we are a team of amazing people that are the biggest and best. Let's go with this Atlassian partner. At the end of the day though, no amount of talking about people, process, and tools are going to bring back a lost loved one. So it's really cool to be able to apply this knowledge of those areas and then somehow know that we're contributing to a longer, happier, healthier life for someone. So for me, I think that's the most important transformational impact that we're making here is the work that Derek and the foundation are doing. It's amazing work. They do it day in, they do it day out. On behalf of Adaptavist, I'm just proud that we can be a part of it.
Ryan Spilken:
Derek, thank you so much. This has been really fantastic. Before we let you go, I have to know, what does the future hold for your team and the SickKids Foundation? And specifically what gets you the most excited in the future?
Derek Sutton:
Most excited. Wow. So the things that get me most excited is really, on the whole for the foundation is as we move towards the final stages of our big fundraising campaign and actually completing that and putting into our strategic plan for the next five years, and seeing what the gigantic ambition that the foundation has as a whole. And the thing that really excites me about it is our last strategic plan, digital, as we'll just call it generically, had a little piece, a little slice in terms of the strategic plan closeted away under exemplary workplace infrastructure, that sort of thing.
Derek Sutton:
The thing that really gets me excited is that in our upcoming strategic plan, digital is a primary pillar and enabler of everything that we're trying to do. So as we try to achieve transformational fundraising growth, as we try to achieve higher and higher benchmarks in terms of what we're raising for the hospital, the different ways that we're doing it. Digital and IT analytics and all that stuff really plays a really central role. So not just my team, but the applications team, the analytics team, all play really big parts in that.
Derek Sutton:
And so as we look to see how are we going to transform some of the existing applications and things that we use to really realise that goal as we work with the business, as they get more and more comfortable with some of these new ways of doing things, and seek to maybe transform some of the things they do, being able to work with them. The thing that excites me is I don't know where all of it's going. I can predict a few things, but ultimately part of it's a little bit unknown, but not in a terrifying way, but in a really exciting way. As the whole organisation starts to realise what the real potential and promise of moving what digital transformation can give you and we start to see some of that take hold, to see where that leads is really just hugely exciting for me.
Ryan Spilken:
And that's it for this episode of Team Titans. Harp, my friend, thank you so much for joining me to speak with Derek today.
Harp Athwal:
An absolute pleasure, Ryan.
Ryan Spilken:
And Derek Sutton, the director of infrastructure and enterprise architecture at the SickKids Foundation, thank you so much much for joining us as well.
Derek Sutton:
It was a real pleasure. Thank you, Ryan, and thank you, Harp.
Ryan Spilken:
And thank you listeners for joining us for this episode of Team Titans, part of the Adaptavist Live podcast network of shows. Share this podcast and give us a little review if you have a moment. We'd sure appreciate it. We'll see you next time.