The Atlassian Ecosystem Podcast Ep. 124 - Summer holidays edition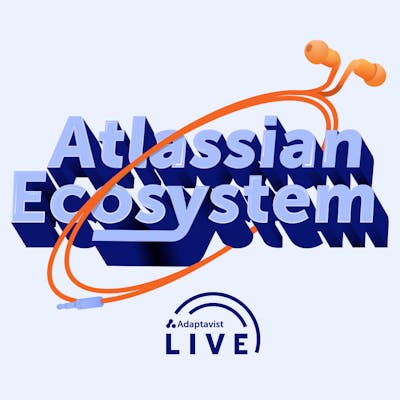 Transcript
Brenda Burrell:
Hello, and welcome to the Atlassian Ecosystem podcast, episode 124, Summer Holidays' edition. This week, news from Atlassian, including legacy automation, a discussion with Rina Nir of RadBee, and a look at more technical news. You may be missing the dulcet tones of our favourite host Ryan Spilken. Ryan is on holiday this week. I am Brenda Burrell, and I am joined today by Matthew Stublefield, and special guest host, Danny Coleman. Matthew, Danny, hello.
Matthew Stubblefield:
Good to see you both.
Danny Coleman:
How are you? Thanks for having me.
Matthew Stubblefield:
Well, let's start, as we would if Ryan was here, with the cloud, with updates to the overall platform. If you are a cloud enterprise customer, you can now add products to your enterprise plan with the click of a button. No longer do you need to contact Atlassian to add another product to your plan. From organisation's admin.atlassian.com, just go to Products and click Add Product. Customers will also have rolling out soon-ish, presumably over the next week or two, an improvement to Insight in Jira Service Management, the ability to add attachments to your objects in order to help make sure that your team has all the information they need when accessing an object. In Insight, you can now attach any relevant files, pictures, or other information, maybe a favourite GIF, maybe GIF the thing directly to that object. Do note, you do have to have edit permissions to add an attachment to an object and attachments must be 20 meg or under in size.
Danny Coleman:
Let's talk real quick about automation in Jira and Jira Service Management. There used to be some automation in Jira Service Management that allowed you to configure your projects to trigger certain things that may happen based on other events, that old automation, they're calling it legacy automation now. And they're phasing that out in favour of some new, more advanced automation functionality. It's actually powered by the Code Barrel automation app that they acquired a while back. The legacy automation is still there and in place. And at this point, there doesn't seem to be a plan for you to lose anything that you may already have, that you've already built using that automation. But if you stand up a JSM site after August 30th, you won't see that option anymore. So your stuff that already exists is safe, but they're definitely starting to make moves to making the new automation functionality, the prime one. And then having used it myself, I think it's more advanced, more user-friendly. It's just a nicer experience all around, truthfully.
Matthew Stubblefield:
My question is, will new automation taste just as good and refreshing as classic automation?
Danny Coleman:
Mm-hmm (affirmative).
Brenda Burrell: 
Same great product, brand new packaging. Moving on to our cloud update specifically for Jira, providing support for Bitbucket DC OAuth provider so you can add OAuth credentials for Bitbucket data center. You'll be able to see your team's activities such as development information on the code page for your project. And this also allows you to add issue keys to commits branches, and pull request summaries. Now, you can now create subtasks in the list view, breaking down items into smaller subtasks. All of your notifications will be available in one place. All sites notifications will show up in your menu and you can sort the notifications to show the ones you haven't read. You will no longer be able to delete notifications, so you don't have to worry about losing them. So you will see notifications from all of your Jira and Confluence sites in one place and with improvements to accessibility and how those notifications appear. You will also be able to see open incidents on services affected by a change request when viewing that in Jira Service Management. You'll be able to see if any affected services are being impacted by open incidents. In the issue view, these warnings are going to show in the affected services field. You will also be able to view the start date for your items in the calendar view. For Advanced Roadmaps for Jira, Advanced Roadmaps lets you see into the future, and I'm reading directly from Atlassian's release notes here, "Not like next week's lottery numbers, more like the future of your plans. You can now use your mouse or track pad to scroll forward and backwards on your timeline. Also, coming with new increments of weeks, months, quarters, and years, as opposed to the previous three months, one year, et cetera." Kudos to whoever at Atlassian wrote that, when it made me smile. You'll have more control over your help center layout and manage how service projects are displayed to your customer. In the help center, feature your important projects more prominently, and organise your help center so your customers can quickly find what they're looking for. In reporting in Jira, cycle time report, a new report has been introduced that measures the median time for your team to ship using 12 weeks worth of data and identifies outliers to improve your team's performance. And lastly, for Jira updates for cloud, JQL search here for projects, you can search for issues quickly using JQL in those projects to define complex criteria and get auto-complete suggestions as you type. There's also a new expandable editor, so you can write long queries over multiple lines. To use it, go to Issues in your projects' sidebar, and select JQL. Lots of fun stuff.
Matthew Stubblefield:
Yeah. For updates with a Jira Service Management flavour, the seasoning of service management in there, you can now request approval from groups. New this week, "Good news, everyone...", as the release note writer channeling Dr. Farnsworth... "...using groups as approval services, this requires approval from everyone, or you can set a minimum number of people from each group, or a minimum number of people regardless of which group they came from." Lovely little update there, you're still only able to assign the issue to one person, not to a group, which just makes sense even though that is the type of thing that's been requested for a while. But I think group approval, it's great, and there's way to add this to the workflow overall. Another improvement to the help center, trying to organise and feature your service projects in the help center, so getting some more control in that, you can feature important projects more prominently, organise your help center so your customers can quickly find what they're looking for. I could see you doing this if there was a project that had just had a big release, or maybe a brand new product that you wanted to highlight, or maybe one that's having a particular outage or something, and you wanted to make that service portal more prominent, now [inaudible] that, or maybe you just got ones where you look at the statistics to see, out of your 30 different projects, only two are getting most of those tickets, maybe you feature those to make them a little more visible. So this feature will help you do that in the help center. Now, we've got an improvement to knowledge basis. This is in line with something we've seen over the last few months, links between cloud and on-prem. And this one, it's the ability to link spaces that are on Confluence server or data center to your cloud knowledge base. So let's say you've started using Jira Service Management in the cloud, but your knowledge base is still on-prem and you haven't migrated it yet for whatever reason, or maybe you're not planning on it, this will let you hook them together, which is very nice. When creating or linking spaces to your service project, you can choose between spaces from your Confluence cloud and server sites. And last for Jira Service Management, you can set up a custom Google email address using OAuth instead of an application specific password, boosts the security, don't have to show that password, and it reduces the management overhead just a little bit there. So nice one for the service management admins out there.
Danny Coleman:
And jumping over to Confluence cloud, all the notification information that Brenda mentioned about Jira, well, that's applicable to Confluence as well. So we won't linger on that. They've added a template gallery for Confluence, so you can actually, on a per space basis, go in and look at all the templates that are available in that space. You can take a glance at them, see what they look like. You can star them for yourself, so it was like your own personal favourite list, again, on a per space basis. Pretty cool. It gives a little personal flare and kind of gets people involved a little more in templates, which can be a little daunting at times, I guess. And also, they're providing more ways to use the edit with app feature. So there's an edit button on file thumbnails when you're doing a page and an edit link in the attachments page as well. So that's about it for Confluence, some fun changes there
Brenda Burrell:
And in Bitbucket cloud, some exciting news officially out, Bitbucket pipelines. So previously you could run CI/CD workflows using Atlassian's infrastructure. Now, when you need more control of your hardware and the environment your builds are deployed into, you can now run pipelines from your own infrastructure. So this is going to be a big help for a lot of customers that are using Jira and Confluence on the cloud, but Bitbucket on data center, you now can do these self-hosted runners. So you can point the build to run on a machine you specify, it could be one that you host yourself behind a firewall or on a private cloud for your organization. In custom build configurations, allowing you to configure your hardware for different types of builds, you can access internal applications and databases. When you were running your pipelines on Atlassian's infrastructure, obviously that cannot access your own internal systems if you need to do, say, integration tests with your internal databases. You can do that with runners. And so you can provide access needed to your own internal services, and you can have hybrid workflows where you optimise your resources by using self-hosted runners with custom configurations for builds that require it and use Atlassian's infrastructure for other jobs. So when you're using your own runners, you're not charged for build minutes consumed by your runner. I'm sure this would make Ryan Spilken very happy with his Bitcoin mining empire infrastructure plans.
Matthew Stubblefield:
I bet he listens while he's on vacation and he's just going, "Oh, yes."
Brenda Burrell:
You know what? I bet he does, "Excellent." If you are currently using a Bitbucket server with self-hosted CI/CD tools, such as Jenkins or Bamboo, and you're considering moving to Bitbucket cloud, the options to runners means you can use Bitbucket pipelines and still use your own infrastructure to run your builds. So it opens up a lot of options for release and deployment for folks that are using Bitbucket data center. Lots of good information in the article, we'll post this in the show notes, cool stuff. And more exciting updates, we'll link to this blog post as well. An update on diff and merge performance, so back in July, there was a blog post about some turbulence on Bitbucket's journey to a new platform. And we talked about this in a couple episodes back where Bitbucket cloud was being migrated from an internal data center to Atlassian's cloud platform, same cloud platform that underlies Jira cloud, Confluence cloud, et cetera. Because of increased file system latency, as a result of this move, certain operations have become slower. And those operations specifically are rendering diffs and merging pull requests. So many of the improvements that Atlassian had planned in the previous blog post, have been implemented. And so in mid-July, an optimisation was shipped, that improved a diff response times by 40%, reduced the rate of time that's by an order of magnitude. And then also in the last month, Atlassian has deployed changes that have collectively improved end-to-end merge times by over 30 seconds during peak traffic. That's quite nice. So if you're the sort of person who geeks out over graphs and reports, this blog post, it goes on to show the comparisons of performance times, et cetera. Lots of good data on that. So if this is the thing that has been impacting your organisation, definitely worth taking a look at, we'll link it in the show notes. Pretty cool updates for Bitbucket on the cloud.
Matthew Stubblefield:
There's a fairly small Atlassian community on Reddit, not very many people active on there related to Atlassian, but I swear half the posts are about Bitbucket performance last few months. Later this week, I'll put this out there to make sure they know about this in terms of Bitbucket because it really is nice, and it seems to be the number one gripe amongst customers. So kudos to the Bitbucket team for getting this shipped.
Brenda Burrell:
Today, joining us, we have Rina Nir from RadBee. Rina is here to talk to us about Jira Snapshot for Confluence. Welcome, Rina.
Rina Nir:
Hi, thank you for having me.
Brenda Burrell:
First of all, tell us a little bit about what problem RadBee is trying to solve with Jira Snapshots?
Rina Nir:
It appears that in many, many industries, there is a habit of exporting data from Jira to just capture it as it is now. So the idea that you need a static copy of exactly how Jira is now so that you can somehow compare it to the state in the future, is something that comes up over and over again. And Jira Snapshot will solve that. No more need to export as Excel and then bring it to Jira. And of course, there are the other goodies that we bring along because it was initially a release documentation thing. And that's the fact that you can easily to diffs between two captures of Jira data in two separate time stamps. And you have the multi-level things. So in my world, pharmaceutical and medical technology, these are full traceability matrices. But many other people don't know what traceability matrices are, but they do want to create reports where they see the epics, the issues within the epic, the subtask within the issues, and the snapshots allows them to do that pretty easily.
Matthew Stubblefield:
It reminds me of investment finance banking firm I worked with a few years ago where one of the challenges they were were running into was that they would get audited a few times a year, just very randomly, and they would have to package up kind of everything that they'd done and been doing and how they were doing it and submit that to the external auditors for review. And this looks like the type of tool that would make it really easy to just click a button and do that. Curious though, what kind of setup is involved? Like this is a Confluence add-on that is pulling data from Jira, so how hard is this to set up? How much time does it take?
Rina Nir:
So the set up is basically the link to the Jira from which the data will be captured. Now, on server and data center, it relies on the application links, so the built in model of application links. And if you have an application link set up between the Confluence where you install the app and the Jira from which you want to take the data, then there is no setup. On cloud, due to how application links is implemented on cloud, we could not rely on that as our connectivity. So we have set our own connectivity. So an administrator will have to, once installed, go to the configuration and authenticate against a Jira with an API key. So, that user that will actually be setting up the connection will be the authenticated user through which the data will arrive. So also in terms of the view permission and the selection of issues, it will depend on this central setup of how it's set up by the administrator.
Matthew Stubblefield:
Does that then introduce a security risk where somebody who lacks permissions to data in Jira could execute a snapshot and then pull that from Confluence and see stuff that they wouldn't otherwise have access to in Jira?
Rina Nir:
To actually do a snapshot, you need to have edit permissions on the page, so that is basically your protection. Now, if you have edit access to the page and the person who has a data access doesn't have access to Jira, that is something you need to understand and consider whether it's appropriate for you or not. So, that is indeed a characteristic. We have chosen to do that because of simplicity in terms of the user experience and consistency across the instance. But, yes, of course, you need to take into account that the people who have view permissions to pages with snapshots will see Jira issues that they potentially would not have permission to see directly in Jira.
Matthew Stubblefield:
Yeah.
Brenda Burrell:
That's a very important consideration for users in the cloud.
Matthew Stubblefield:
Yeah. So for admins, if you take a look at Jira Snapshots for Jira cloud or data center, you just want to make sure you're either restricting the space or the page to the users who you want to be able to see everything in your Jira instance, which, for a lot of organizations, is pretty open internally, but something definitely to keep in mind.
Brenda Burrell:
Jira Snapshots has ScriptRunner integration, can you tell us a little bit about what that is going to make possible for users?
Rina Nir:
ScriptRunner has several major advantages, and first is so ubiquitous that we can assume that a lot of our customers will already have ScriptRunner for Jira installed. And ScriptRunner for Jira actually has a mechanism to do rest API and get data from wherever you need to get it. So what we actually were thinking, let us integrate with ScriptRunner for Jira. And if a customer has a specific situation, they want to get data from a third party app and we do not support them, then at least we have a solution for them. We can tell them, "Write a script to a ScriptRunner access, the rest API of this third party app, put the data inside the script on our field, and we'll get it from there." So by implementing this single integration, we actually solve a very big issue, and give us a generic solution that is not impending on us, so we stop being the bottleneck.
Matthew Stubblefield:
I think for our listeners at home, kind of whatever industry you're in, be it finance, or pharmaceuticals, or healthcare, or whatnot, take a look because, I think, for traceability, but also for auditing, this snapshot approach that the video shows performing very well, I'm curious what kind of performance issues for customers who are sending a hundred thousand million issues... The video shows it performing very quickly, but for the admins who are listening, what sort of caveats should they be aware of where they install this?
Rina Nir:
So for data center, we have run extensive tests and it seems to be very quick. We arrive to many hundreds of issues within one snapshots, and that's not an issue at all. For cloud, there is currently a limitation. It's documented also in our manual. It's a limitation in the size of the snapshot. So if you'll take... I cannot say the number of features because it also depends how many fields you take per each issue. So somehow the volume that you have within a single snapshot is currently limited to one megabyte we have on our roadmap to solve that and make that indefinite, but that's the limitation at the moment.
Matthew Stubblefield:
So for admins, you may have to set your JQL so that the scope of your snapshot is limited, then you can always set up multiple pages, multiple snapshots if you needed to do that type of approach, to get a larger volume.
Brenda Burrell:
As Matthew said, we'll have links to the marketplace listing in our show notes for the podcast. We definitely recommend admins, take a look at this. It's a really nice tool that solves a fairly big problem. And even if you have workarounds for these kinds of problems now, this is definitely something you want to be looking into.
Rina Nir:
Thank you.
Matthew Stubblefield:
Thanks so much for joining us. With that bridge from a cloud data center, since obviously Jira Snapshots on Confluence's data center, let's look at Confluence 7.13. And by look at, I mean announce because I'm not going to spend a lot of time on it. It is a long-term support release, which means really it's just a roundup of everything else that they've released in the last... what is it?... six months to a year. So yeah, 12 months. In fact, I say it's been more than 12 months since the last LTS release.
Brenda Burrell:
Yeah.
Matthew Stubblefield:
But we've talked about all those updates. If you've been keeping up to date, you got them all. If you haven't, hopefully you've been listening to the podcast, if you haven't listened to the podcast, I guess go back and listen to 12 months of episodes. You'll hear about all the Confluence stuff. Well-
Brenda Burrell:
Find the episodes where we talk about 7.4, and go from there. Easy.
Matthew Stubblefield:
Yeah. Easy. What could be better? Maybe you've got some vacation time coming up and now you know what to do with it. So, as always, we'll link to the release in our show notes for the podcast, you get the upgrade notes there too. As would be expected, tons of improvements and bug fixes along the way, way too much to talk about. I particularly like this metric, that more than 3000 votes for different features and bugs and whatnot that the customers have reported, where they voted and they said, "This so-and so's important to me", those have been satisfied with this roll-up, as always, personal staging and production.
Danny Coleman:
In Trello news, they are rolling out a new sidebar and header navigation experience. And if you are a regular user of Jira, or Confluence, or really any of the Atlassian tools, this is going to feel pretty familiar. So they've added a sidebar much like you would see in a Jira project or a Confluence space, that kind of outlines at the top what the board you're looking at is, some of your views. And then it's also a list of the other boards that you have available. And similarly, they've added a header at the very top for global navigation, just like you'd see in Jira or Confluence that has dropped downs for your workspaces, recent boards, you've accessed, your starred boards, and a big old button that says Create. This should feel very familiar to you, but it's a nice navigational change that makes everything feel nice and unified.
Matthew Stubblefield:
One thing they don't show is there's a number of buttons that are available right now that aren't in these screenshots. They've been removed. And I'm not quite sure what to make of that. So like I have a More from Atlassian button at the top left, that's very similar with the Confluence and Jira, it's the "Expand everything", like here's my Jira, and this is my Confluence, and etc. And I don't see that in the screenshots. So it feels in some respects, like you said, like it's unifying with the rest of Atlassian. In other respects, it feels like a departure from it. And I just find that a little odd, the whole home concept that was introduced just earlier this year. I wonder if the sidebar is replacing that, if they've gotten rid of the idea of home, maybe the screenshots are incomplete.
Brenda Burrell:
Atlassian, if you're listening, Matthew misses his buttons.
Matthew Stubblefield:
It's just, I mean, they're screenshots. I wonder how much this is actually envisioned design on a product.
Danny Coleman:
Right.
Matthew Stubblefield:
Or maybe it only applies to the downloaded app. I haven't been using that in a while. I've been using it in a web browser. We'll see what happens at launch, but right now it feels like a lot of functionality is actually been removed and where it's disassociated from the rest of the Atlassian ecosystem, which I find odd. Here's the problem with my... apologies for my snarkiness and tone... Maybe I'm just a little burnt out. I'm being honest.
Danny Coleman:
I hear there's a lot of that going around.
Brenda Burrell:
There is a lot of that going around, and a blog post by Trello, Why the Biggest Risk to Your Business This Year is Burnout, And How to Tackle It. According to this article, there was a study done in 2021 by Indeed, 52% of employees today say they feel burnout. I'm going to go ahead and say that 100% of your podcast hosts feel burned out today. We are tired. The world is heavy. There's a lot going on and there's no end in sight really. We thought we were maybe going to have a light at the end of the tunnel, the last month or so that light has definitely been a freight train. And mental health and wellbeing has definitely been impacted by that, and everybody is tired. And so this is a really good article giving some strategies that organizations can put in place to try and mitigate some of those effects. Not everybody's going to be able to do all of these and this isn't going to work for everybody, but a few things that can be done just to hit on a few of those, setting healthy communication boundaries and modeling them. It's really hard, and I've worked from home for over five years now, but many folks working from home has been a new thing in the last 18 months or so, it's hard to switch off from work... I'm always available, I'm always getting messages. Turn things off when you're not working. And the Danny Coleman strategy of taking time away from the office, take slack off your phone if you're taking an extended break from the office. Also, respect other's boundaries around switching off from work. So don't just say, "Yeah, we do that." Try to avoid sending emails during off-hours or reaching out to them on paid time off. It's really easy to do, "Oh, they're available. I'll just text them real quick". No, it can wait. It really can wait. And so, again, be supportive of those boundaries and model them for your organisations. Eliminate unnecessary meetings.
Matthew Stubblefield:
I'm going to say that's what I really struggle with though, increasingly over the last year, because even though maybe we could accomplish the goals through Confluence, or Trello, or Jira, or something else, or Slack, the increasing sense of isolation, the lack of opportunity to connect with another human being and to... We've said it in the past and I certainly say this a lot with my teams, the way that we improve productivity is by developing trust. The way we develop trust is by being vulnerable with one another. And the only way to be vulnerable is spend time together. And one of the things I've observed this year in particular, I think after... We're already more than a year into the pandemic, more and more meetings are getting canceled to improve mental health and established boundaries and make things more asynchronous. And there's a lot of benefits to that, but I'm then seeing an increasing amount of isolation. I worry that we're taking it too far where people have no meetings, "Great, aren't we hyper productive?" But then they no longer feel connected to the company or each other.
Brenda Burrell:
I would agree with that wholeheartedly, and I've certainly experienced that. And this blog post does go on to say some things should be real-time. Keep your one-on-ones, have your difficult conversations. Those are not Confluence pages by any stretch of the imagination. And do make time for some fun things. I know a lot of teams at Adaptavist make time for a team game event, even if it's just, "Let's play a couple of rounds of Skribbl IO, or something." That does wonders for releasing tension. So, definitely be cognisant that some meetings are important. But keep in mind also that it's very easy to get bogged down in lots of meetings. So just be very conscious about what meetings you're asking folks to attend. Cutting down on context switching, and this kind of ties back into the first item, according to a 2019 report, average employees use at least eight apps a day to get their work done. Eight... Hold my beer... but you're switching back and forth. Yeah, I've got an email. I've got a Slack. I've got this, I've got that. I've got this. I've got that. I'm over at Trello, now here I'm in Confluence. Now here I'm on a Google sheet. That context switching, just tires your brain out. And so the blog post recommends decrease the number of tools you have to monitor during the days. You can mute Slack or turn it off completely if you do need to focus on some deep work. And then just check in on your employees regularly, sometimes a simple, "Hey, how are you doing" will make all the difference for me. So just think of ways and talk to your teams. Think of ways that you can, in this insane world that we live in, where we're all disconnected and we're all remote for the most part at this point, how can you be human? So an interesting blog post, we'll post it in the show notes, definitely one I think everybody can relate to right now.
Matthew Stubblefield:
So, that wraps up episode 124 of the Atlassian Ecosystem podcast. Be sure to follow us on social media at Adaptavist. Send us your stories. Listen to our casts, [inaudible] the pause in the places.
Brenda Burrell:
Multiple casts of pods.
Matthew Stubblefield:
In fact, yeah, we've launched a few different podcasts and you can get all of those updates through adaptavist.com. Search for them on your podcasts' caster of pods of choice. And be thankful that for our next podcast, Ryan Spilken will return.
Brenda Burrell:
I certainly am thankful.
Matthew Stubblefield:
Until then, this is Matthew Stublefield signing off for Brenda Burrell and Danny Coleman. This has been the Atlassian Ecosystem podcast, a member of the Adaptavist podcast network.
Brenda Burrell:
Oh. Ryan leaves for one week, one week, and this is what happens.