The Atlassian Ecosystem Podcast Ep. 116 - Talking #AtlassianTeam21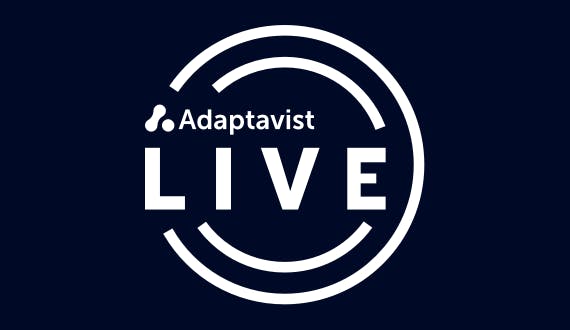 Transcript
Ryan Spilken:
Welcome to Adaptavist Live: The Atlassian Ecosystem Podcast. This is Special Episode 116, and we are Talking Team '21. Who am I Talking Team '21 with? Well, it's Matthew Stublefield and Brenda Burrell, Matthew, Brenda, Team.
Brenda Burrell:
Team.
Matthew Stublefield:
Go Team. Team, Team.
Brenda Burrell:
Go Team.
Ryan Spilken:
Team. We're acting as a team. Wow. First up, some big news out of Team for Adaptavist. And that is, we have won the award of it Atlassian Partner of the Year for Cloud Migration Services. And here to discuss that honor with us is Adaptavist CEO, Simon Haighton-Williams. Simon, welcome back to the podcast.
Simon Haighton-Williams:
Thanks Ryan. Thanks for having me. I'm going to just show you the award, the nice bit of glass. In these kind of COVID lockdown times, it came to my house rather than to the office. So there we go.
Ryan Spilken:
It's beautiful. It's beautiful. And I have on inside information that this is going to be the interior design scheme for your house now, right?
Simon Haighton-Williams:
I'm kind of hoping so, but there's a bit of selling to do at home on that. If I've got a black eye, the next time you see me you'll know that didn't work so well.
Ryan Spilken:
I'll just suspect that you fell. All right. So, when Atlassian's talking about migration services, what would you say that encompasses?
Simon Haighton-Williams:
It's a pretty broad segment of things. I think you look at the larger enterprise out there, migration isn't kind of a one-and-done kind of thing. It's not just a process of picking up your data from a server, a data center and moving it to a cloud instance. Typically, these large organizations have got multiple instances configured in different ways, lots of different groups using them. And so, that kind of migration service typically needs a lot of thinking about their business, the way they operate, the way they integrate with other things. And it's kind of partial and ongoing, sometimes multi-year transaction of moving things from server in DC and into Cloud and actually merging things together, as well as just migration. So, migration is a small word that covers a whole bunch of activities around business and technology.
Ryan Spilken:
So Simon, cloud, and everything about moving to it, all of these things that you just described are really big in Atlassian's focus at the moment and it has been for years. I mean, we've been talking about it on the podcast forever. They are a cloud-first company. So with this being such a big deal to them, us winning this award, it's nothing to sneeze at. What put us ahead of the pack?
Simon Haighton-Williams:
I think, I mean, you said at the beginning of this, it's about moving to Cloud. I don't think it is about moving to the cloud. I think it's about adopting more cloud in the mix of things that enterprises do. And we think there's the way we look at it is that a lot of organizations have adopted cloud in other parts of their business. And that's obviously a continuing thing that we see across the industry. What we don't see, is everyone dropping everything and moving to Cloud overnight. And so, that created the hybrid state, that recognition that organizations are moving to a more agile way of working. They're moving to a more OPEX-focused way of funding business. Is really well-aligned with the move to Cloud. The reason we're ahead of the curve, I guess, is because we always look at what customers are trying to do, and we try to help them on the journey to do new and interesting things. For those businesses that don't adapt, then they're going to die sooner or later because their competitors will get them.
Simon Haighton-Williams:
And so, we're trying to help them with that constantly, and cloud is just the next big thing for that.
Ryan Spilken:
So you mentioned the hybrid state. You mentioned having multiple technologies to support complex organizations. Now, in this episode of the podcast, we're going to be talking about our new product, which supports this, AutoBlocks, and we've got to speak, we've got two talks being given here at Atlassian Team '21. We've won this award. And now, I've got to ask you Simon. My favorite question is, what's next?
Simon Haighton-Williams:
Well, what's next? I mean, I think you mentioned AutoBlocks. The launch of AutoBlocks is just the beginning of that. AutoBlocks enables that kind of hybrid state between server and cloud, but much more than that, it recognizes the fact that people don't develop solutions and don't run their businesses with a single piece of software. They have lots and lots of SaaS platforms that can be joined together. And you can build value streams that stretch across multiple SaaS solutions. AutoBlocks enables you to do that. In terms of what's next for us beyond AutoBlocks, as well as AutoBlocks I guess... We've long since taken a decision that we're doing really well in the Atlassian space and we think we've got a great reputation and we want to build on that in the adjacent ecosystems that we operate into. And so, we relatively recently announced our GitLab partnership. We have an Aha! partnership, and we most recently launched some Slack products as well. Anyone who uses Slack and like to do integration automation, take a look at Workflow Steps Builder. It's available for free right now. Take it, play with it and see what we can do with it.
Ryan Spilken:
Awesome. Well, Simon Haighton-Williams, thank you so much for joining us on the podcast. Congratulations on winning the Migration Services Partner of the Year Award.
Simon Haighton-Williams:
Thank you.
Ryan Spilken:
And we'll see you soon, sir.
Simon Haighton-Williams:
My pleasure as ever, cheers.
Matthew Stublefield:
Yeah. So, super-exciting to win this award for Cloud Migration Services. And I was looking at the other awards on Atlassian's website. Actually, I'm realizing now they head up the page saying 2020 awards, but it actually is the 2021 part. And maybe they're saying it was for the year 2020, the previous year, even though they're handing out in 2021. There are a lot, I was kind of surprised by how many there are. And there's a lot of them that I don't know what they mean, which I feel a little weird. I wish that they, I wish Atlassian shared why they hand out a certain award or explained what it was. There's one that just says, Developer Contributor. I don't know what that-
Brenda Burrell:
That sounds like a participation trophy.
Matthew Stublefield:
Yeah, I don't know what that person did. One just says cloud services. So I guess, I mean, that's consultancy, ITSM solutions, DevOps solutions. Presumably, they did something really cool. I wish I knew what that story was and how they did it. And there's one Streamlined Soft. I haven't heard of them before, but they got top-rated marketplace app, but I don't know which of their apps is considered the top-rated one. And I look at them and I'm just, I'm a bit confused. So alas, if anybody's listening, maybe for future years, what will be cool is to have your marketing team share these stories. And it's great to link to our webpages, but I would love for you to link to here's why we gave them this award, and here's a little segment about each of them. I think that would be nice.
Ryan Spilken:
Speaking of Atlassians, we might be able to speak with one of them here on the show about some of the news that we heard at Team '21. So I'm not going to make any promises but look for that in a future episode of this here podcast.
Matthew Stublefield:
You better make sure and just listen to every single podcast just in case going forward. That's really [crosstalk 00:07:55].
Brenda Burrell:
It should have been all along. If you haven't, feel free to start back at episode one.
Ryan Spilken:
Yeah. How else would you keep up with the never-ending saga? I mean, the story keeps getting told.
Ryan Spilken:
I think it was Alfred Hitchcock who said that, "An experience should be directly in proportion," I'm paraphrasing here, "With the endurance of the human bladder." The theatrical experience should be directly in proportion with that. And I don't know if they read the memo, but the keynotes? Wow.
Matthew Stublefield:
What keynotes. If we had been on a boat, we would have been shipwrecked on an island before that keynote was over.
Ryan Spilken:
Twice.
Matthew Stublefield:
In a three-hour tour. We could've shipwrecked twice with Mary Ann and Gilligan. But nope, just got to watch the video, got to watch John Price.
Ryan Spilken:
Well, I was going to compare John Price with Ginger, but not-
Matthew Stublefield:
I think you could pull that off, especially with those boots on day one. So the keynotes. For those of you who are valued listeners of this podcast, but maybe you didn't intend to... I was shocked as we got in, that the keynote quote-unquote was three hours long, both days. So six hours of the keynote, if this had been live, it would have been unbearable. I think, a lot of us would have walked out, because as Ryan said, you just, it's hard to... I mean, this wasn't Lord of the Rings, and even a lot of theaters for Lord of the Rings would have had an intermission or something. If you go to the opera, you don't have to sit for three hours. So it was a lot, but-
Ryan Spilken:
And there was a lot of content to take in as well on the fringes of that. There was just a ton of stuff going on.
Matthew Stublefield:
Well, yeah, but I was going to say the keynote wasn't necessarily a lot of content.
Ryan Spilken:
Ooh, well.
Matthew Stublefield:
It was a lot of words, it was a lot of talking, but kind of repetitive often. You would have multiple speakers who had come on and kind of highlight the same things and even frequently using the exact same screenshots. So there I did. Yeah, the three-hour multiple keynotes that was a challenge.
Ryan Spilken:
Well, there is nothing like repetition to bring a point home and that's why you repeat the repetition; it brings a point home.
Brenda Burrell:
Did you care to repeat that Ryan?
Ryan Spilken:
It brings a point home repetition. Some, there is a lot of great stuff that came out of this though. We do need to look on the positive side. Some major product announcements, and we're going to feature one of those from Adaptavist here on today's podcast, as well as a little bit more information about some of the topics that we started covering last week on Episode 115, most notably point a, or maybe not. Matthew, you're pretty excited about... And we didn't even talk about open DevOps last week. So which one is the big [crosstalk 00:11:19].
Matthew Stublefield:
Yeah, yeah, yeah. Let's start with point a, because I think that's the very preliminary here. So we referenced the webpage for point a in the last podcast. There's a lot of coming soon type stuff on there. Particularly on day two, we got to see in the keynotes, some additional screenshots for point a. Those screenshots are not live on the point a website yet, so there's nothing new to show you all, but we did get some more insight into what we're going to get with Compass. We didn't see anything of JIRA product discovery, other than the same sort of little sentence. It's still very much like an alpha coming soon. So we don't quite know what product discovery is, but everything else we get. And I think they do look really useful, really interesting. I'm still very much reminded of the home concept that Atlassian introduced a couple of years ago, but never quite took off.
Matthew Stublefield:
And it feels like this is contextualized home. It's home for the developers, it's home for the business users, it's home for the product manager, it's home for the server manager-type people. And it's pulling together all these different tools in the Atlassian stack.
Ryan Spilken:
Yeah. It's features that we've seen in other places being repurposed and redistributed along with some nice repackaging of the interface. So they're useful tools. They're super-flexible, right? Give people a nice way to interact with them that is targeted towards their particular needs and got good stuff. But I can't help but think, that it's so much like I guess, the 2016 era Atlassian of soft JIRA Software, Core and Service Desk. It feels like Work Management is Core. Sorry. No, no, no, no, no, no, no. Work Management is-
Matthew Stublefield:
You're right. Work Management is similar to Core. It's part of the same audience.
Ryan Spilken:
Yeah, and Service Management-
Matthew Stublefield:
Yeah, Service Management is Service Desk. The big difference being that when JIRA Software and JIRA Service Desk were sort of migrated or the licensing was changed where they were applications and the idea being, if you paid for JIRA Software, you also had JIRA Core, you had all those features. JIRA Work Management isn't replacing Core in that way. It's not like I got JIRA Software and I also get JIRA Work Management. It is its own distinct feature set, its own distinct whatever. But it really is sort of exposing data that's already there. It's taking what you already have in the system and demonstrating it in a new way. One of the phrases that I did take issue with today from one of the marketing managers, they kept saying, "This will update your JIRA. This updates your JIRA. We get this in an update to JIRA."
Matthew Stublefield:
And it's not actually updating anything. It's just providing a visualization. It's just reporting and it's live reporting, which is one of the big features of JIRA. It's up to the day, up-to-date up to the minute, it's live, but it's not, we're not talking about triggers with these tools. We're talking about just showing you what's happening and making that more visible, surfacing it, which is all very valuable, but it's not, these aren't automation tools. They're visualization or reporting tools.
Ryan Spilken:
Okay. All right. Yeah. I see where you're going with that.
Matthew Stublefield:
One other thing I think is interesting is for Compass specifically, which we did get some more interesting information on today. So Compass is, I'm going to help software development teams. We're dealing with distributed architecture. So it's pulling together data across your different instances. You can bring in Opsgenie, you can bring in your Service Management, tie it all together in Compass. And if you're having problems with these systems, like being able to see, oh, there's a problem at the system. And I can tie in Bitbucket Pipelines and see that we shipped, we had a PR that was merged, maybe that's related. I can see all these things together in one place, like that will be super-helpful. And then there was the statement, "You'll be able to extend Compass with Forge.
Matthew Stublefield:
So Forge for those who either app developers, you've heard of it, it's sort of the replacement for Connect for making cloud apps. It was announced as part of Team 2021. We've talked about this before, but May 25th of 2021, Forge will become generally available to users including in-house developers and marketplace partners. So this cloud of sensibility platform has been in beta for a little bit. It'll become generally available in May 25th. And apparently, we able to do something with it. With Compass though, everything I've heard about Forge is that it's still kind of thin, still kind of immature. So it'll be interesting to see once developers get their hands on it more generally, how they extend this to start building some automations and building some integrations with Forge and into the other Atlassian tools.
Ryan Spilken:
Brenda, Matthew, did you catch anything about JIRA Align at Summit this year outside of our talk?
Brenda Burrell:
No.
Matthew Stublefield:
Brenda's just shaking her head. No, no. So outside of our talk, no. We did have some talk amongst ourselves at Adaptavist. One of the things that I'm not intimately familiar with Jira Align, it's not part of my sort of orbit anymore now that I'm not doing project management and enterprise consultancy as much, but it seems like there's some challenges here, because Atlassian, particularly in the cloud, is driving things towards user customization. The team-managed projects are all about go in, make your fields, here's ThinkTilt, make your fields, make your dynamic forms, make these customizations, make your workflows, dah, dah, dah. And what I hear from our Jira Align consultants is that Align really needs things standardized and really needs that sort of like out of the box, it has to be locked step, it has to be for lack of a better word, "aligned" all the way through your stack of configuration. It's very vertically rigid and Jira cloud is very vertically amorphous.
Ryan Spilken:
But that brings Trello into the party, because there was a good bit of Trello talk in the sessions during Team and it kind of infers, "This is where you go if you want to be loosey-goosey. You've got the power to automate work and construct your workflow for your team and build these things and put all this stuff on your cards, yeah!" But no, you should probably use Jira, right?
Matthew Stublefield:
Use JIRA for some things. Yeah. So, yeah. You are right to observe Ryan, not much on Align. And, and I wonder if the reason that we weren't hearing as much as, because in terms of kind of like a tool strategy, like if you think about the direction Atlassian is going overall, does Align fit into that strategy and direction of really empowering the users themselves, because Align from what I'm getting from it, looks really much more like a command and control top-down type of tool that doesn't necessarily play well with empowering users to make and do whatever they want in the system. I don't know. Speculation, wild speculation there, as we like to do at Summit or Team '21. Something, we also like to do a Team '21 that we can't, normally, this podcast would be recorded at the bar after Team '21, and we'd be pulling in other partners and other random people. And instead, we were trying to fit this in, in between meetings and watch things as we could and struggling to sit through multiple-hour presentations.
Ryan Spilken:
We're going to Vegas next year baby.
Matthew Stublefield:
Yeah, we are. I really thought I was going to be back in San Francisco, but yeah. Back to Vegas again.
Ryan Spilken:
Brenda you're in, right?
Brenda Burrell:
I don't know, to be honest, I really don't know. I typically go on a training ticket and I don't know if I will be delivering training. So I don't know that I would be on the list to go.
Matthew Stublefield:
Yeah, ditto. Yeah. It'll be interesting to see what next year's Team '21 looks like. Will they have the in-person training the same way? Will it be as many sessions as it has been in the past? What will number of attendees be like? I think there's a lot of questions. For this year, I had about six hours of presentations I wanted to watch. I got through, I think, two hours of them. I haven't been able to get through them all yet. I'm unclear of how long I have to watch them. I don't know how long there'll be available, but what I did, I think there's two I'd like to call out of particular topics. One was beyond our presentation on JIRA Align, which had Cannon and Jennifer on, I thought that was really good. I also really liked Splunk's, what I wish I'd known before moving 10,000 users to cloud. I thought that was really good. And then, Bamboo data center.
Matthew Stublefield:
So I think this is another big announcement coming out of Team '21. We had expected it. We got Bitbucket data center in the last podcast. This episode we can say, "Yes, Bamboo data center is indeed happening." And one of the things I liked in that particular little demo was this isn't just a new license. It's finally bringing cold failover, high availability, quote-unquote high availability to Bamboo and adding some enhancements to it. Bamboo, honestly, hasn't gotten a lot of updates the last couple of years. So it looks like they're going to start investing more in that as it moves to DC. So I think those are a couple other good ones to call out from Team '21.
Ryan Spilken:
I liked the confluence update as well.
Matthew Stublefield:
Are you talking about cloud or data center?
Ryan Spilken:
I believe this looks cloudy to me. The dark mode for mobile. Dark mode alone is all I really need, but fully embedding content into confluence pages, inline comments in edit mode, finally rolling out.
Matthew Stublefield:
That's awesome.
Ryan Spilken:
Dude.
Matthew Stublefield:
It's super-big.
Brenda Burrell:
Oh my goodness.
Ryan Spilken:
So that's really good stuff. Good stuff to see. And speaking of new product, we at Adaptavist have a pretty big announcement and we got to speak with...
Ryan Spilken:
And next on this very special edition of the Adaptavist Live Atlassian Ecosystem Podcast are Seb Sidbury, product marketing manager, and Paul Saunders, product manager for AutoBlocks. Welcome to the show guys.
Paul Saunders:
Thanks for having us.
Seb Sidbury:
Thank you Ryan.
Ryan Spilken:
Hey, great to see you. All right, dudes. So we've talked about AutoBlocks on the podcast before, but this is a whole new animal. So Seb, what is this new AutoBlocks?
Seb Sidbury:
Sure. Ryan. So this new version of AutoBlocks is essentially, it's an integration platform. So we can talk about it in a bit, but the short way to explain it is everyone knows and loves ScriptRunner for JIRA. So AutoBlocks is a little bit like ScriptRunner for JIRA, except it's not limited to JIRA. It's not limited to a single Atlassian instance. It's a tool that works across all of your Atlassian products and actually goes even beyond that and allows you to integrate your non-Atlassian products as well. So the kind of things you might be doing with ScriptRunner, so automating tasks, integrating apps, it's that kind of thing, but across your entire IT landscape, rather than living within a single Atlassian instance.
Matthew Stublefield:
I can't recall how many years ago it was.
Ryan Spilken:
So many.
Matthew Stublefield:
At this point is, sitting in Adaptavist's London office downstairs watching Mark Gibson do a little demo of Google Blockly and thinking about this low code, no code solution for building automations. And as our viewers at home know, Ryan and I, we're not developers. We don't really know what we're doing here. But it was really exciting. I was like, "Oh," because I used to be a JIRA admin and I still do much JIRA stuff. And I'm like, "Oh, this would be so helpful, for building automations when you don't know code." And that became AutoBlocks, this idea of you could build your automations with blocks and Adaptavist maintain the API connections and it would just work forever. That was called AutoBlocks. And what we have now is called AutoBlocks, but it's, as you said, it's not just for inside your JIRA instance, it's all over the place. So, can you guys talk a little bit about how we got from there to here?
Paul Saunders:
Yeah, sure. Like all the best stories, this has an awesome origin story that involves a pub, I think, and their product you were referring to Matthew, that was definitely the result of a hack day of-
Matthew Stublefield:
Oh yeah. A fever dream.
Paul Saunders:
Four or five years ago maybe. So we've been dabbling in this space for quite a long time. And the product that you recall that we launched in, I think it was 2019, that had a limited kind of feature set in that it was called AutoBlocks for JIRA Server and you guessed it, it just worked for JIRA Server. When it came for us to look at the cloud version of the same product, we'd had the opportunity there of actually taking some of the learnings that we'd had of that initial release. We'd had a chance to actually talk to users. Seb went on a roadshow of the states and was visiting all of the different Atlassian community events and was able to talk to users and get their feedback. There was a couple of things that we hypothesized and that we actually took as learnings from that.
Paul Saunders:
One thing that the real power JIRA admins, who perhaps were more familiar with ScriptRunner, the number one thing they came by and said to us, was like, "Well, this is great, but there comes a point with like a no-code or low-code solution where I just want to dip into the code." You get to that point and you want an escape hatch where you want to break out and you actually just want to write a little bit of code. So that was probably the first biggest learning that we had. The second learning that we had from our work, actually working within ScriptRunner for JIRA cloud is what we were seeing is as people were moving over to cloud, the larger the organization, the more kind of complex their infrastructure and their landscape was. So the requirement for them to kind of just be able to do automation within their JIRA instance, or their confluence instance, or that Bitbucket instance, they were expecting that kind of capability across their whole network and their whole infrastructure.
Paul Saunders:
And the thing to remember is, one of the reasons it's not the only reason, but one of the reasons why you would migrate to the cloud in the first case is you want to be more open. You want to be more connectable, you want to take advantage of the fact that you are exposed to the internet and that side of things. So it's basically embracing that fact, learning from the feedback that we've had from that version 1.0 of AutoBlocks, moving things forward into the way that we see the world operating nowadays.
Matthew Stublefield:
So when you talk about these enterprises and their architecture and infrastructure, that the tools that they're using to get work done, in AutoBlocks then, you're not just talking about Atlassian here, right?
Paul Saunders:
For sure. Yeah. Yeah, absolutely. So, this first version of AutoBlocks for everything, or just AutoBlocks for sure, we have first-class support for Slack, we've added support for ServiceNow. We've even got Google Sheets in there, because one of the first things people were saying to us is like, "Oh, I want to be able to dump my results into a spreadsheet." So we've done that. And the roadmap ahead, Adaptavist now has quite a broad partner portfolio. And we're going to be adding to that list all the time. And as Seb pointed out, we do offer generic support for other tools as well. So we had one of our early access partners they built a proof of concept where they were working with Shopify, for example, they wanted to have a checkout experience on a Service Management portal. So that was something they were able to do with AutoBlocks.
Seb Sidbury:
So all of the current trends are showing that with organizations further moving into the clouds, there's more and more empowerment for different parts of the organization to use the tools that they want, because of the lower barriers to entry into the adoption of some of these cloud systems. And so, as the overall IT landscape of the companies gets more and more complex, when it comes to implementing these cross-system processes, how different companies want to arrange their business logic. If these different tools are segregated, then it becomes very hard to do that, and that's where a tool like AutoBlocks can really unlock those challenges for companies by essentially unifying that web of different nodes into a seamless, connected hold, across which you can then start writing your own integrations with AutoBlocks.
Ryan Spilken:
Well, Seb. Some of those nodes are going to be on-premise, aren't they?
Seb Sidbury:
That's right. So we recognize that. And it's important to note that at the end of the day, whether the system is cloud-based or whether the system is based on-premise, fundamentally, what we need is an open HTTP rest API. And as long as that's present, whether that's a bespoke system that a company has created themselves, or whether it's a third-party vendor, a bought system, then AutoBlocks can connect to it. And from the perspective of AutoBlocks, there's no distinction. You're able to write your integrations and your automations across everything seamlessly.
Paul Saunders:
Yeah. That's an important factor that Seb just been made just there is that an end user, all due respect for them, they don't actually care whether their JIRA is on-premise or in the cloud, wherever their Bitbucket is hosted somewhere here or there. They just want their stuff to work, and they don't care who's looking after it and who's hosting it. And if they think that they can connect via their internet, and if they think they can connect via their API, then why shouldn't they be able to do what they want with it?
Matthew Stublefield:
Yeah. It's this point of tension that we're seeing more and more in organizations where the user's job is to do their job, it's not to screw with tools. And sometimes there is internal tension in an organization where I feel like I need this tool to get my job done, but IT has got to get a server, they got to get a rack, they got to sort out the firewalls and the proxies and whatnot, or I can put my credit card into a webpage and send something up in the cloud, which then creates all kinds of headaches for the IT admins. And one of the things I look out from AutoBlocks from that admin perspective is I can have lots and lots and lots of political fights to try to get everybody on the same system so that things are tied together or I could use some middleware, something like AutoBlocks that just ties together, so the users can get the tools they want, but I can still integrate my systems. Is that like a right way of looking at this?
Paul Saunders:
Yeah, for sure. So there were a couple of personas that we kind of targeted early on and sort of helped us in our thinking around what people would be using AutoBlocks for. And one of our, probably our biggest early adopter is our CIO, Neil, who's got a whole load of kind of not legacy technology, but has kind of got legacy unsupported integrations in place that are kind of like, not that they're uncontrolled, but there's a business risk around those. And one of the big things that he's working on right now is he's ripping all of that out and replacing with AutoBlocks. And he's meeting that exact requirement that you're talking about there Matthew. And we're having those level of conversations with other, not just JIRA administrators, but system administrators, managers of information systems and CIO levels, where they're having exactly those kinds of challenges that you described. One of our customers in retail, in the UK, they estimate they have about a thousand different SaaS instances internally that they're having to take control of.
Paul Saunders:
And that's come from the fact that people have just been able to go off and spin up their own Slack workspace or Basecamp instance or JIRA cloud instance for free without having to worry about it.
Seb Sidbury:
So, one of the interesting differentiators of AutoBlocks is that when you look at other integration apps, many of them offer quite a superficial level of integration support. So if your requirements are fairly simplistic, then you can use these tools and that's fine. At the other end of the scale, there are some extremely specialized integrations tools, which are focusing on a very specific challenge and will probably solve that challenge very well, but they lack the flexibility. They just focus on that one point. And so, both of those different types of integration systems are different to AutoBlocks, because with AutoBlocks, like ScriptRunner it's open-ended, so it provides the links between everything, and then it's up to you to create your own solutions. So unlike some of the more specific integration products, you can work with everything. So rather than augmenting the complexity of your overall IT landscape by adding more and more integration tools for all your different challenges, with AutoBlocks, you can just have the one which covers all of those use cases.
Seb Sidbury:
And because fundamentally, we're working with TypeScript and JavaScript here, you have that unrestricted potential that you can really only get through code. So the level of complexity of the integrations that you can write is virtually unlimited.
Matthew Stublefield:
So for people like Ryan and me, we can play with Legos, and for everyone else, they can actually get in and write some code.
Paul Saunders:
That's right. And we got a halfway house as well. So we've got a concept that we call Recipes in-app as well. And so, you can take something that we've already built and you can, if you're a copy and paste coder, like I am, then you can actually do some code and you can feel like you're super-powerful without just moving Legos around. You're actually moving a bit of code around. From my point of view, I find that really satisfying.
Ryan Spilken:
Well, we don't have the opportunity to debunk Paul Saunder's claim that he's a copy-paste coder, but gents, AutoBlocks, congratulations on the successful launch, the big news, how do people get connected with AutoBlocks?
Seb Sidbury:
So it's pretty straightforward. You just want to go to www.autoblocks.com and you can sign up and we have a free tier. So you can try it out to your heart's content, see what works for you, build what you need and when you're ready and if you're ready, you can move on to the next stage. But it's all from our website.
Ryan Spilken:
Wonderful. Well, Seb Sidbury and Paul Saunders from the AutoBlocks team, congratulations again, and thank you so much for joining us today.
Seb Sidbury:
Thanks for having us.
Paul Saunders:
Thanks guys.
Ryan Spilken:
If you're connected with us on social media, you might have seen that before, during and after Team, we've been hosting a series of webinars called Team Talks. And if you hadn't had enough of Team yet, our very own Brenda Burrell will be part of one of these sessions next week. Brenda, are you excited or what?
Brenda Burrell:
I am excited. This will be a fireside chat. We'll be discussing what's new from Atlassian Team. And I will be joined by some of our good friends from SmartBear, Gliffy, Tempo and Appfire. Neil Riley, our CIO will be moderating this, and we'll just be chatting about what's new and what we're taking away from all of this. So we've got a lot of stuff that, as things are being announced, we have a lot of content that we'll be thinking about over the next few days. I actually met with the group earlier today, we're recording this on Thursday, the 29th. Had a great chat, it's really, really smart people, a really great group of folks to discuss how the things that are being talked about, that Atlassian Team are going to affect what we're doing and how we can help you as customers, you're part of the ecosystem and just adjust as the world continues to change.
Brenda Burrell:
So this webinar is for me in Pacific time, it'll be at 9:00 AM on May 4th on Tuesday. So that would be noon Eastern. It's going to be 5:00 PM British summertime. And we would love to have you join if you, like we said, if you haven't got enough Team, if you haven't got enough of me on the podcast, please do join this fireside chat, what's new from Atlassian Team Tuesday, May 4th. And we'll have a link to it as always. We'll have a link to a page about it in our show notes.
Ryan Spilken:
All right, team, that was a heck of a Team.
Matthew Stublefield:
Team.
Brenda Burrell:
Team.
Matthew Stublefield:
Next year. I don't know that we necessarily will be the Ryan. You almost assuredly will be, but don't know if Brenda and I will be. But people, people will be at Team '22 and be able to see each other and talk to one another. It'll be madness.
Brenda Burrell:
I don't know how to do this anymore. So I'm going to need some lessons on peopling before, if I do end up going.
Ryan Spilken:
Well, listeners, we certainly hope to see you in Las Vegas in 2022. And until then, stay safe, have fun, for Brenda Burrell and Matthew Stublefield. I'm Ryan Spilken, and we'll see you next time on Adaptavist Live.