Steering the ship: keep on top of containerisation with Kubernetes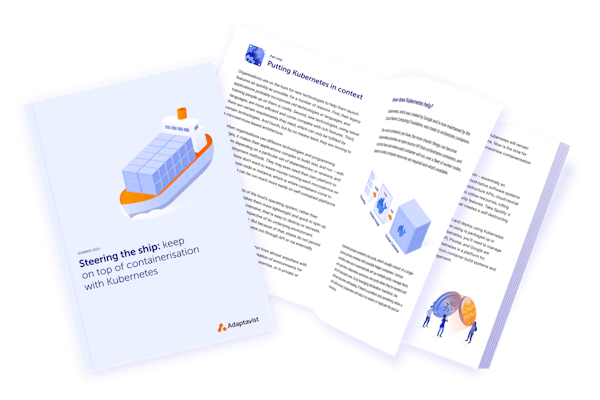 Getting started on your DevOps journey
For organisations to survive and thrive, they must release new features more frequently than ever before. The shift to cloud-based infrastructure provisioning has enabled most businesses to support this speed to market. But to effectively build and manage applications in these environments, the industry has turned to cloud-native technologies too.
And Kubernetes is the industry standard for orchestration. In 2021, VMWare estimated that 65% of large companies use it in production. While towards the end of 2022, Gartner identified 'industry cloud platforms' and 'platform engineering' as two of its top 10 strategic technology trends, predicting that 80% of software engineering organisations would have established platform teams by 2026.
Through container configuration, automation, and scaling, Kubernetes has revolutionised how software is developed and deployed, particularly when scaling and managing microservice-based applications.

In this eBook, we put Kubernetes in context with a quick recap, along with the following:
Dive into the key challenges it helps your business solve, including how it can support you as you scale.
Discover the benefits containerisation can bring to your business.
Unlock whether it's the right solution for your organisation.
Learn what role Adaptavist plays in helping you get started with Kubernetes.
Now you know what it contains (pun intended), let's get started.