Compare the leading CI/CD tools on the market
GitLab, Atlassian Bitbucket and Jira, Azure DevOps and GitHub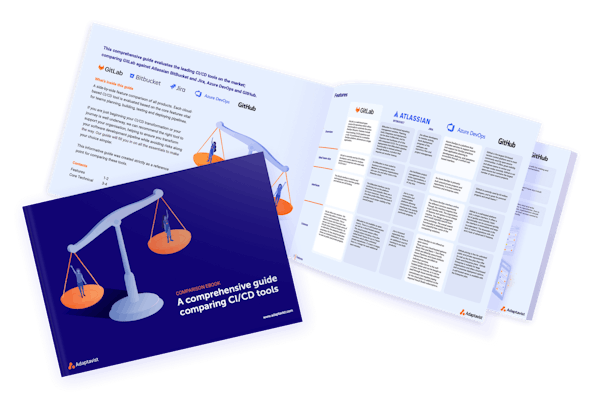 Discover the right CI/CD tool for your team
This comprehensive guide evaluates the leading CI/CD tools on the market, comparing GitLab against Atlassian Bitbucket and Jira, Azure DevOps and GitHub. We have assembled this guide to make it faster and easier for you to evaluate these tools.
What's inside this guide
A side-by-side feature comparison of all products. Each cloud-based CI/CD tool is evaluated based on the core features vital to teams that are planning, building, testing and deploying pipelines.
If you are just beginning your CI/CD transformation or your journey is well underway, we can recommend the right tool to support your organisation, helping to ensure you transform your software development pipeline while avoiding risks along the way. Our guide will fill you in on all the essentials to make your choice simpler.
Key takeaways:
At a glance page view to easily compare tools.
See a comprehensive list of all the main features.
Side-by-side feature comparison of all three products.

This informative guide was created strictly as a reference point for comparing these tools, and was correct at the time of publication and will be reviewed regularly.