Product roadmap tools comparison guide 2023
Compare Aha! Roadmaps, Advanced Roadmaps for Jira, Jira Align, and monday.com features side by side in one guide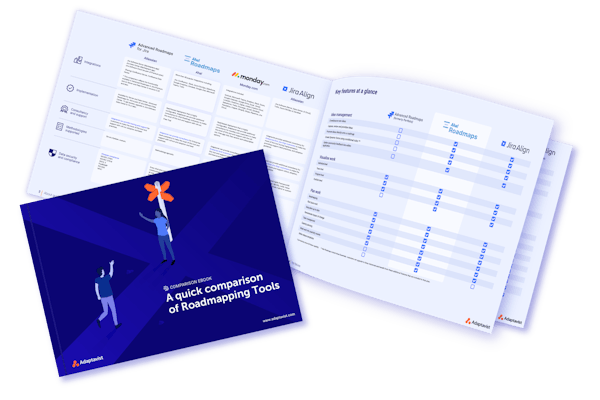 Are you stuck between two or more software choices?
You need a roadmapping tool, but there are lots to choose from, so how do you avoid making the wrong choice? Choosing any new software requires a significant investment in time and money. The typical evaluation process results in a few options; from them, your business can decide on the best fit, but this requires time and research. This free comprehensive guide allows you to quickly, in 15 mins or less, compare four of the market's leading strategic product roadmap tools – monday.com, Advanced Roadmaps for Jira, Aha! Roadmaps and Jira Align to make choosing a bit more straightforward.
If you're looking for a tool designed specifically to make roadmapping your product easy, organised, and seamlessly connected with your organisational goals, teams, and other tools... keep reading!
Our eBook Six-step guide: what to consider when choosing roadmapping software covers the basics – what they are, what to look out for when evaluating them and an overview of how these purpose-built product management tools can make all the difference to your product teams.
What's inside this guide
Our agile experts have assembled this guide highlighting the most important features they know are vital for teams to plan, visualise and share roadmaps and release new products. You can compare these software solutions side-by-side with at-a-glance feature lists and summaries to see how they really stack up against each other—helping to remove the risk of feature overload or capability limitations.
Whether you are beginning your agile transformation or your journey is well underway, our agile experts can recommend and implement the right roadmapping software tool to support your transformation.
Key takeaways:
A side-by-side feature comparison of all four products.
Detailed tool breakdown based on the core set of features vital for teams for planning, visualising and sharing roadmaps
and releasing new products.

This is an informative guide created strictly as a point of reference for comparing these tools, and it was correct at the time of publication and will be reviewed regularly.