Experienced Jira cloud users will already be familiar with the benefits–and limitations–of Jira's built-in issue hierarchy. While work hierarchy is a key component of any successful development lifecycle, the out-of-the-box functionality doesn't allow for additional hierarchy levels, which can be restricting for users who want a more customised, detailed view of their Jira issues.

Luckily, there are things you can do to overcome this. Find out which problems you can solve with a more comprehensive and personalised Jira cloud issue view, and what tools you need to get started.
What's wrong with the native Jira issue hierarchy?
For many users, there's nothing wrong with the existing hierarchy! As standard, Jira cloud comes with a built-in hierarchy of epic>story>sub-task. Higher-level product specifications are filled in at the epic level, which can then be broken down into lower-level stories, and even further to sub-tasks. All Jira's built-in reports are supported by default, and you can create roadmaps at the epic level and add stories to sprints in the way Jira was intended to be used.
That's enough functionality and hierarchical levels for many teams. But what if your product specs need to be broken down further? Or if you're working in a big organisation where a new feature can impact many different departments?
When you need to go beyond the standard Jira functionality
There are many reasons why project managers, product managers and development teams want extra hierarchy levels. Two of the most common are:
Wanting to add an initiative or feature issue type for high-level product specs which can be broken down into multiple epics.
Wanting to add tasks to stories instead of sub-tasks so teams can add them to their sprints. Some teams may prefer to use epics as the highest level and create a new feature issue type between epics and stories.
In situations like these where your product specs or organisation structure don't fit neatly into Jira's default issue hierarchy, there are two great options: Advanced Roadmaps and Hierarchy for Jira.
Using Advanced Roadmaps to create issue types above epics
The most common way to add an extra level of hierarchy above epics is to use Advanced Roadmaps. As part of Jira cloud Premium, this feature lets you configure issue types to use above epics and create roadmaps at a higher level.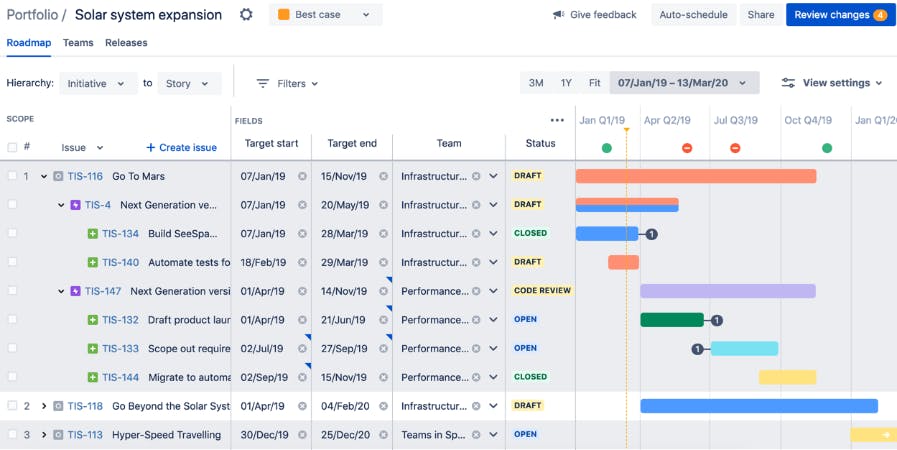 To get started, create a new issue type and configure it to sit above epics in your issue hierarchy.

Once you've configured your hierarchy you'll be able to link epics to your new issue type (in this case, features) and bring them up in your plans. Advanced Roadmaps lets you link epics to parent issues through the 'parent link' field. Once linked, you'll see child epics displayed inside parent features, similar to the way you see child stories displayed in epics.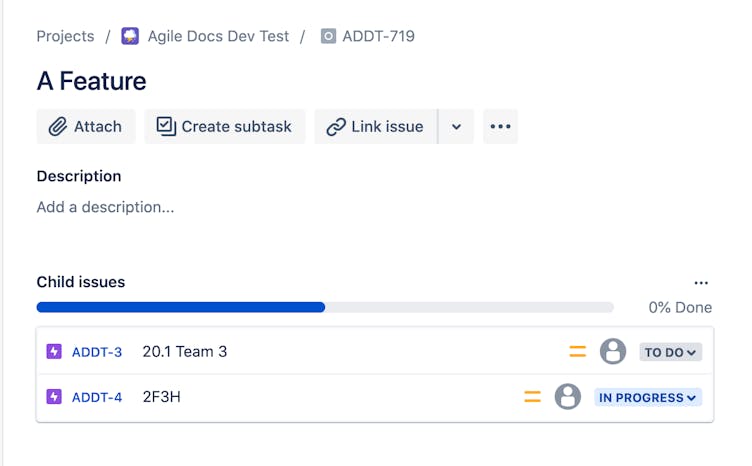 What are the limitations of using Advanced Roadmaps for your Jira hierarchy?
For many teams, Advanced Roadmaps provides an extremely useful way to structure Jira issue hierarchy. You get to extend your issue hierarchy, visualise it, and create roadmaps at a higher level. However, if you want to add extra levels of hierarchy below epics or use a flexible issue hierarchy instead of a fixed one, you'll need a different tool. 
Advanced Roadmaps doesn't support creating new issue types below epics. You can extend your issue hierarchy up, but not down. Similarly, if you're looking to use the epic>story>task>sub-task hierarchy or epic>feature>story>task>sub-task hierarchy, Advanced Roadmaps won't be able to meet your needs. What's more, Advanced Roadmaps can become expensive if you're working in a large team and have many users on your Jira instance.
Finally, if you link up your issues but later decide Advanced Roadmaps isn't for you, you'll lose all the links between your epics and their parent issues. This can be problematic for teams that want to retain their issue hierarchy but don't necessarily need to be able to visualise it in Advanced Roadmaps.
Using Hierarchy for Jira to extend your Jira issue hierarchy above or below epics
This app lets you extend the default Jira issue levels via issue linking. So you can flexibly add levels of hierarchy below epics or between any issue types.
Instead of having to configure the hierarchy as in Advanced Roadmaps, with Hierarchy for Jira, you can simply link up issues in any hierarchical order using a custom parent/child linkage. Then you'll be able to view the hierarchy you've created in extension to Jira's default hierarchy in a nested tree view.
This functionality makes it possible to create an epic>story>task>sub-task issue hierarchy or an epic>feature>story>sub-task hierarchy, which is a limitation with Advanced Roadmap.
In this example, we've created a custom link "parent of / child of" to make the custom hierarchy epic>feature>story>task>sub-task: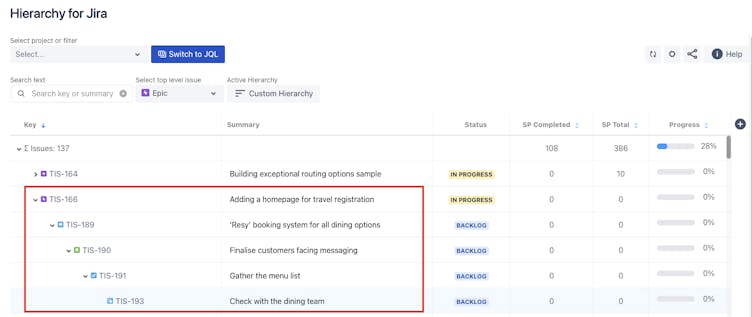 If you already have existing issue links representing the parent/child relationship, you can select the respective link type to build the hierarchy directly from the app.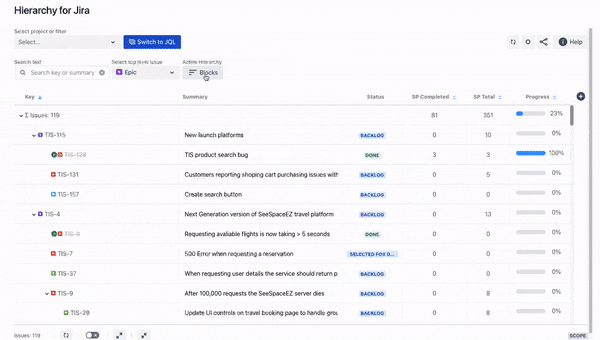 You get complete freedom to create any issue hierarchy you like using your own prefered link type. Another advantage with Hierarchy for Jira is that you can use a different issue hierarchy in every project, since the app doesn't require you to stick to any specific structure.

The app also lets you visualise your extended issue hierarchy, display any project, release, or filter at any level of granularity, and display any field you like.

The best part is you can save different custom views for easy access anytime. This allows you to set up views for dependencies management, bug tracking, release management, weekly progress reports, and more!

You can also export your issues to a CSV while retaining their hierarchy, and track each level's story point or time progress.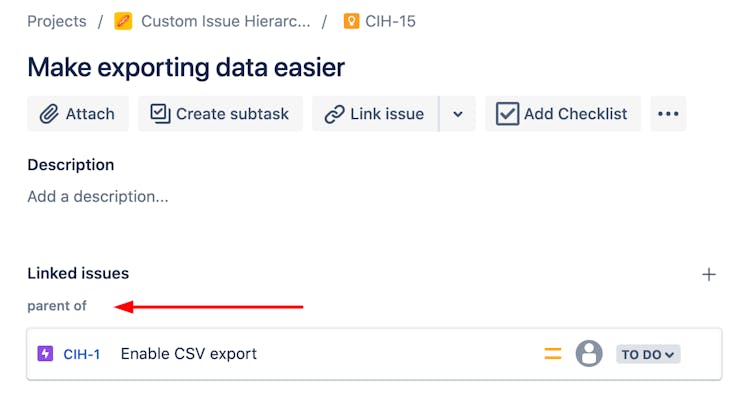 Note: Hierarchy for Jira doesn't currently support roadmap creation, so users who need this feature may want to use Advanced Roadmaps as well.
Hierarchy for Jira also works with initiatives or features created in Advanced Roadmaps, so you can use Advanced Roadmaps to add levels above epics and to create your roadmap, then use Hierarchy for Jira to extend your issue hierarchy further by creating levels of hierarchy below epics.
Choosing the right Jira issue hierarchy
Whether it's Jira's built-in issue hierarchy, Advanced Roadmaps, Hierarchy for Jira, or a combination of all three, it's important to use the issue hierarchy which best meets the needs of your team. Get started with a free trial of Hierarchy for Jira now and level up your Jira hierarchy.
Try now