Encryption 
for Jira
Enhance your Jira security by protecting your most sensitive fields and attachments
Why use Encryption for Jira?
Secure sensitive data
Help protect your organisation against (internal and external) data breaches and their associated negative reputational and financial consequences.
Gain peace of mind
Encryption for Jira gives you peace of mind that you have taken the necessary steps to secure your Jira data.
Save time
Save time by easily encrypting your data with only a few clicks.
See Encryption for Jira in action.
Jira's out-of-the-box permissions do protect your information from unwanted access on the front end. However, in the backend file systems and databases, your data could easily be exposed and abused.
Using AES (Advanced Encryption Standard) encryption technology, Encryption for Jira you can ensure this data is securely encrypted making it significantly more difficult for unwanted users to access.
Prashant Karakanagoudar

on 23/06/2021

I have always got a timely response to my requests and the support team is kind and has very good knowledge and they have good collaboration with the development team, the bug reported was rectified very quickly.

Oussama Elyounsi

on 22/01/2021

Great support team and super quick responsivness. Keep up the good work !

Georges Moubarak

on 27/10/2020

Great support team

Joseph Rowe

on 06/10/2020

Great help from Joaquin regarding our encryption keys issue!

Benito jimenez

on 30/11/2017

Magnífica app ! Todas las instancias deberían tenerla ya que la protección de datos es algo realmente importante. 100% recomendado :)

Rauliki DJ Misterios

on 15/03/2017

Very useful to accomplish the Spanish law for protected data (LOPD). You can encrypt Identification number in the database, you can encrypt the attachments inside the filesystem of the server.. Awesome! Recommended 100%

Antonio Jesús Rodríguez Núñez

on 18/09/2016

Very useful to acomplish the standars of the spanish Constitutional Act 15/1999 of 13 December on Personal Data Protection (LOPD).
Key Features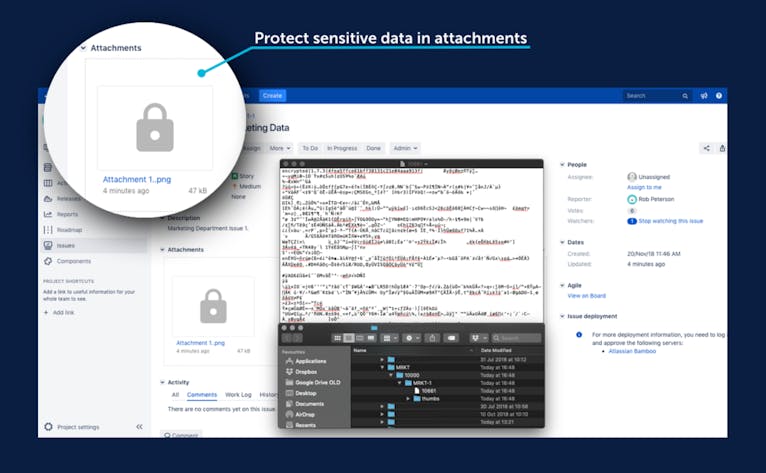 Encryption for Jira in action
Here are a few ways in which Encryption for Jira can be used.
Keep sensitive employee data secure:

a Human Resources Jira instance may contain sensitive salary details stored in a text field. Use Encryption for Jira's Encrypted Custom Field to secure this information in the database.

Stay GDPR compliant:

organisations such as healthcare companies are able to protect sensitive patient information in their Jira system by encrypting it in their databases and file systems.

Reduce the impact of hacking attacks:

by protecting information in your database, if unwanted users break through your firewall they will not be able to read your encrypted sensitive information

Avoid unwanted admin access:

certain database/file system admins will have access to all company data. There may be more junior admins or even external/outsourced admins who you would not wish to have access to this data. E4J allows you to restrict access to only those with the encryption key.

Control exactly what is encrypted:

if you only need to protect certain projects, you can encrypt attachments at a project level only. Perhaps when storing information related to a client who has requested you sign a Non-Disclosure Agreement (NDA)
Ready to give Encryption for Jira a try?
Click below for your 30-day free trial