ThemeBuilder 
for Confluence
The ultimate web development tool for transforming the look, feel, and usability of your Confluence instance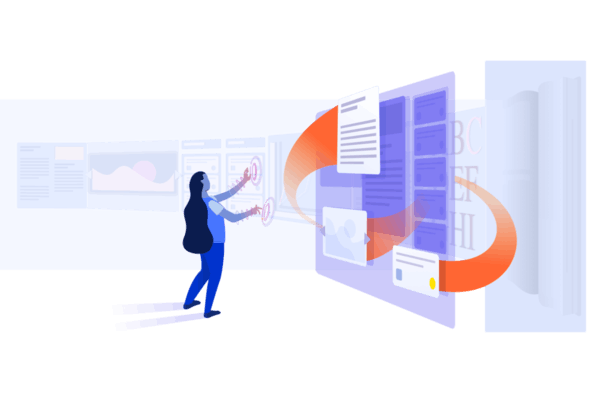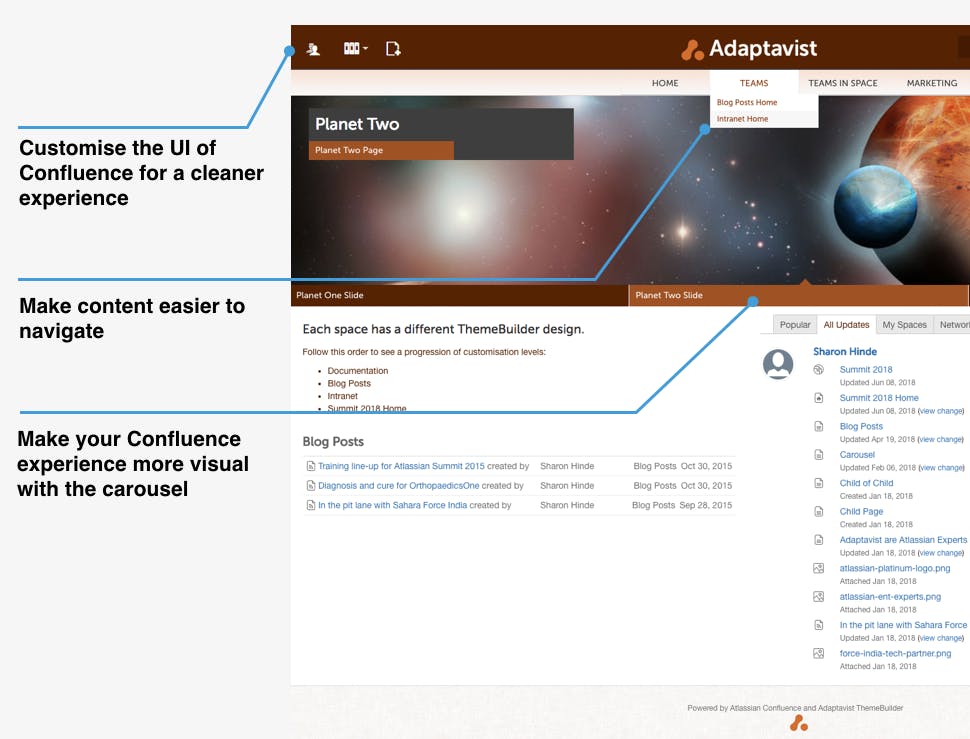 What's ThemeBuilder for Confluence?
ThemeBuilder gives you the ability to fully customise your Confluence theme using HTML, CSS and JavaScript. Create an intranet or documentation experience that matches your brand and makes content navigation a breeze for your teams.
With ThemeBuilder you can:
Easily customise and rearrange Confluence using building block styled code modules.
Develop completely custom page layouts by scripting macros and HTML.
Show or hide page and UI elements that make sense for your company or teams.
Ensure highlights and important content stand out using the carousel.
Build standardised layouts that match the Confluence codebase— your custom pages will stay just how you built them, even when new Confluence versions are released.
Jake Steiner

on 17/09/2020

I haven't used this personally but my team has nothing but great comments for this. Top stuff!

Jane Johnson

on 30/12/2019

Excellent customer service from Lee. I'm very impressed!

Jeremy Swan

on 24/09/2018

Thank you Sharon, for pointing out the more in depth documentation. Example themes would be great. I'm working on an adaptation of the US Design System for Confluence using Theme Builder, which I hope to share on github: us design system: https://designsystem.digital.gov/

Zach Mitchell

on 06/04/2018

Great team, addressed any issues we found immediately.

Katarina Nikolic

on 26/06/2017

All stars for Sharon Hinde! Great and fast responses.

Larry Stern

on 07/10/2016

Speedy and thorough response to my request by Rob Parish is greatly appreciated!

CeDiS FU-Berlin

on 25/01/2016

Hi everybody, unfortunately it is not possible to create any new pages in spaces styled by the themebuilder plugin, version 5.3.6 installed on the latest confluence version. The wysiwyg editor is not being fully loaded. Please refer to the error report we just created on your support desk and provide a fix as soon as possible! Thanks UPDATE: We solved this issue. It is caused by installation specific configurations and NOT really by the ThemeBuilder itself. Thanks to the Adaptavist-Team for the quick help!

Rainer Pöhlmann

on 18/12/2013

We are also urgently waiting for a compatible version with Confluence 5.3/5.4, in particular since 5.2.x contained some "glitches" we do not really want to re-introduce and would rather prefer to skip this version. Could you please comment on your ThemeBuilder upgrade timeline? As a paying customer we would appreciate to stay informed in a timely manner. Thanks a lot for in advance your understanding.
Ready to transform your Confluence with ThemeBuilder?
Click the button below to start your 30-day free trial.