ScriptRunner 
for Confluence
Market-leading admin solution for managing Confluence at scale
Available on Cloud, Server and Data Center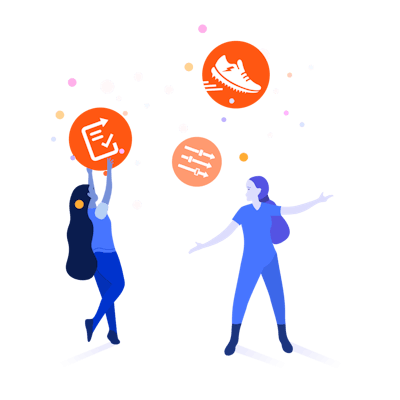 Automate work, keep your instance tidy, and extend Confluence capabilities
Gain the power and flexibility to make Confluence fit the complex processes of your organisation.
Work faster and smarter by automating time-consuming admin tasks, managing content in bulk, and extending Confluence's functionality with improved user experience and seamless integration with other software.
All-in-one
ScriptRunner's powerful functionality helps you reduce the number of apps in your instance.
Time-saving
Work more efficiently by accessing a vast array of easy-to-use, code-free features that solve most common admin needs.
Powerful
Create advanced processes, macros and automations tailored to your business by writing Groovy scripts.
Hassle-free
Avoid wasting resources writing and maintaining your own plugins.
Patrick Vanhoof

on 10/11/2021

Great add-on, comes with very handy macro's and scripts/jobs and allows you to add custom scripts/jobs/event listeners. Very useful as Confluence admin and space admin. And very good support team.

Gordon Rutherford

on 12/07/2021

Already as a business we rely on the amazing functionality SR for Jira brings and when recently we had a specific problem to solve in our DC Confluence instance I looked to what SR could do to help. We had 6000 + pages of content that had different HTML macros with a URL in each that needed to be changed. With only a trial of SR for Confluence the support team introduced me to the very recently added in built script : 'Update Macro' and with some invaluable help and support with the code for the macro those pages are now updated. This would have taken many days of tedious manual work otherwise and I achieved it in approx 3 hours as an automated process. Fantastic support for a fantastic product. BTW I have now purchased a full license and look forward to what we can achieve not only within Confluence with SR but also the doors it opens up to Jira via SR. In short, like SR for Jira an essential App for administration and enhanced functionality with superb support!

Jonathan Claveau

on 08/04/2021

Very good and quick support when needed, thanks !!

Andrea Boerio

on 02/11/2020

Perfect support as usual. I can always find expertise and patience. I've learned a lot, using SR with our on-premise installation.

Riccardo Kramer

on 12/10/2020

The ability to create virtually any macro on Confluence is a feature I particularly liked.

Ahmed Trabelsi

on 08/10/2020

Thanks guys for your support, everything is feasible using scriptrunner :)

Martin Poirier

on 23/09/2020

Great plugin if you are into scripting. Essential to make you do what you want for example : - Create rest api endpoint that confluence is missing and connect it to macro - Clean up your user (remove confluence-user) inactive - Create a cleanup for your page that has 5000 versions Great support for adaptavist as always.

nhung Nguyen

on 11/08/2020

Thank so lot for your support. I always find well solution with your instruction. Scriptrunner is really powerful tool to develop Nhung

Anja Brkljacic

on 26/06/2020

ScriptRunner for Jira is one of our favorite plugins, so we're excited to use the Confluence version! The support team has been very quick and helpful in that process. They are quick to provide ideas on how to go about writing a code that they don't currently have examples for, and research any potential issues. Thanks, team!
Make Confluence work for your teams
Automate
No more tedious admin tasks!
Automate any time-consuming or repetitive action by running scripts on schedule, on-demand, or triggered by events.
Troubleshooting becomes easier when you can assume the identity of another user or access important log info with one click.
Select content based on your very specific criteria and action it automatically.
Trigger content creation from templates - eg generating a new Jira project when a Confluence space is created.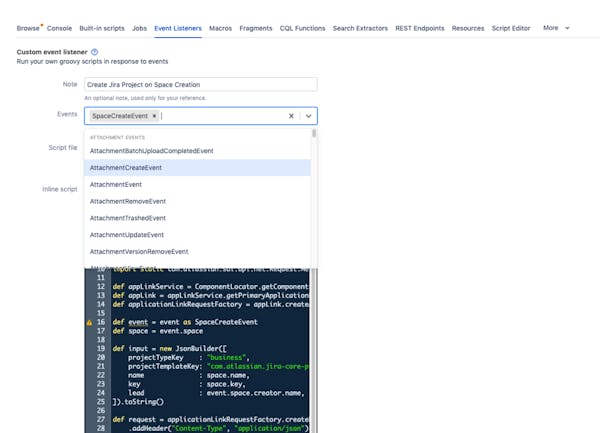 Safely delegate control to Space Admins
ScriptRunner offers you the option to give Space Admins access to no-code features that are safe to use. They can mass-manage content inside their own spaces so you can free up precious time in your workday.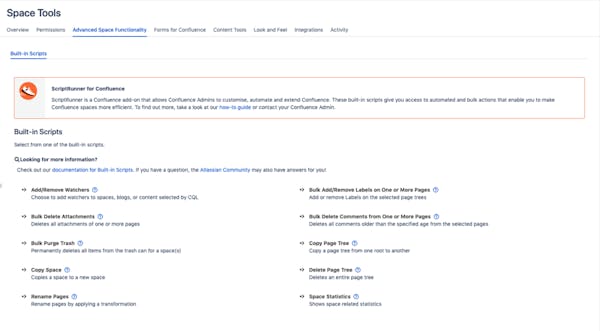 "One of the things I really like about ScriptRunner is its focus on administration and adding macro functionality - system, space and user. As the developer/SysAdmin, I'm always needing more tools to comply with our company requirements. With Atlassian's API a bit lacking still, we all need all the help we can get. Not only does this plugin give you canned usable system and user functions, but it also gives you the ability to create virtually any macro you might want or need."
Automate. Manage at Scale. Extend.
with ScriptRunner for Confluence