ScriptRunner 
for Bamboo
Customise, automate and extend your CI/CD pipelines with a single powerful app
Go beyond what you thought possible in Bamboo using Groovy scripts
Make creation and execution of customised tasks more flexible. Automate Bamboo administration any way you want. Integrate with other DevOps tools. Modify the user interface. The power is yours!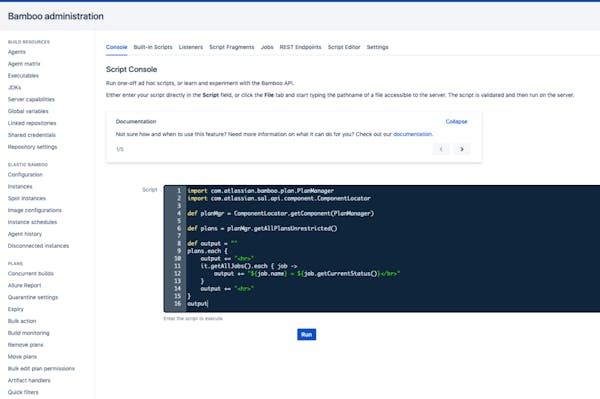 Powerful
Direct access to the Bamboo API and the Bamboo Specs API lets you create deeply customised tasks and automations.
All-in-one
Save money by using a single app that covers the functionality of many other plugins.
Hassle-free
Forget about writing and maintaining your own plugins, run Groovy scripts that just work instead.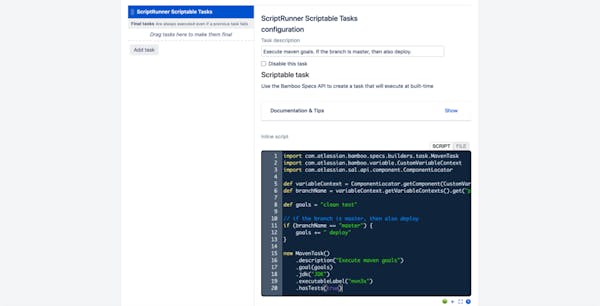 More flexibility to create and run tasks
Create and run tasks dynamically, depending on parameters such as build variables or files changed.
For example, use different Maven goals depending on the branch, or secure copy files to different hosts for different staging environments.
Add extra logic to your build
Avoid an unnecessary proliferation of plans or having to wrap everything with script tasks. Instead, use a Condition Task. The tasks following it in the job will be executed only if the condition task evaluates to 'true'.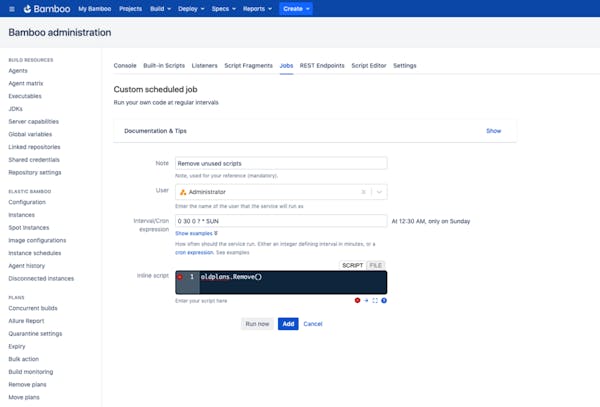 Shave time off tedious admin tasks
Any Bamboo admin action can be automated with scripts that run once, on schedule, or in response to an event. Here are a few examples:
Display a list of build plans, or the status of all current build jobs.
Monitor builds and stop them when predefined conditions are met.
Run regular checks and send SLA alerts when a build has been broken for a defined period of time.
Extend functionality with 3rd party integrations
Create close integration in your DevOps toolchain and help your users stay on top of what's happening.
Receive notifications from external systems and extend the official Bamboo REST API using custom REST endpoints.
Modify the UI to display new buttons, banners and notifications using Script Fragments.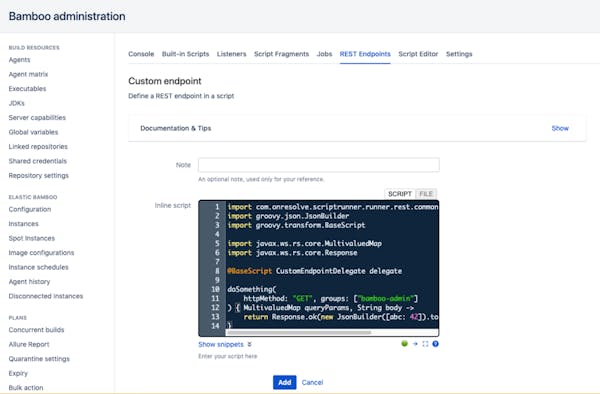 Pricing
Server

Local agents only, 10 jobs

1 remote agent, unlimited jobs

2 remote agents, unlimited jobs

11 remote agents, unlimited jobs

101 remote agents, unlimited jobs

501 remote agents, unlimited jobs
Customise. Automate. Extend. With ScriptRunner for Bamboo