Steering the ship: keep on top of containerisation with Kubernetes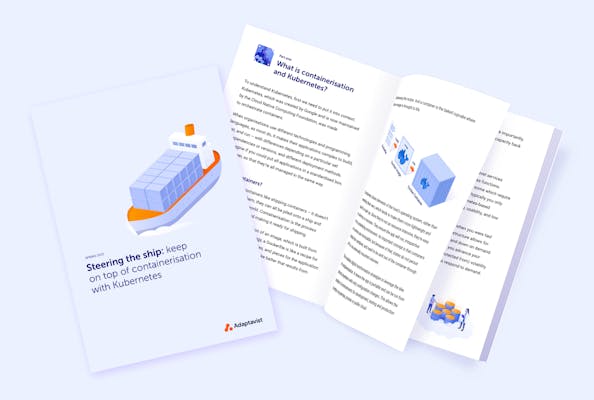 These days, Kubernetes is everywhere. You probably know that it makes containerisation easier to manage, bolstering IT capability and supporting agile development and innovation. And it might already be used by your developers. But what exactly is it?
Kubernetes ahoy!
Kubernetes was designed to orchestrate containers, controlling how and where they will run, based on what resources are required and what's available. It's the present and future of software development and could be an intrinsic part of your digital transformation
But if you're feeling a little lost, you're in the right place. This ebook breaks down what containers are, what Kubernetes is for, and the benefits it can bring.
Key takeaways: 
Find out all about containerisation and how Kubernetes keeps container chaos at bay.
Discover some of the key challenges Kubernetes can help your business solve, such as the need for high availability and reliability, as well as spiralling costs.
Learn how adopting Kubernetes means you can spin up capacity when you need it – good for your customers and cost-effective for your organisation.
From enabling automation to boosting productivity, we look at the benefits and explain how Kubernetes can lighten the load.
Want to know if Kubernetes is the right solution for your organisation? We cover three key areas that might make you think twice.
Ready to make Kubernetes adoption a reality? Read about Adaptavist's approach and the services available. 
Set sail to the heart of Kubernetes with our latest ebook – and start steering your teams in the right direction.