Your new favourite app is back with a bang!
Greetings folks. As we approach the 12-month anniversary of our blossoming partnership with the world's ultimate Work OS - monday.com, we can confidently say - it's been quite a year!

Since embarking on our strategic partnership last Summer, we've been collaborating with our monday.com friends to help teams and organisations globally to deliver their best work, working smarter, not harder, using this incredible platform.

2023 certainly kicked off with a bang! As we launched our very first fully integrated app for monday.com - Unlimited Subitems.

But the work doesn't stop there. Our team have listened to the feedback from our wonderful group of over 1,500 early-adopters, and have been hard at work developing new features to help improve your experience with monday.com, and save time managing your subitems.

Read on to learn about the four new features we've added to supercharge your Unlimited Subitems experience. Improved column views, new display themes, enhanced nested item views and more! Without further ado, let's dive in.
Introducing Unlimited Subitems for monday.com
Unlimited Subitems for monday.com - a hierarchal, detailed view of your projects
First, if you haven't added Unlimited Subitems to your monday.com workspace yet, give it a try; you won't be disappointed.

It's completely free to install, and we'll be there right from the start with demos and our intro blog to help you get familiar with the tool.
Add Unlimited Subitems to my workspace
If you're a project, campaign, product or operations manager using monday.com, you're going to want this app. Building on the native Subitems functionality, Unlimited Subitems for monday.com provides a hierarchical structure to the Subitems feature in your monday.com boards. Each subitem can have its own, unlimited number of subitems, allowing you to add as much detail as you like.

Perfect for those looking for that extra, granular level of detail to visualise your projects.

Now that you've joined the Unlimited Subitems team, let's look at the four new features available to you at the click of a button.
1. Improved editing of columns and items
You can now edit with the pop-up card whenever you click directly on an item. The item pop-up card lets you view and edit all column details about a given item.

So, rather than having to click on the 'open pop-up card' button, you can now click anywhere in your item and the pop-up will appear instantly, making it easier for you to quickly edit your items.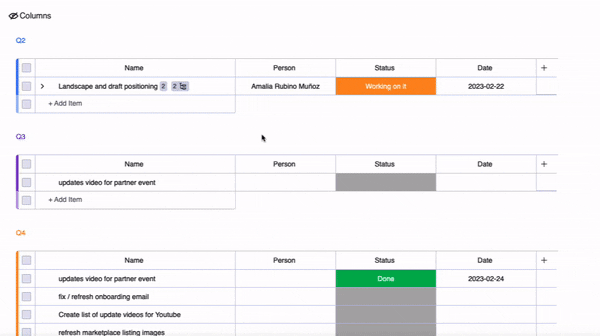 2. Give those eyes a rest with new display themes
We want you to be in control of how the platform display looks according to your preferences. For this reason, Unlimited Subitems is now compatible with the monday.com themes you want to choose! Getting tired of looking at a bright screen? Choose dark or night mode and give your eyes a rest!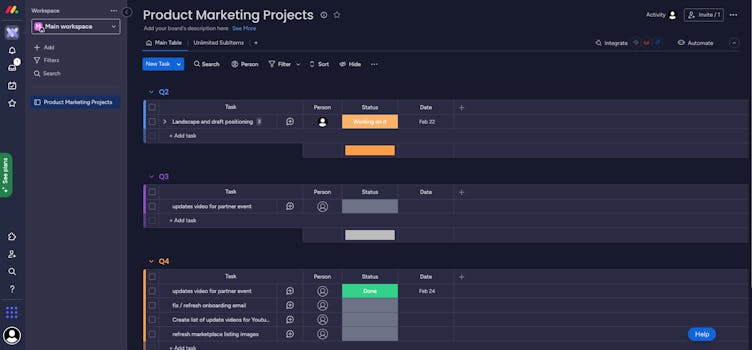 3. Edit columns from our view
The Columns feature is one of the main building blocks of yourmonday.com board. Columns allow you to display and customise the data from your workflows! This is why we've updated the app so that you can now add or delete new columns directly from our view.

This means you'll save time by no longer having to switch between your main board and our Unlimited Subitems view when adding, deleting or editing columns. You can now manage all of your columns directly in the Unlimited Subitems view, and they'll automatically be reflected in the main board view!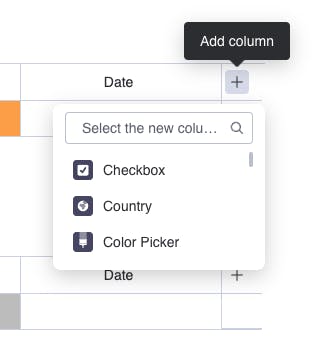 4. Easily know the number of immediate nested items or levels
You asked; we listened! We've added two new badges that help you get a better overview of the size and progress of your work. The first badge shows the number of subitems that item has in the immediate sub-level. The second badge shows the total number of levels below that item.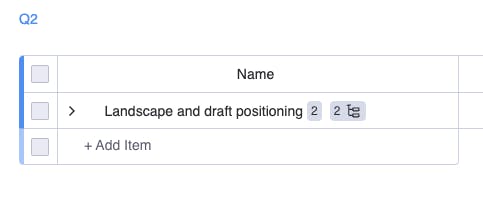 See the latest updates in action
Watch this awesome demo from our Product Marketing Manager, Amalia, and see the latest updates to Unlimited Subitems for monday.com in action!
New features update | Unlimited Subitems for monday.com
What would you like to see next?
We're really excited to bring these new features to you, as another step in our continued quest to help you master seamless workflows using monday.com.

But let's not stop there. Tell us what features you would like to see added to Unlimited Subitems for monday.com to help us better optimise the app and bring you the best possible experience.
Provide your feedback
Head over to our hub for all the latest news, tools and resources from your monday.com team at Adaptavist.
monday.com resources hub
Until next time, as our monday.com friends like to say, 'Done'.
Contact us