Every system administrator knows the stress of making configuration changes and pushing them into production. And for Jira Cloud administrators, this process has been manual and time-consuming - until now!
We're excited to announce the launch of Project Configurator for Jira Cloud. Built on the success of our industry-leading app for Jira Server and Data Center, the Cloud version makes migrating project configurations and promoting configuration changes simple, safe and efficient. Best of all, you can try it for free right now.
Help your Jira administrator focus on what matters most
Now your administrator can perform a Jira migration in minutes, not days. Project Configurator minimises errors on your production instances, providing your team with a seamless working Jira Cloud environment.
Easily test, stage, and promote configuration changes in line with Jira best practices
Save time when migrating configurations between Cloud instances
Say goodbye to errors and hello to efficiencies
Take the stress out of performing configuration migrations between instances. Previously, if you wanted to promote configuration changes, you had to:
export them from your Cloud instance to an on-premise Jira instance,
strip out the relevant data,
and then upload the configuration changes back to your Cloud instance.
That's two transfers across two instances, with a high probability of losing valuable changes each time. The manual effort and multiple steps involved made the process risky, error-prone and highly inefficient. By simplifying and automating many of the key steps, you can reduce manual errors and ensure a more reliable, efficient, and secure end-to-end process.
Key highlights
1. Stay in control with real time feedback when you perform a simulation and use the job screen activity log.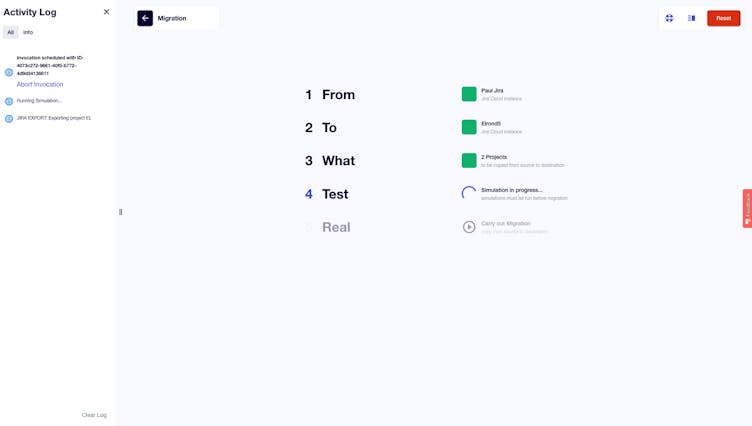 2. Get peace of mind with full visibility of activities and errors. Ensure fully traceable and auditable migrations and transactions by using the reporting screen. View all jobs that have been run, filter by date, feedback level and job name, and view any errors generated. After performing a simulation, resolve any issues before executing the migration.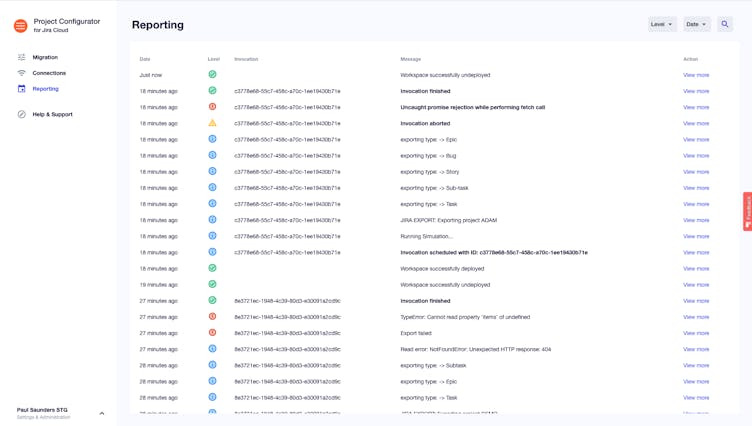 3. Save time and clicks by directly connecting your source and target destinations. You no longer need to export an XML file from your source instance, save it, and then upload it to the target instance for your configuration migrations.
Sign up to get started
Unlike other apps in the Atlassian Marketplace, you don't need to install Project Configurator to your Jira Cloud instance to try it out. Simply sign up on our website and you're ready to go!
Once you have signed in, simply connect to your instances using a secure OAuth 2.0 process. Add and save as many connections as needed and easily remove connections at any time. Then pick your source and target Jira instances and project configurations that you want to migrate, test in simulation mode and execute the migration.
Try Project Configurator for Jira Cloud, for free
Project Configurator for Jira Cloud is currently FREE for you to use. You won't need to add any credit card or company details, just sign up today!
Get started