We've teamed up with the world's leading strategy execution platform – Quantive Results – to help enterprises plan, align, execute, and adapt their strategic objectives. Find out how this purpose-built software and our consulting services can make all the difference in your transformation.
What is strategy execution?
An effective agile strategy should assess your position, identify value streams, define your objectives, and set the key results you need to achieve them. The way this aligns with decision-making and the actions you take is called strategy execution. 
As with anything agile, this process is not waterfall or linear in nature. It involves constant learning and adaptation as you go along – and it's unique to your organisation.
Agile strategy execution can be broken down into four key steps:
Planning: establishing the umbrella goal and approach to execution across the corporate, business, and functional strategy.
Alignment: coordinating all your goals before you execute the strategy by setting values and timelines.
Execution: all your decision-making comes together here, using cross-functional communication.
Assess & Adapt: understand what is working and what is not, and make timely adjustments.
Discover Quantive Results
Quantive supports enterprises to execute their strategic objectives effectively by creating clear lines of sight between their strategy, priorities, and everyday work. Its purpose-built solutions expand your digital transformation capabilities by improving strategic agility from the top down.
Quantive Results uses the objectives and key results (OKR) framework to consolidate data and insights, connecting you and your people to a shared mission in one platform. It helps you understand what's working and what's not and how to adjust your approach to improve.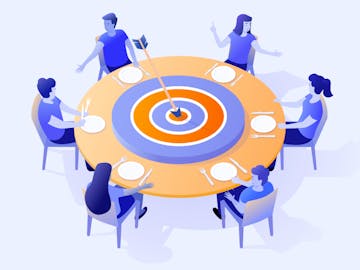 The ultimate guide to roadmaps and OKRs
Transform your roadmaps and organisation with agile goal-setting with our OKR templates, tools and guide.
Discover now
What you get:
Planning – features to help you create an inspiring strategy:
Use Whiteboards and custom planning cycles for a more open, creative way to brainstorm long- and short-term priorities.
Built-in AI functionality and OKR drafting tools help leaders align on the best goals faster.
Whiteboard voting creates greater visibility and gives everyone a seat at the table.
Plan what's next alongside previous initiatives, using retrospectives and OKR cloning for an insight-driven, systematic approach.
Alignment – features to get on the same page and understand what success looks like:
As a single source of strategic truth, the home dashboard and Alignment View let everyone know what they're working towards and why.
KPI ownership and linking help focus your team on outcomes rather than output.
Create shared OKRs and cascading key results to foster collaboration and break down silos. 
Integrate OKRs with projects, tasks, and shared strategic initiatives to understand any dependencies clearly.
Manage and communicate the progress of your OKRs using Microsoft Teams or Slack.
Connect Quantive Results with your established work system, such as Jira, Jira Align, Miro, and Zapier. 

Execution – features to make sure you can get your strategy done together:
A clear execution framework, including process reports, helps you stay on track and know what needs attention.
Use Notifications to remind people to update their key results.
Recognise achievements in the timeline feed.
Save time on manual input by automating your OKRs and KPIs via integrations with BambooHR, BitBucket, Excel, Hubspot, Jira, Oracle, ServiceNow, Salesforce, Smartsheet, Trello and Workday, and 160+ others.
Monitor progress in real-time and regularly align work to the strategy to keep everyone motivated. 
Data sharing, regular updates, and confidence level trackers help everyone feel empowered to share where they're at and see the impact their work has.
Use Check-ins to increase accountability, run more efficient meetings,  and keep your team on track towards your OKRs.
Assess & Adapt – features for reflecting, readjusting, and moving forwards:
Use executive dashboards (including customisations) to get a big-picture view of how things are going and what to do next.
Helpful filters and tags mean the data you need is always at your fingertips.
Integrate your other tools to update KPIs and speed up decision-making
Set OKR states and perform bulk actions to have full transparency on where you're at with your goals and help you adapt more quickly. 
Why Adaptavist? 
Agile consultancy from Adaptavist
If Quantive Results could benefit your organisation, Adaptavist consultancy services are here to help. Adaptavist's highly certified consultants deliver a flexible best-practice toolset paired with expert training and process consultation.
We can support absolutely everything to do with your transformation, no matter where you are on your journey to agile.
Our services include:
Business agility assessments
Agile strategy workshops
Leadership coaching
Agile process implementation, including SAFe® Implementation with Atlassian Tools
Tool implementation, training, and support
What you get:
Support for what you need, when you need it
Digital transformation expertise you can trust
Trusted by Fortune 500 global leaders
Quantive certified partner
A Scaled Agile® Gold Partner
Atlassian Specialized Partner in agile at scale
Trusted licensing partners
We take the stress out of licensing and portfolio management to help you get the most out of Quantive Results. As your partner for Quantive licences and OKR support, we can handle the administrative hassle, so you can keep working on what matters most.
Contact us