PLEASE NOTE
The content of this blog is no longer updated
"Where can I find an app for my most commonly used everyday tools without leaving Slack?"
We hear you. This is precisely how Everyday toolkit for Slack was born. Here we give you a collection of 12 time-saving productivity micro-apps for common everyday tasks. 
How many times a day do you switch between applications? From your internet browser to Slack to Gmail to Trello, the list goes on. At this point you'll most likely be nodding in agreement; we all do it. I can put my hand up and say I frequently exit what I'm working on to go and Google percentage calculator (I swear that website must get so many hits a day and deservedly so). My point is, we've created a nifty little app which can do those niggly tasks for you, all without exiting Slack. If you're not a Slack user then join us in the Slack community. 
Solve everyday universal challenges with one app in Slack.
A recent survey by Slack reported 68% of respondents stating they spend at least 30 minutes a day toggling between tools. It goes without saying that this can't be efficient for anyone, no matter what industry or role you're in, time is money. Sometimes it's a necessary evil but sometimes, it feels like there could be a better way of doing things. 
We've packed 12 commonly used tools into Everyday Toolkit for Slack. Suitable for teams, large and small; companies, global or local, perform simple commands with the click of a shortcut or slash command. Regardless of your role, you'll find a tool to help your day-to-day, increase your productivity, and facilitate collaboration for teams.
Did we mention one of our tools is a gif finder? Scroll through a plethora of gifs until you find the one, because sometimes words just aren't enough to express how you feel.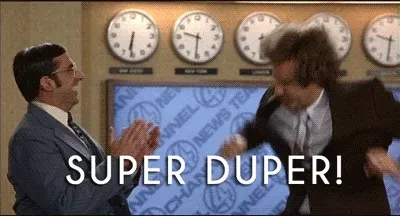 Save time. Reduce context-switching. Do more in Slack. 
Find content and images you need in Slack. Quickly look up that word someone has said which you're not sure of or search for that fitting synonym. Browse through Google and stock images until you find the one you want to share with your colleagues.

Calculate and convert distances, time, currencies and percentages (my prayers have been answered) in Slack. Convert distance, temperature, time, currencies and so much more. As a newbie at Adaptavist, I personally find the world time calculator really useful to ensure I'm contacting people during working hours.

Generate passwords, numbers and Loren Ipsum placeholder text in Slack. If you need to write content then this little tool will come in handy, along with the password generator. A Google poll found 52% of people reuse the same password for multiple accounts and 13% use the same password for all their accounts. If you're one of these people and it's down to a lack of creativity, then check out the password generator.
Here's a quick teaser of what's on offer in the Everyday toolkit app: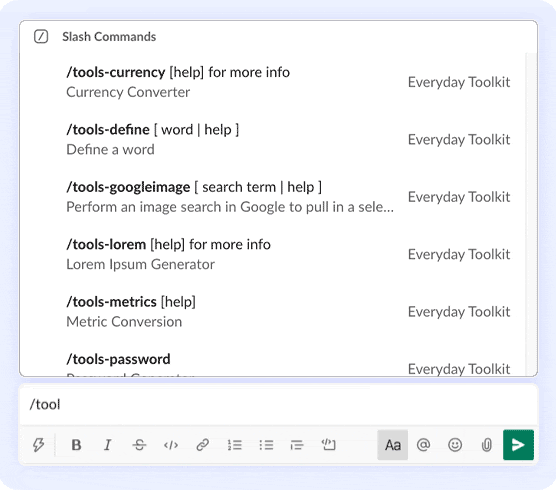 Get started today
Time is a valuable commodity and who wouldn't want to be more efficient on a day to day basis? To start you off, Everyday toolkit for Slack is available to download straight away, for free. Give it a whirl for 2 weeks before coming back for more.