What is this?
Slack Frontiers is Slack's global annual flagship conference. It's an opportunity to come together and celebrate teamwork, communication, collaboration, and connection. It's also a chance to stay in the know on all things Slack.
Who is this for? Who can attend?
Everyone and anyone who's interested in making work simpler, from Slack aficionados to curious people who have never laid eyes on Slack.
The conference offers content geared towards all sorts of teams, including but not limited to:
IT
Engineering
Marketing
Sales
Service
Government
Slack developers
Slack beginners
Slack and Salesforce users
What does Adaptavist sponsoring the event entail?
We're delighted to take part in this event and contribute to the speaker lineup!
Our session "👥 Why you might lose 35% of your workforce" will address the difficulties that have arisen from working in a COVID-stricken world, as well as how to avoid the associated pitfalls, and how to best avoid them gracefully, for maximum team satisfaction and efficiency.
Join Cindy and Thomas in this session to learn about the latest insights from our Digital Etiquette survey, and understand how the 4,000+ people we asked have been feeling about the past couple of years... and how they envision the future.
And Jira users, rejoice! Our app Workflow Steps for Jira will allow you to create Jira tickets smoothly and painlessly, with an action as simple as an emoji reaction on a Slack message. The app's features have kept on expanding since its release a few months ago, so watch this space!
And last but not least, Adaptavist is organising a raffle! You'll get a chance to win one of five workplace goodie packs (including earphones to get active and a massage gun to relax).
Watch the speaker session from the event here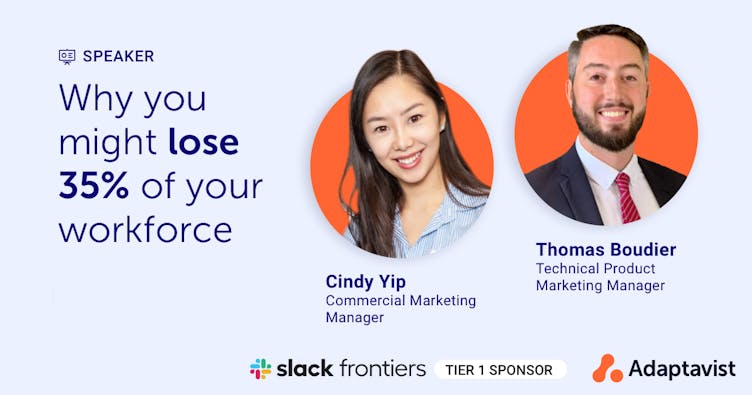 What else is happening?
💪 How Atlassian builds products that fuel the future of work
Point A is the Atlassian program responsible for building new products to power the future of teamwork. Each of these products is brought to life with Slack applications as a critical part of the initial launch. Join this session to hear more about five new Atlassian products and how you can up your productivity game by using them with Slack.
Whitney Williams - ScriptRunner. Strategic Partner Marketing Manager, Atlassian
Steve Goldsmith - Head of Product, Atlassian Accelerator
🌐 The State of the Slack Ecosystem
The Slack partner ecosystem is at the forefront of the digital-first workplace, helping companies to adopt the latest innovations so they can successfully adapt to our new work-from-anywhere reality. Join this session to learn about how Slack's partners are shaping the future of work, product initiatives designed to drive partner success, and go-to-market opportunities as we embark on Slack's next chapter together.
Brad Armstrong, SVP, Business Development and Corporate Development, Slack
Bryant Lee, VP, Global Head of Partnerships, Marketplace, and Developer Experience, Atlassian
Katie Dunlap, Managing Director, Global Salesforce Capabilities & Industry, Slalom
🚀 Accelerate DevOps Transformation
Companies are moving to a DevOps model so they can deliver quality code faster. But the right tools will only get you so far. It's all about how you use them. Learn how engineering leaders leverage Slack to successfully drive automation, cross-functional collaboration, and rapid feedback. We can guide you through your DevOps transformation journey.
Robert Krohn - Head of Engineering, Atlassian
Peter Secor - SVP Engineering, Slack
Karl Owen - Senior Distinguished Engineer, Dell
💡 Work smarter with Slack apps and workflows
Too much information scattered across too many tools? Discover how to streamline your work and increase productivity in Slack, where you can bring together the right teammates, tools, and information. We've developed a Slack app to extend Slack's workflows with Jira actions. Take a look at it here.
Lauren Gil - Senior Product Marketing Manager, Slack
Melissa Greco - Senior Product Marketing Manager, Slack
What sessions are you planning on joining?