There's more to Confluence than just a technical documentation platform.
With hundreds of Marketplace apps, you can extend Confluence capabilities to solve complex business problems.
Need to build dynamic forms for data collection? Gather survey data to make informed decisions? Or even automate workflows inside Confluence? You can achieve all that with just a single app! 
Meet Forms for Confluence, our top-selling app for creating forms and surveys for Confluence. 
In this article, you'll learn how to build forms and enhance Confluence's collaboration capabilities. Let's dive in! 
What are the benefits of Confluence forms and surveys?
For teams who handle support tickets or rely on survey feedback for decision making, having the right information at the right time is critical. While Confluence is perfect for content creation, it lacks the form builders or survey tools needed for data collection and insight generation. 
"We're already using Google Form to run surveys, what's the difference?"
Glad you asked!   
Third-party tools like Google Form may introduce more friction into your team's workflow, especially when your organisation collaborates entirely on Confluence.  
Let's say form submission is a required step for a specific operational process. You'll need a way to review the information submitted and escalate the request to the right team. 
Or if you want to monitor your team's health, it's easier to run a pulse survey right within your HR Confluence space, where your team shares company-wide initiatives.  
Most importantly, you'll want to have all your form responses securely stored inside Confluence for greater control over your team's data.
So the real question is less about which tool is better, but more about how you can create a seamless form and survey experience using Confluence itself.
Below are three key benefits of having a form building solution within Confluence:
Take advantage of Confluence for all communication purposes: Reimagine Confluence beyond a knowledge base. Equip your team with the tools to gather feedback, conduct surveys, or capture data to make informed decisions, right from their Confluence workspace. 
Minimise app-switching for frictionless collaboration: RingCentral and CITE Research indicates that workers are likely to lose their train of thought while navigating between apps. It's time to say goodbye to tedious external link sharing and manual data entry. With Forms for Confluence, you'll have a complete form database right within Confluence ready for use.
Create advanced workflow in Confluence: Need to capture information to escalate a task to the appropriate department? By having users fill out a form, you can ensure the right information is delivered to the right person, anytime.
Next, we'll walk you through the step-by-step guide to creating a form using Forms for Confluence app. 
How to create forms in Confluence in 3 easy steps
If you're already familiar with Confluence macros, then creating forms will be very natural.
Get your free trial of Forms for Confluence by clicking the button below and follow our 3-step guide below.  
Forms for Confluence Free Trial
Step 1: Configure a new form in your Confluence space
Before jumping into a page and adding your form, you'll need to define a Form Id. An Id is a unique form label, which is also used as a database name for your form responses. 
Under Forms Configurations, you'll find the option to add a new configuration.

Click Add Form configuration to assign a new unique Id to your form. Note that the Id field is case sensitive.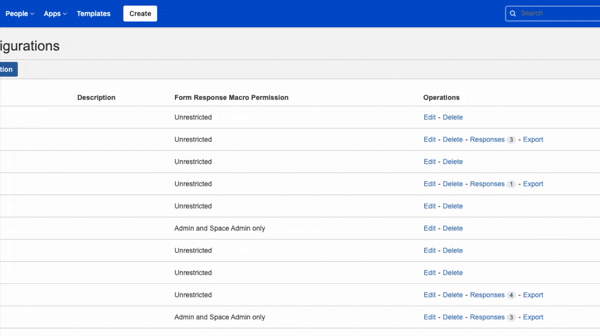 ✅ Tip: Determine a naming convention for your form Id, eg by types or departments, to ensure it's understandable by anyone who needs to use it.
Step 2: Add the respective form Id to your Confluence page 
Now, you can go ahead and create a new page or open an existing page where you wish to publish your form.
Navigate to the Confluence editor, select the Forms for Confluence macros from the macro list…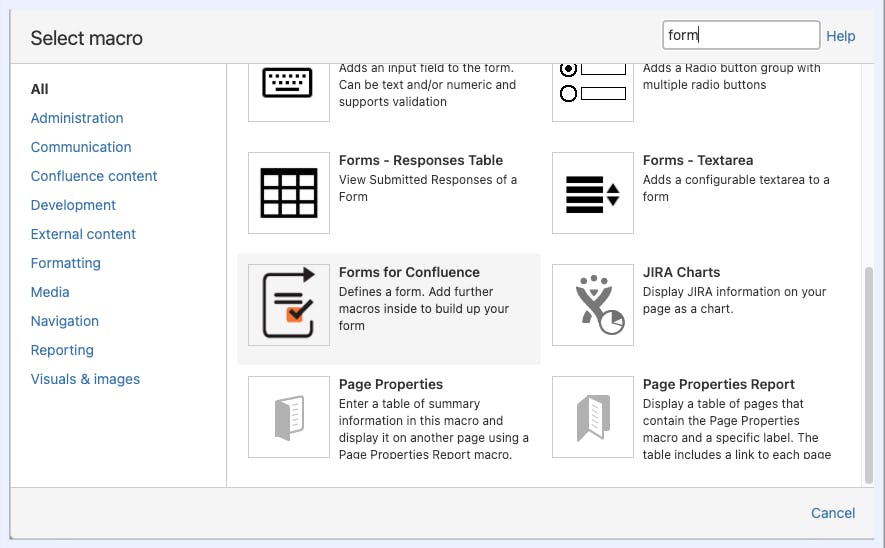 …or alternatively, you can type /forms and pick the Forms for Confluence macro suggestion.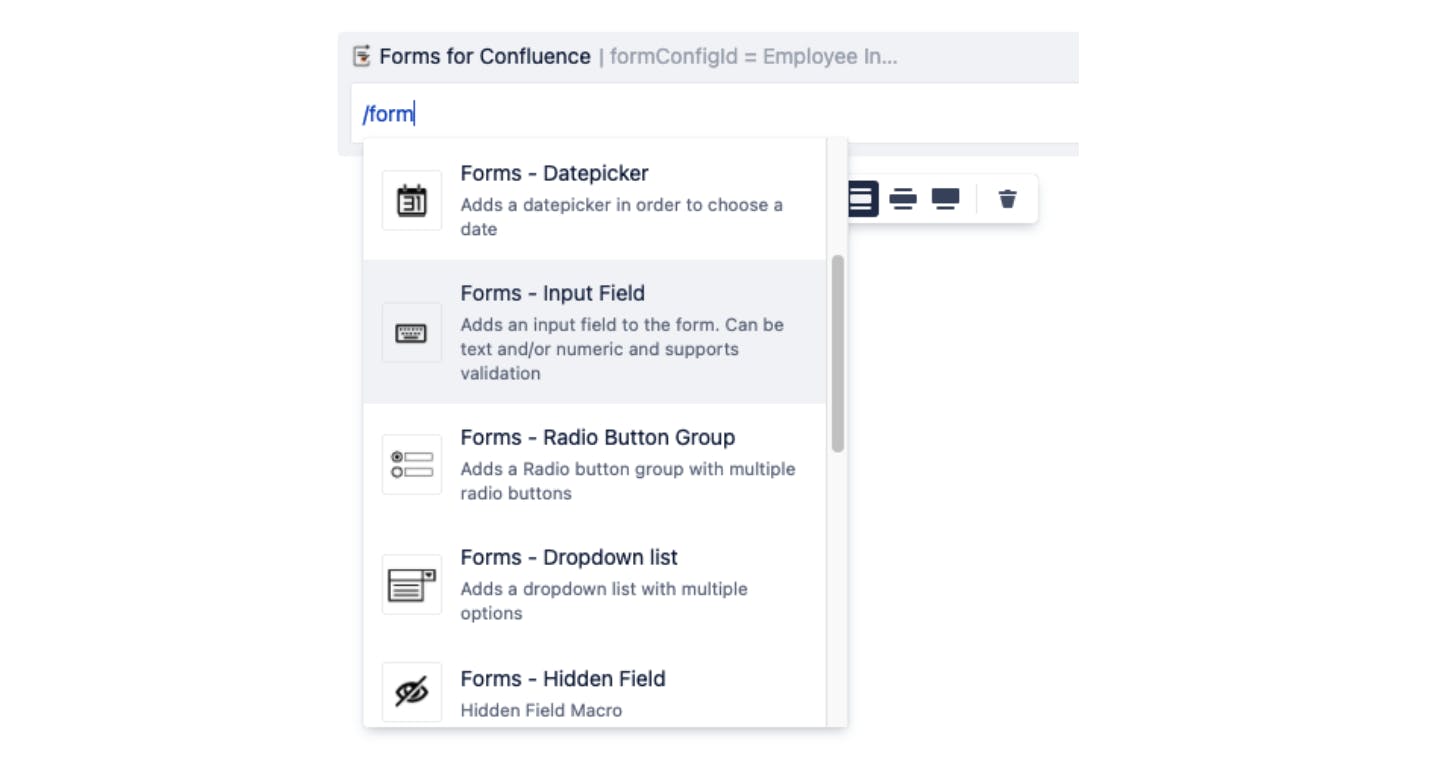 Then, simply fill in the form Id that you've created earlier.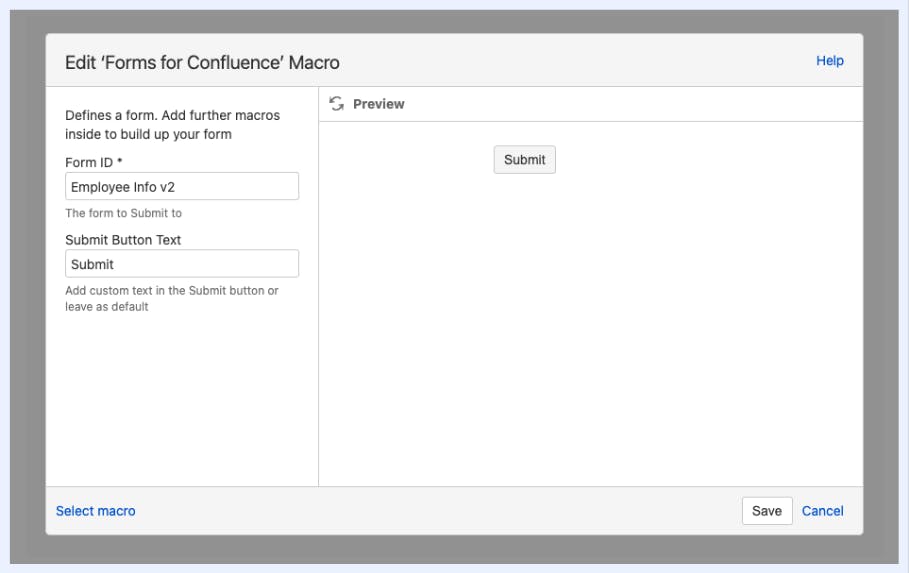 Click Save and you'll see an empty box. This is the space in which you'll be able to add custom fields to build a complete form, as shown in the next step.

Step 3: Create relevant form fields using Form macros
Within the Forms for Confluence macro, insert form fields using the same shortcut /form. You'll see a list of field macros to choose from.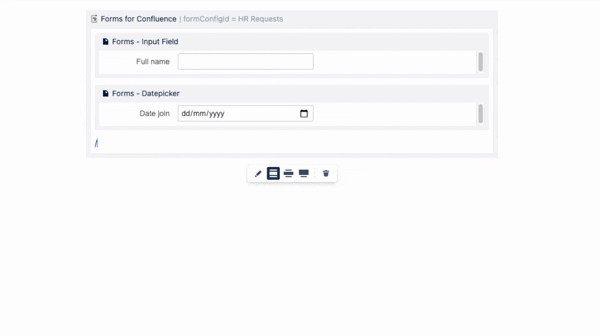 Once you've added all the desired fields, preview and hit publish once everything is ready.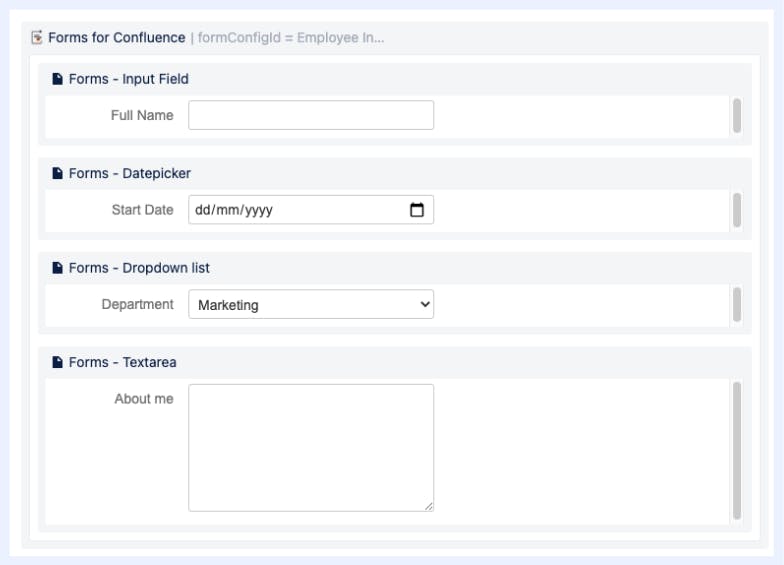 That's it! You've successfully created a form in Confluence.
✅ Tip: If you're using Forms for Confluence Server or Data Center, leverage our blueprints to get started quickly instead of creating a new form from scratch.
You can access the pre-configured form via the Confluence template library.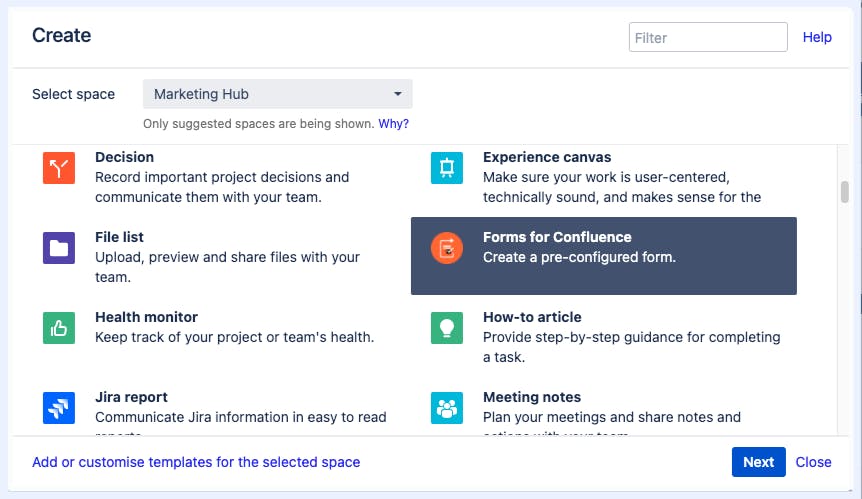 Visual learner? Follow our video below to get started adding your first form to Confluence.
Collect responses and share information easily with Forms for Confluence Cloud
As mentioned earlier, while it's possible to use Google Forms or other external apps to create forms in Confluence, what's missing is the ability to capture and process the responses within Confluence.
That's where Forms for Confluence shines!
The same approach to power and flexibility is applied to the management of form responses. With a built-in database, you can choose to save, view and export responses to a form directly from Confluence, or you can send a form submission to email addresses to put the data instantly in the hands of your users. You can even do both!
A nice function that our users enjoy is the ability to display responses directly on a Confluence page without having to copy-paste the data. Using the Responses Table macro, you can instantly populate all responses and document them on a respective Confluence page.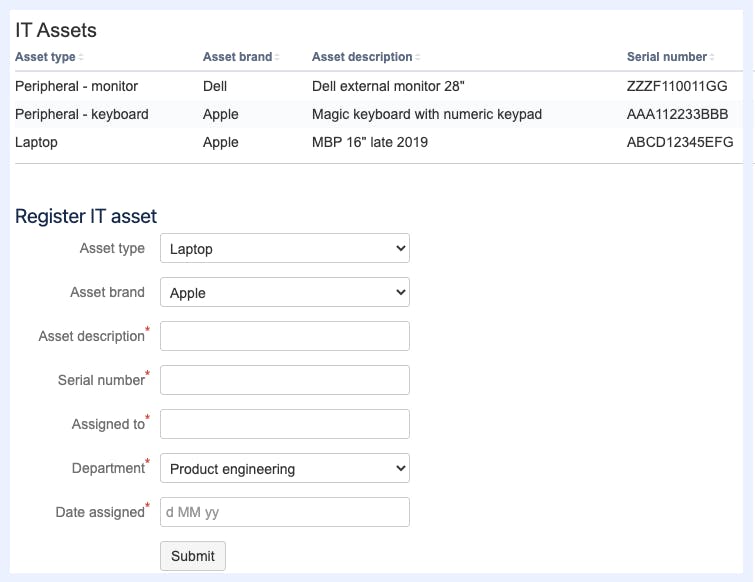 You can give authorised users access to the information they need to make informed decisions, anytime.
Ready to take your Confluence instance to the next level? Install Forms for Confluence for free today!
Try now for free!