Is your business using Confluence as a wiki yet? Whether you have an existing company intranet or want to create one from scratch, Confluence can help you communicate information to your teams in an interactive, engaging way. Here's everything you need to know about creating a Confluence wiki for your organisation.
What is a wiki and why should you create one on Confluence?
A wiki is an online collaboration tool that usually takes the form of an open-editing web page or website. Users can add, change or remove content on any page they have permission to edit.
When used in place of or alongside an intranet, a wiki can enhance teamwork and collaboration across your organisation. It acts as a single source of truth for company updates, documentation and resources, and can be even more powerful when tailored to suit the needs of individual teams and projects. 
When it comes to building your wiki, it's important to identify the right software to use. You'll likely have sensitive information to upload, multiple users and a strong need for flexibility. These requirements demand a solution that is secure, customisable and responsive - which is where Confluence comes in. 
Defined by Atlassian as a "collaborative workspace where teams and knowledge meet to achieve great things", Confluence integrates with many other popular tools, is extremely customisable and boasts high levels of security. It's suitable for large and small businesses and has inbuilt templates and interactive add-ons, making it an excellent all-rounder for use as a company wiki. Here's how to get started:
Steps for success when building your Confluence wiki
1. Define your business requirements
Start by asking what business problem you want to solve. Is your aim to create a streamlined internal hub where colleagues receive general company updates? Or is your requirement more function-specific? Perhaps you want to create channels where your teams can work productively together, host documents and report back on their progress. Confluence can be used effectively in all of these scenarios, as long as it's clearly structured and organised.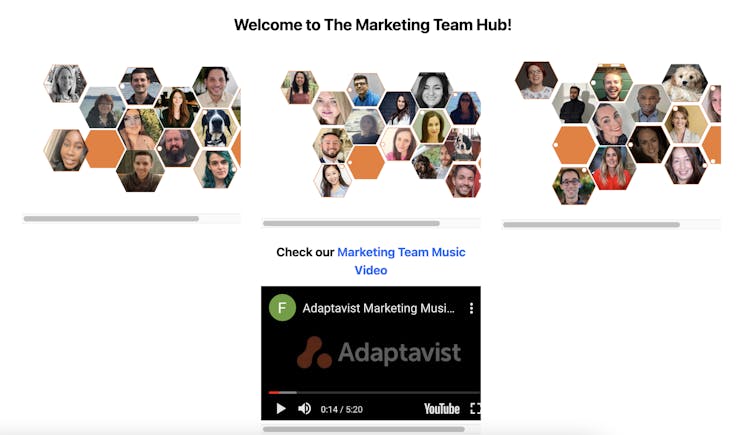 An example of a marketing hub, made in Confluence and enhanced with Content Formatting Macros for Confluence
2. Identify the information you want on your wiki
Part of the beauty of Confluence is that it is designed to be constantly evolving and growing over time. And while it does facilitate ongoing additions of information (for example, meeting notes and brainstorm outputs), you should aim to have the core structure and key documents in place before you publish your wiki. 
If you're setting up team hubs, create a brief for each department that explains what they should contribute to set up their Confluence space. This could include profiles, strategy documents and project overviews. Make sure your intranet has essentials such as company guidelines and forms, digital and marketing assets, and relevant HR and onboarding information.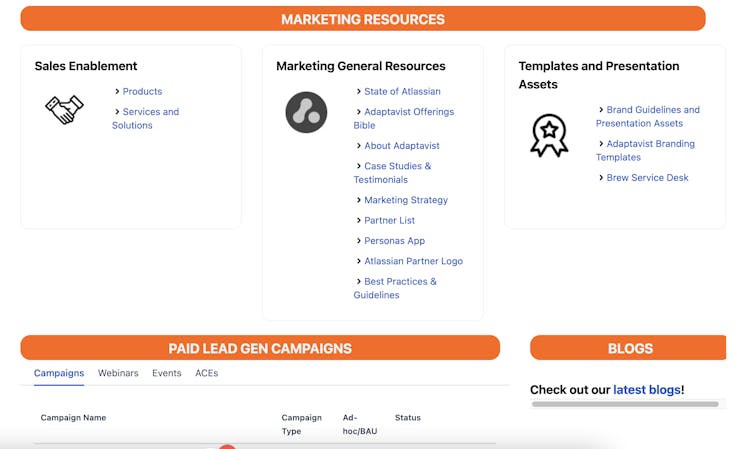 Use your wiki to host resources such as company logos, brand guidelines and sales enablement material
3. Think about your structure and organisation
Confluence administrators often struggle with organisation. In large companies with many users and frequent updates, it can be challenging to maintain a clear wiki structure. That makes it critical to understand not only what you want your wiki to be used for, but how users will interact with it. 
Consider drafting a site structure that sets out the hierarchy of your spaces and pages and how they will connect. Think about the main groups you want your content and teams to be split into - for example, separate hubs for HR, marketing, sales and project management, all connected from the homepage and linking out to project pages. Your Confluence wiki will naturally grow over time, but an established structure will help to group relevant information together and maintain a tidy intranet in years to come.
4. Use the right tools to enhance your Confluence wiki
Once you've made your plan and received input from your teams, it's time to build your wiki and establish your single source of truth. Confluence has plenty of inbuilt functionality to get you started, but when it comes to customising and personalising your spaces and pages, add-ons like Content Formatting Macros can help to push your wiki even further. These macros are ideal for organising and structuring your spaces, making them more readable as well as adding design flair and engaging features. 
Use macros like Progress Bars, Buttons and Cards to visualise and conceptualise content, and keep information tidy and organised with Tabs and Tooltip macros. There is a range of Confluence tools you can use to improve the wiki user experience - you can find out more in our blog on Confluence formatting tips.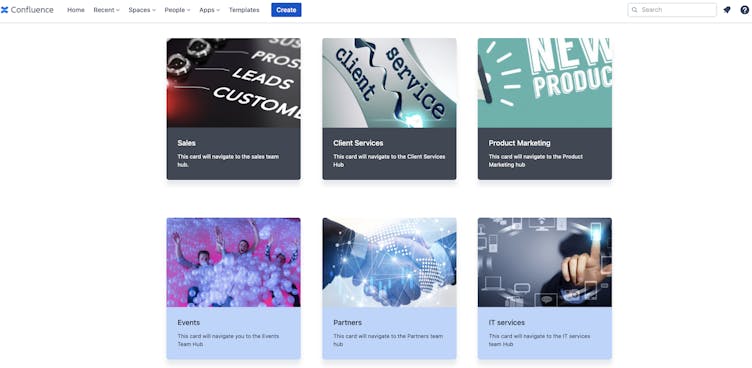 An example of the new Card Macro being used to highlight different functions within a company wiki
Confluence wiki best practices
Conduct user testing as you build your wiki to make sure it meets the aims of the project. Are users engaged? Can they navigate easily and is it clear what they need to do on each page?
Set user permissions! These will help to keep your wiki tidy and ensure only approved users can edit content
Get creative! Use interactive elements like buttons and forms to encourage people to get hands-on with the wiki. Colours, imagery and branded content can make your wiki more attractive and personalised
Ready to create your wiki?
Whether you aim to simply update your employees on the latest business news or to provide team members with a fully customisable, collaborative workspace, a Confluence wiki could be the perfect solution. With the right planning, organisation and creativity, you're ready to get started. 
Click below to start using Content Formatting Macros for Confluence for free.
Try now for free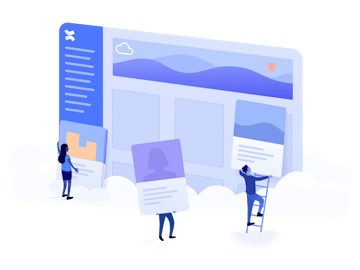 Ready for more wiki inspiration?
Read our follow-up blog to discover how to customise your Confluence wiki with Content Formatting Macros.
Read blog