---
Share this blog to your social media
Get more out of your communication apps.
Organisations depend on communication app reporting to understand when and how work gets done on their platforms like Slack, MS Teams, Meta and Google Workspace. Alone they provide a significant amount of data, which organisations could harness to know how and when teams communicate. From email to video meetings and messaging apps, understanding how employees use tools can provide powerful insights to improve strategic decision-making.
Sophisticated collaboration analytics tend to fall into two camps: personal and workforce productivity. The former can offer insight into one's behaviour, while the latter, typically anonymised, help businesses to understand broader working patterns. Both can bring many key benefits: identifying where communication breakdowns lie, improving team members' well-being, preventing burnout, and boosting productivity.
Typically, the built-in metrics you might encounter include the number of daily users by app, call hours, messages sent (in public and private channels), cross-departmental connections, files shared or co-edited, views and reactions, and more. Adaptavist provides more advanced analytics than are available as standard with these tools.
Get a single view of communication trends.
In the current era of geographically distributed teams, hybrid work, and the pressure of the Great Resignation, it has never been more important to understand how well your teams communicate and collaborate. But with analytics available from various vendors and multiple communication tools, it can be hard to get detailed information on communication trends. Essentially, you need more quality Slack data to capture this insight truly. 
To help organisations solve the lack of insightful data problem needed to inform critical business decisions and deliver positive data-driven outcomes, for example, boosting engagement, breaking down silos, and improving knowledge sharing, we've partnered with Temporall and their artificial intelligence analytics platform, Workbench. This tool is an enterprise-ready, real-time workplace analytics platform that enables organisations to evaluate workplace culture through a digital, integrated toolkit. You can connect data from various collaboration tools, including Slack, directly into Workbench to gain actionable insights on team engagement and collaboration.
Transform decision-making with Temporall and Adaptavist
How can artificial intelligence and machine learning help? Surveys and manual data analysis have historically proven ineffective at boosting team member engagement. Organisations are leaning into artificial intelligence and machine learning as a solution. Collaboration analytics provide a wealth of information to help you conquer your most significant business collaboration challenges. In the wake of the pandemic, team member burnout and disengagements are commonplace, so interpreting engagement data is crucial to understand the habits of your highest-performing teams, support your poor-performing teams and figure out where your information blockers are.
Essentially, this is where Temporall comes in by taking data already available in your apps like Slack and improving your team member experience. Temporall's platform has already helped companies make more of the information at their fingertips. One fintech client, for example, was experiencing low engagement scores around working hours following a staff survey. Notably, junior team members working remotely were putting in much longer hours than pre-remote working. 
The company relied heavily on Slack but didn't have any real insights into how teams used the platform. Slack's analytics weren't giving them all the information they needed, so they connected their data source to the Workbench platform to surface Slack activity hours in real-time. 
The data showed that senior leadership was highly active on Slack from 6–7 pm, mid-management at 7–8 pm, and junior teams from 7.30–8.30 pm. Is this a result of more flexible working or more pressure to work longer hours? Workbench data helped them summarise that senior leadership's behaviour was a catalyst for longer working hours and decided to run a three-week trial where leadership couldn't send non-business-critical messages after 6 pm. The result? There was an 84 percent decrease in overall activity after 6 pm, no noticeable drop in productivity, and a significantly higher engagement score around working hours.
Creating and measuring team member engagement can be tricky but worthwhile.
Everyone is different, but great engagement can come from:
Making great connections with colleagues and customers
Be given the flexibility to choose where, how, and when they work.
Using alternative update methods such as Slack updates, quick video messages, or huddles to relay information, avoiding 'Zoom fatigue.'
Understanding what they need to deliver, by when, and providing the resources and training to thrive. 
Encourage opportunities for informal 'water cooler moments' to cultivate relationships.
Be given opportunities to receive recognition and constructive feedback to improve and grow.
Feel heard and valued by their manager and colleagues
See and be given opportunities to grow within the organisation
There are several ways you can engage your employees, but it helps if you can understand your employees' experiences. You can measure and assess the strength of key organisational attributes with surveys.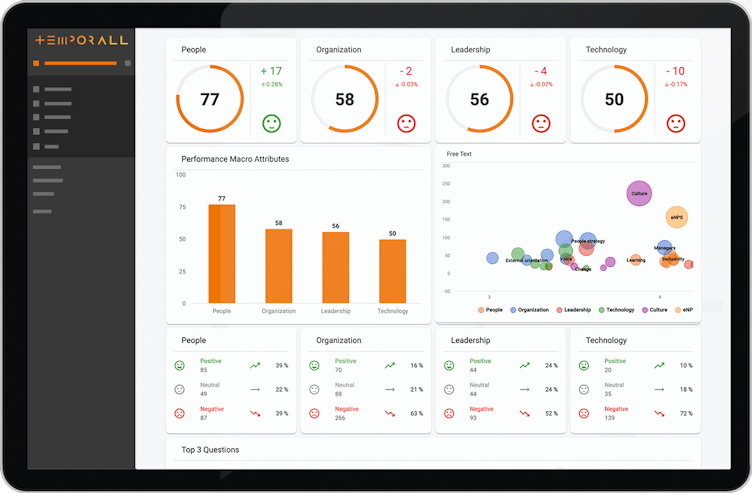 Want to understand collaboration within your organisation and improve engagement?
There's never been a more critical time to ensure your employees are engaged and invested in your organisation and its goals. Understanding that your employees are engaging in the new virtual workplace will help you stay a step ahead and mitigate any problems before apathy takes root.
At Adaptavist, we're already helping organisations harness the power of their organisational data with our social insight solution. If you're interested in finding out more about how we can help your teams communicate better and make data-driven strategic decisions, get in touch today or find out more.
Interested in learning how Adaptavist and Temporall can help you to understand how work is done in your organisation? Let's chat
Contact us